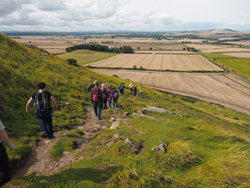 Join us on Sunday 1 September 2019, when East Lothian Countryside Ranger, Richard English, will be leading a short walk in the Whittingehame area. As part of the walk , Michael Brander, great-nephew of Lord Arthur James Balfour will show us around the Whittingehame Estate, Balfour's childhood home and there'll be a chance to see the Whittingehame Yew, one of Scotland's Heritage Trees.
Whittingehame Walk
Join us on Sunday 1 September 2019, when East Lothian Countryside Ranger, Richard English, will be leading a walk in the Whittinghame area, where we will get a sight of the Whittinghame Estate, the childhood home of Lord Arthur James Balfour, which was also a school for Jewish refugee children during the Second World War.
BOOKING IS ESSENTIAL! LIMITED PLACES.
Walk starts at 10.30am at the Whittingehame Estate and will finish at approximately 3.30pm at the same point where our coach will be.
Transport will be provided from
· Glasgow at 8.30am (Giffnock Synagogue)
· Edinburgh 9.40am (Edinburgh Hebrew Congregation)
Whittinghame is tricky to find and there is limited parking. There is no local public transport. If you are coming from Glasgow or Edinburgh it would be advisable to travel on our coach.
Event details
We will walk approximately 4 miles (2 hours) from Traprain Law to the Whittingehame Estate.
We will be guided by Richard English, Countryside Ranger for East Lothian Council.
While on the Law we will be able to see and discuss with Richard the wildlife, plants and geology of the Law. Much of the terrain is described as rough under foot. You will need to be able to walk on rough and rocky ground, through mud, across fields and uphill. Please dress accordingly and make sure you bring clothing to suit our changeable Scottish climate.
At Whittingehame we will be hosted by the current owner of the estate, Michael Brander. This is a private estate not normally to the public. He will take us to visit Balfour family graves, the old Yew tree and the arboretum amongst other interesting parts of the estate.
The Whittingehame Yew (Taxus baccata) is one of Scotland's Heritage Trees. It lies in the grounds of Whittingehame Estate, close by Whittingehame Tower, and is a remarkable example of a "layering yew", in which the branches sweep down to the ground and root themselves, forming a conical chamber with the original trunk as a central pillar. It has historical connections with Mary Queen of Scots, as Lord Morton confessed to having planned the murder of Darnley in the courtyard at Whittingehame Tower, and local tradition has it that the plotting was conducted within the Yew Tree.
Please bring your own packed lunch. SCoJeC will provide drinks, fruit and kosher snacks.
ADVANCE BOOKING IS ESSENTIAL! LIMITED PLACES.
Supported by the Netherlee and Clarkston Charitable Trust.
Location
Whittingehame Estate
Haddington, EH41 4QA