3rd innovatED Edtech Conference - Webinar Series (SOLD OUT)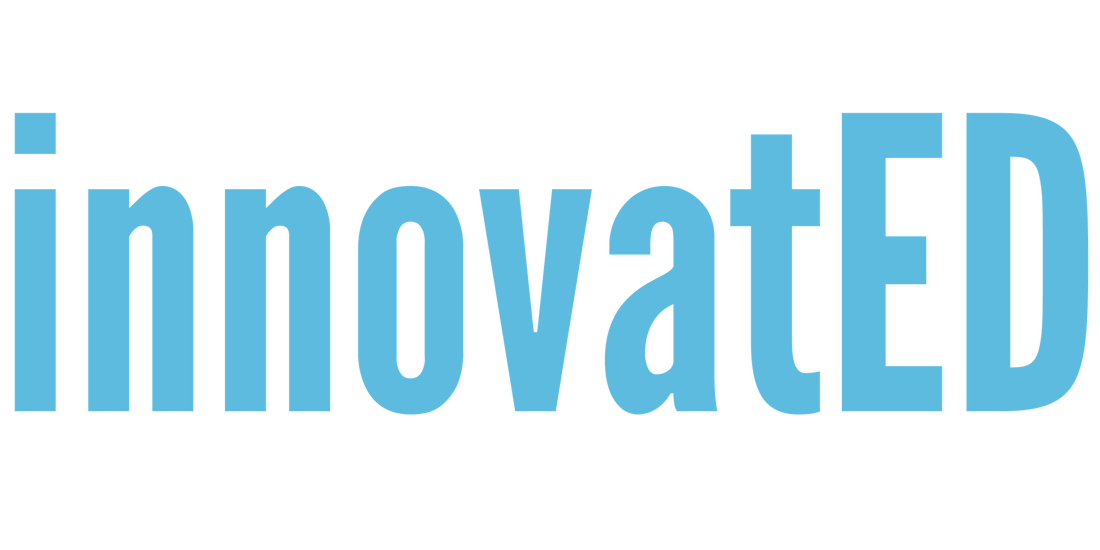 3rd innovatED Northern Edtech Conference - Inspiring Edtech from the teaching front line. Now being delivered online via Webinar due to the COVID19 outbreak.

The 3rd innovatED Edtech conference is a veritable panoply, nay cornucopia, of practical and hands-on hints, tips & ideas to get your creative juices flowing, to inspire, to help you work more effectively and to provide you with a barrel load of ideas to take back into your school (when we all finally get back there!)
Thursday 7th May 2020 - Nexworking: 10:00-11:30
Friday 8th May 2020 - Simon Hunt 10:00-12:00
Monday 11th May - David Winfield & Robert Lilley 10:00-12:00
Price: Free, but you must register for the event and participate in Session 1 (Nexworking) to take part in sessions 2 & 3. Includes CPD certificate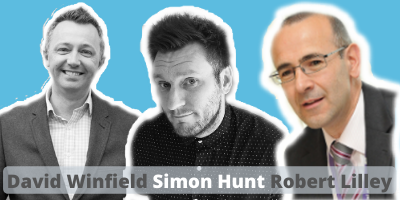 DAY 1: THURSDAY 7TH MAY. NEXWORKING. 10:00-11:30
'Nexworking' is a fast paced, 90 minute CPD session where you'll take part in five 12 minute workshops designed to showcase the very best products and practises being used in schools across the UK. The workshops have been designated based on the survey results of the attendees. In return for these discussions and market research, the providers subsidise the cost of the whole meeting to keep it affordable for many more delegates to attend. This session also provides an insight for delegates into what resources are available, how these might fit into their school development plans, understand the research evidence they are based upon as well as being given an opportunity to draw on the providers' experience of managing projects across a number of schools. Once this session has finished you will then have access to the rest of this week's CPD sessions.
DAY 2: CREATIVITY OVERLOAD!
10:00 - 10:15 - KEYNOTE: It ain't whatcha do, it's the way thatcha do it - what the academic research really says and keeping it simple: Approaches and principles to follow in order to achieve effective edtech use in education. David Winfield, Editor, innovatED Magazine.
10:15 - 12:00 - Reaching for the stars with the technology you've already got in school. Simon Hunt, Manchester Evening News Teacher of the Year (https://www.facebook.com/mrhuntsideas/)
This workshop will look at how to combine easy to use apps and technology to enhance engagement of all children across your school as Simon shares his own inspirational practice and incredible experiences. You also will see how to turn your classroom into a movie studio and transport your children inside a traditional tale, bring dinosaurs onto your carpet area and much more. The session includes (but is not limited to!) - great pedagogy based on:
Skype, Green screens, Free websites, Musicomp & Dance code
DAY 3: TECHNOLOGY TO SUPERCHARGE LEARNING!
10:00 - 10:45 - Brilliant ideas for distance learning (and using them to augment in-school learning in the future) David Winfield & Robert Lilley.
10:45 - 11:15 - Devising and Implementing an IT Development Plan that inspires and delivers high-quality teaching and learning, as well as preparing pupils for life and work in the 21st Century. Robert Lilley.
An essential session for the effective management and development of IT in your school, in which former Headteacher, Robert Lilley, explores the key elements required for success and a step-by-step guide to deliver it. He will also discuss how to spot 'gimmicks' and ensure that you focus on tools and approaches that actually enhance learning.
11:15 - 11:20 - Short Break
11:20 - 11:45 - Breakout rooms: Delegate discussion
11:45 - 11:55 - A Final App Blast. More education technology that you absolutely need in your life. David Winfield.
There is so, so, so much amazing technology out there that can hook children into learning for pleasure and transform your teaching. David runs through some of the best that you may have missed and have not been covered in other sessions.
11:55 - 12:00 - Meeting wrap up and what we can expect at the innovatED 4 Edtech Conference in the Autumn. Robert Lilley.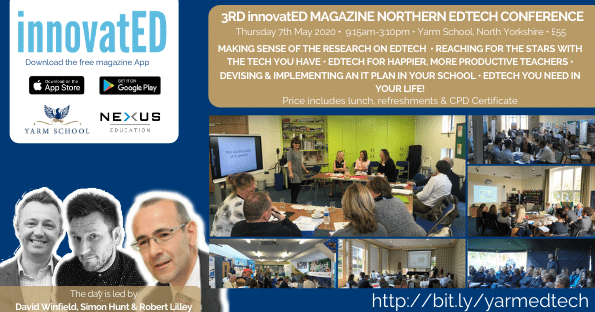 DOWNLOAD & READ innovatED MAGAZINE FREE OF CHARGE