Glasgow - Klezmer & Yiddish Song Spring Concert - CANCELLED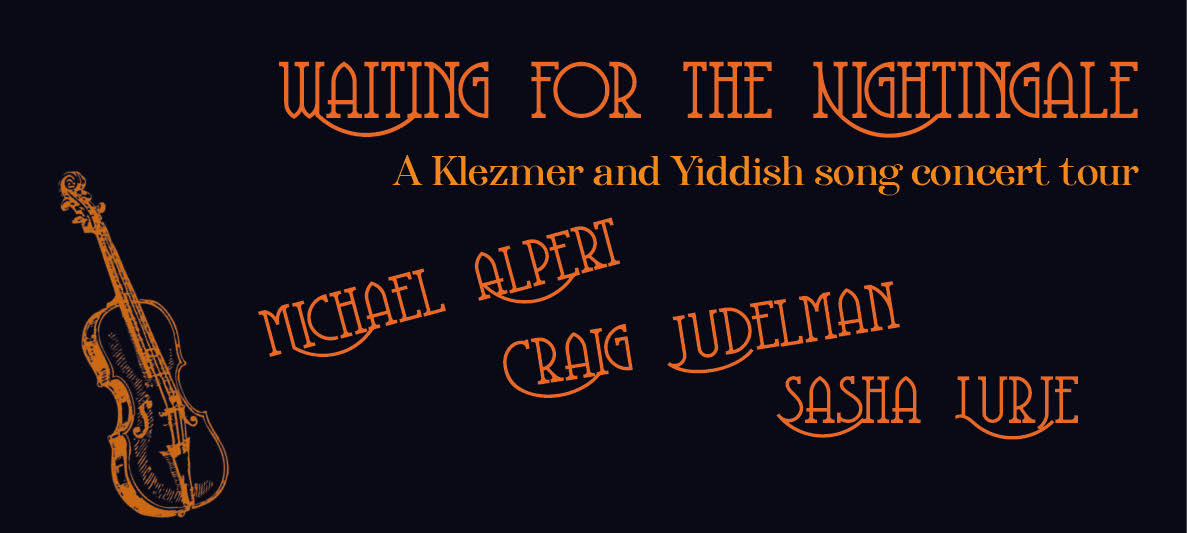 "Waiting for the Nightingale": a Klezmer and Yiddish song spring concert featuring Michael Alpert, award winning Klezmer musician and Yiddish singer, in a new trio playing with Klezmer fiddler Craig Judelman and Yiddish singer Sasha Lurje.
SCoJeC is very sorry to say that the decision has been taken to CANCEL this event in the wake of the coronavirus health emergency. We will be writing to everyone who has booked with further information.
Sunday 15th March, 8 p.m. at the TchaiOvna House of Tea at Otago Lane in Glasgow's West End. Book early to ensure you get a place! £10 (£8 for students/low waged). (If any tickets remain on the day, they will be £12/£10 on the door) (If you miss out the concert is also taking place in Edinburgh on Saturday 14th March).
We don't want anyone to miss out due to financial worries - please contact fiona@scojec.org for a 'pay what you can' code.
Part of a Scottish tour taking in St Andrews, Edinburgh, Glasgow and Arran. Sasha Lurje will also be doing a Yiddish song workshop in Edinburgh on Sunday 15th at lunchtime .
Presented by SCoJeC, the Scottish Council of Jewish Communities, and the Glasgow Jewish Representative Council. Supported by the Jewish Music Institute, Netherlee and Clarkston Charitable Trust and the Leslie and Alma Wolfson Charitable Trust.

Michael Alpert is a Klezmer musician, Yiddish singer, multi-instrumentalist, scholar and educator and is a key figure in the klezmer revival of the 1970s and 1980s. Originally from the US, he is now based in Scotland. Drawn from his family heritage and his own travels through the cultures and terrain of Europe and The Americas, his performances are sojourns through inner and outer landscapes, sagas of immigrant journey and epics of the universal search for home.
Sasha Lurje is one of the leading voices in the contemporary Yiddish scene, and has performed and taught at numerous festivals in Europe and America. Growing up speaking Slavic and Baltic languages, she has a unique old world perspective on this repertoire, which perhaps is part of why she has become one of the only specialists in Yiddish lyric songs and ballads. She was born in Riga, Latvia and has been singing since she was 3 years old. She coordinates the song programme at the Yiddish Summer Weimar, the world-leading Yiddish and Klezmer festival.
Craig Judelman grew up in Seattle, studying violin and folk music from around the world. He currently performs with Litvakus, one of the only klezmer bands devoted to Litvak music, music from the northern European region of Jewish settlement. He has studied with David Krakauer of the Klezmatics and Yale Strom, and learned "on the bandstand" from some of the best Klezmer musicians including Michael Alpert, Mark Rubin, and Pete Rushefsky
Craig, Shasha and Michael will be teaching and performing on 21-23 March at Kleznorth in Derbyshire.
Location
Tchai Ovna
42 Otago Lane, Glasgow , Glasgow G12 8PB