"Virtual" Yiddish Open Mic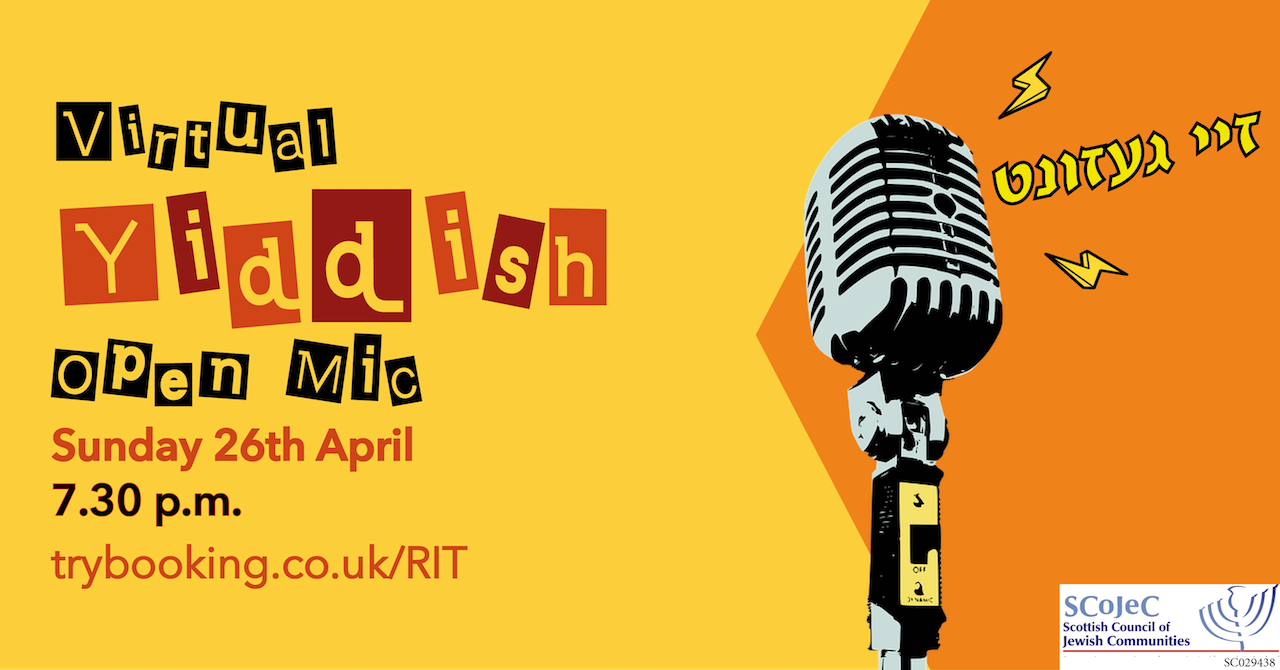 SCoJeC is delighted to say that Vivi Lachs and colleagues from the London based 'Yiddish Open Mic' will be working with us to host a virtual "Yiddish Open Mic comes to Scotland" cabaret-concert on Sunday 26th April at 7.30 p.m. (UK time) ALSO GOING OUT LIVE ON YOUTUBE https://www.youtube.com/watch?v=AXUehggOFY0
There will be a range of songs, poems, jokes, stories, games, serious and funny. Whether you are a Yiddish teacher, scholar or student, or someone who heard a word or a phrase at home from parents or grandparents, or whether you are simply interested, all are welcome. YOU DON'T HAVE TO UNDERSTAND YIDDISH TO COME! - Yiddish will be the main language of the performance, but there'll be an English translation on screen
This event is free but we welcome donations.
Click on 'BOOK NOW' above to reserve your place. After booking, you'll get an email with information about how to access the Zoom meeting. If you don't get it, check your Spam!
****UPDATE - THE EVENT IS ALSO GOING OUT LIVE ON YOUTUBE - https://www.youtube.com/watch?v=AXUehggOFY0
Yiddish is the language of the Jews of Eastern Europe . It's not spoken much now outside of ultra-orthodox Jewish communities, yet there is a strong secular Yiddish revival across the world. The Yiddish Open Mic cafe that happens monthly in London offers a space where anyone with an interest in Yiddish can be sociable, entertained and participate in a receptive, warm, friendly, mainly Yiddish language environment.
Vivi, Arturo and Tamara of the Yiddish Open Mic Cafe had planned to tour Scotland in May with the special Open-Mic format, reflecting lives of the Yiddishlands of the past and the present. Instead of the tour, they will be compering a special Scottish Virtual Yiddish Open Mic, and inviting all Scottish Yiddishists and Yiddish-lovers to add their voices to the mix with contributions.
We have 20 people signed up to perform, including Scottish and Scotland-basedYiddishists Heather Valencia, Ellen Galford, and Michael Alpert. It will be an entertaining, fascinating, participatory and fun evening.
At this event we celebrate the life of late Ida Schuster Berkeley (26 September 1918 - 8 April 2020), renowned Glasgow actor, Yiddish speaker, and a leading light of the Glasgow Jewish Institute Players and the Avrom Greenbaum Players as well as the Glasgow Friends of Yiddish.
Click on 'book now' at the top of this page to book your place. And please consider a donation to help us cover our expenses including payment to Vivi and colleagues. We're sorry we can't provide our usual kosher buffet of smoked salmon bagels, cream cheese, rugelach etc.... but you don't have to pay travel costs!
Thanks to the Netherlee and Clarkston Charitable Trust for their support of SCoJeC's event programme.