Yianni Agisilaou: The Simpsons Taught Me Everything I Know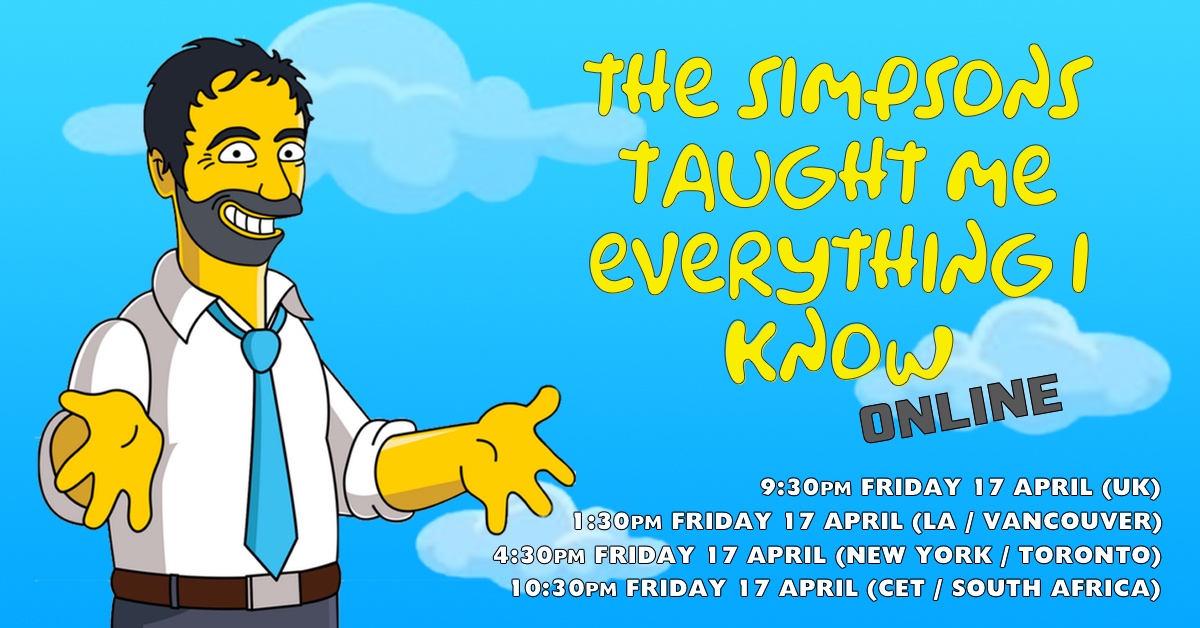 AN ONLINE, LOCK DOWN COMEDY SPECIAL!

Whether you're a Simpsons tragic or just love the best show in TV history, this is one fun-diddly-un hour full of impressions, facts and stories including the true tale of how I almost ended up as the replacement voice for Mr Burns and Smithers. DOHn't miss it!

If you're outside the UK, check your time zone here https://bit.ly/check-your-time17April
Those of us in live comedy have basically lost all our work for 2020, and we know other people are doing it tough as well, so we've made this show a Pay What You Can model.
Tickets are either £10, £5, £3 or free. All tickets are the same, but we're asking people to pay according to their means. All paid tickets guarantees you a place, and free tickets are guaranteed a spot subject to capacity. (Tickets should not be taken internally.)
If you're not in a position to buy a ticket at the moment, get yourself a free ticket, make sure you like the Facebook page, and tell your friends - all of that nice word-of-mouth stuff.
We've got a proper set up with a professional film director and fancy kit, so it still costs us a bit of money to put on, but not as much as a physical-in-person show in a bricks and mortar venue.
HOW TO WATCH
You will need a smartphone or computer (they have the internet on both of them now).
We'll email you a link a few hours before the show, and you can either download the Zoom app or just click on a link and it'll open in your browser. You don't need to create a login, but if you want to sign up, it's free.
Even MORE info? You can sign up for the Serious Comedy newsletter to find out first about other online shows. https://www.seriouscomedy.com.au/newsletter/