The Besht Tellers (together again) - "Chasing Tales"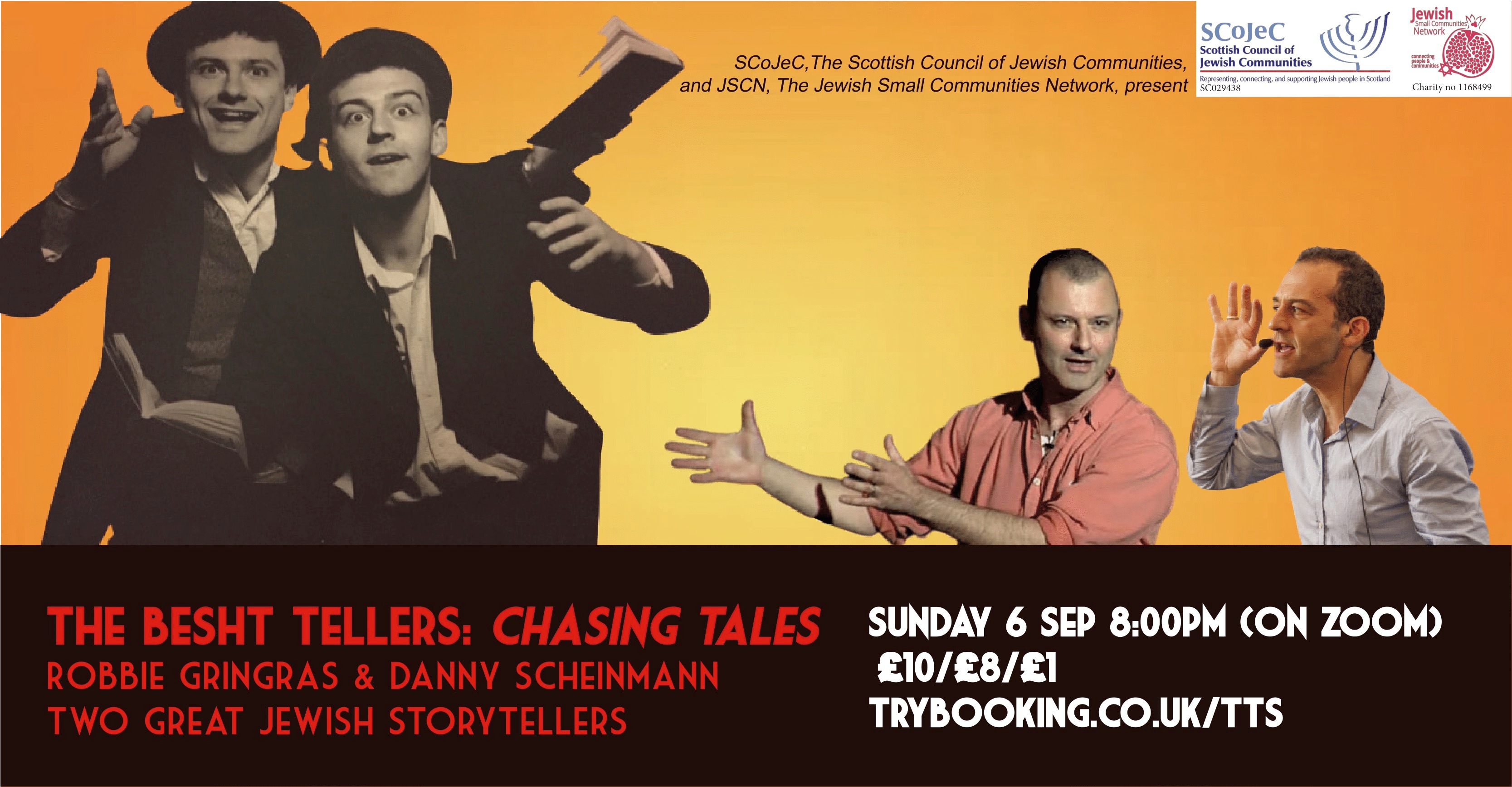 SCoJeC, the Scottish Council of Jewish Communities, and the Jewish Small Communities Network, present a unique one-off zoom performance of celebrated Jewish storytellers The Besht Tellers, together again for the first time for more than 25 years!
Cost £10 (full price) £8 (reduced price) and with a heavily discounted price of £1 for anyone whose income has been reduced through COVID19 or who otherwise might not be able to cover the full cost.
There was once and there was twice two Jewish boys who magically turned in to hairless old men, no one quite knew how it happened but some say it was because they had both illegally drunk at the well of a bald giant who cursed them and stole their hair. So the two boys embarked on a journey to find some hair. You can all fill in your own ending.....
The Besht Tellers are back for a unique one off zoom performance for the first time in more than 25 years.
In the early 90's Robbie Gringras and Danny Scheinmann wowed audiences with a unique blend of Jewish storytelling and physical theatre in their hit show 'Telling Tales'
In this one-off reunion performance Danny and Robbie will tell some of their favourite stories from decades of storytelling.
Robbie now lives in Israel and Danny in London and in their own ways they have continued to tell stories all their lives.
Robbie is an educator, performer and writer. He has written many provocative thought pieces on all aspects of Israeli life and continues to write and perform challenging new shows internationally. His play 'About the Oranges' was a tragi-comedy about a suicide bomber, and his latest play 'The Gate' explores whether a gate between a kibbutz and the local Arab village should remain open or closed.
Danny is an author, actor and film maker. His first novel 'Random Acts of Heroic Love' was an international bestseller translated in to 21 languages. His short film 'The Divorce' won the Pears Short Film Screenplay award and Best Film at the Moscow Jewish Film Festival and he most recently appeared in the films 'Stan and Ollie' and '7 days in Entebbe'.
Starts at 8.00 p.m. The 'Bar' will be open from 7.30, so come early and bring a drink to enjoy before the show. Come and have a chat with other audience members from around Scotland, the UK and the world!
Many thanks to the Netherlee and Clarkston Charitable Trust for their support of SCoJeC's event programme.
CLICK ON 'BOOK NOW' ABOVE (TOP RIGHT) TO RESERVE YOUR PLACE!
Location
On 'ZOOM'! You'll receive a link to the Zoom event after booking