Lakeshore Cinema // 18th - 20th September 2020 (CANCELLED)
Due to the government's latest announcement we have made the difficult decision to delay the Lakeshore Cinema event until it is safe to do so. Considering infection rates are rising nationally and the uncertainty surrounding events of this scale, we have a responsibility to protect our community and local businesses. We are extremely grateful to all our enthusiastic volunteers and fantastic local businesses who have helped us to get this far, and to everyone who bought a ticket to support our local community event and future projects. A full refund will be provided.
We will be back with more fantastic community projects when safe to do so. Thank you for understanding.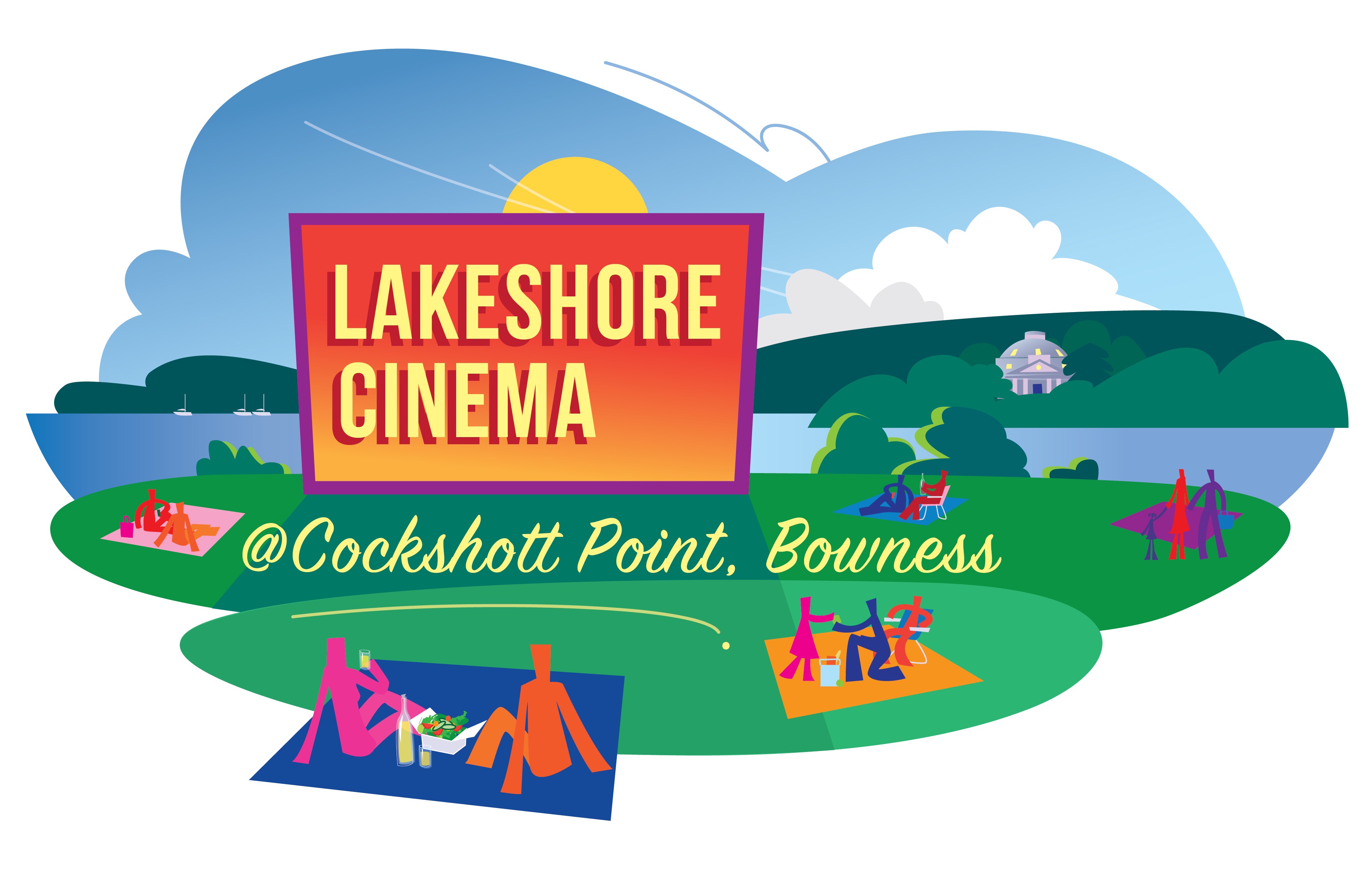 Join us on the shore of Lake Windermere at the beautiful Cockshott Point in Bowness to enjoy a classic film or two!

Pulp Fiction, The Goonies, The Greatest Showman, Shaun The Sheep, The Lion King and for the brave, The Blair Witch Project - and more!

Bring your camping comforts, grab something to eat in town or bring a picnic feast (we've got popcorn!). This event will happen even if it rains - SEE FULL T&Cs

All profits will benefit local community projects
PLEASE READ FULL TERMS AND CONDITIONS AND COVID INFO BELOW
Location
Cockshott Point, Bowness
Glebe Road, Bowness, Cumbria LA23 3HE
Bowness has numerous parking options near Cockshott Point. The closest is Glebe Road car park (LA23 3HB). Braithwaite Fold and Ferry Nab car parks are a short walk away. More info here.
If arriving by bike, bike parking is available within the event space, please ask a saftey marshall for details.
TERMS AND CONDITIONS AND COVID SECURITY
IMPORTANT INFORMATION
By purchasing a ticket/tickets you and any person in attendance at Lakeshore Cinema acknowledges acceptance of all terms and conditions described here.
Covid Secure and your Responsibilities
Under the following circumstances do not buy a ticket or in the event you have already purchased tickets, do not enter the event site if:
• You or anyone in your party has been instructed by the relevant contact tracing authority to isolate
• You or anyone in your party has been informed that they are extremely clinically vulnerable and that they should be shielding
• You or anyone in your party lives in the same household as an individual who is extremely clinically vulnerable
• If you or anyone in your party are experiencing symptoms associated with Covid-19 (new persistent cough, high temperature, loss of taste or smell)
Social Distancing Arrangements
• Socially distanced areas will be provided for every booking for a maximum of six people. Please note, the socailly distanced areas are issued on a first come first serve basis so if you would like to sit near the scren please ensure you arrive early, the site will open an hour before each film is scheduled to start.
• In line with government guidance, your group can be made up of either members of a single household, two households or six individuals from different households.
• Please ensure ticket holders arrive together as a 'pod'.
• Group contact details will be crossed checked by our safety stewards in the entrance queue for the track and trace system
• Safety marshals may take temperatures to confirm safe site entrance. If an individual's temperature is high they will not be allowed onto the event site together with ALL accompanying members of their group. Tickets are not refundable in this scenario.
• Toilets: there will be individual toilet facilities on site. These will be regularly cleaned and sanitised throughout the event. Hand sanitising facilities will be available. Safety marshals will encourage ticket holders to sanitise their hands before entering the toilet block.
• Please respect social distancing guidance and each other when moving around at the event and follow instructions from event security and stewards.
• Exiting the event area will be staggered, with the back rows leaving first. Please co-operate with us to maintain social distancing.
Conduct
Lakeshore Cinema reserves the right to refuse entry or to ask patrons to leave if causing a nuisance. A nuisance is defined as audience members making unnecessary noise or disturbing those around them during the screening. Anyone who is under the influence of drugs or intoxicated with alcohol or who in the reasonable opinion of event organisers is conducting themselves inappropriately will also be asked to leave. Smoking and vaping is not permitted in the audience area, please move to outside the event space to smoke.
Please take your rubbish home with you. Love this place. Leave no trace.
Tickets
All tickets are sold online for the relevant, dated performance.
In buying tickets through the website, the customer accepts these terms and conditions once valid payment is processed.
The customer's booking confirmation email is the ticket they must show (printed or via mobile phone) for entry to the venue.
Lakeshore Cinema reserves the right to close the event space at short notice and without prior warning if necessary.
Tickets cannot be resold, exchanged, refunded or transferred. To do so or to alter or deface any ticket will render it void. It is the patron's responsibility to check their tickets, as mistakes cannot always be rectified.
Cockshott Lakeshore Cinema will not be responsible for any tickets which are lost or stolen.
The ticket holder has a right only to the film and times corresponding to that stated on the ticket and no other.
Refunds / Cancellations
This is an outdoor event please dress appropriately and be prepared. You can bring camping chairs, beanbags, blankets and waterproofs to make your space as comfortable as possible.
In the unlikely event that the safety team deem it necessary to close the venue due to extreme inclement weather, a 50% refund will returned to all ticket holders. The remaining ticket value will be retained to cover costs and support the community group beneficiaries.
If the event is cancelled by Cumbria County Council's Public Health Executive due to Coronavirus, or due to any other Coronavirus related reason, a full refund will be made payable to all ticket holders.
A refund will not be issued if you are no longer able to attend due a regional lockdown in your area (outside of South Lakes area).
In the event of cancellation, for any reason, the following procedure will be followed;
• Cancellation notices to be placed on all promotional platforms
• An email will be sent to all affected customers
• Marshalls will be positioned at the Main Entrance to inform customers of cancellation in case they have not seen or received the notifications
If you have been removed from the venue for inappropriate behaviour, you will not be offered a refund and will not be offered an alternative screening.
Technical Faults – If there is a loss of power, video screen or audio output, the event technical staff will endeavour to resolve the issue ASAP. If the movie is interrupted it will be restarted from the point it stopped. If it becomes impossible to resume the movie due to technical faults beyond our control the screening may be cancelled without refund.
General
Disabled Access – The event site is an uneven field and therefore may be inaccessible depending on access requirements. There will be a disabled toilet and stewards on hand to help guide customers if required. Please notify in advance if you have any additional needs as we may be able to accommodate.
First Aid - There will be a fully qualified first aider present at each screening.
By entering the venue visitors consent to being photographed, filmed or recorded as visitors of the drive-in movie, and consent to such photographs, films or recordings being used by Cockshott Lakeshore Cinema to publicise this and future events.
Children under the age of 16 must be accompanied by a parent or guardian in the interests of safety and duty of care.
Ticket purchasers are primarily responsible for checking the age restrictions for any film and ensuring that all their group are above within the age requirement of the film. Any group or individuals within the group found to be under the required age will be asked to leave the venue. Any member of your party may be required to produce photographic valid ID upon request.
Lakeshore Cinema accepts no responsibility for any personal property left at the venue. Any lost items will be retained for 2 weeks and can be claimed by emailing helen@bwforward.org.uk a description of the item(s).
Attendees are asked to take all their waste home and dispose of it responsibly. Only guide dogs are allowed on the event site.