A Very American Comedy Night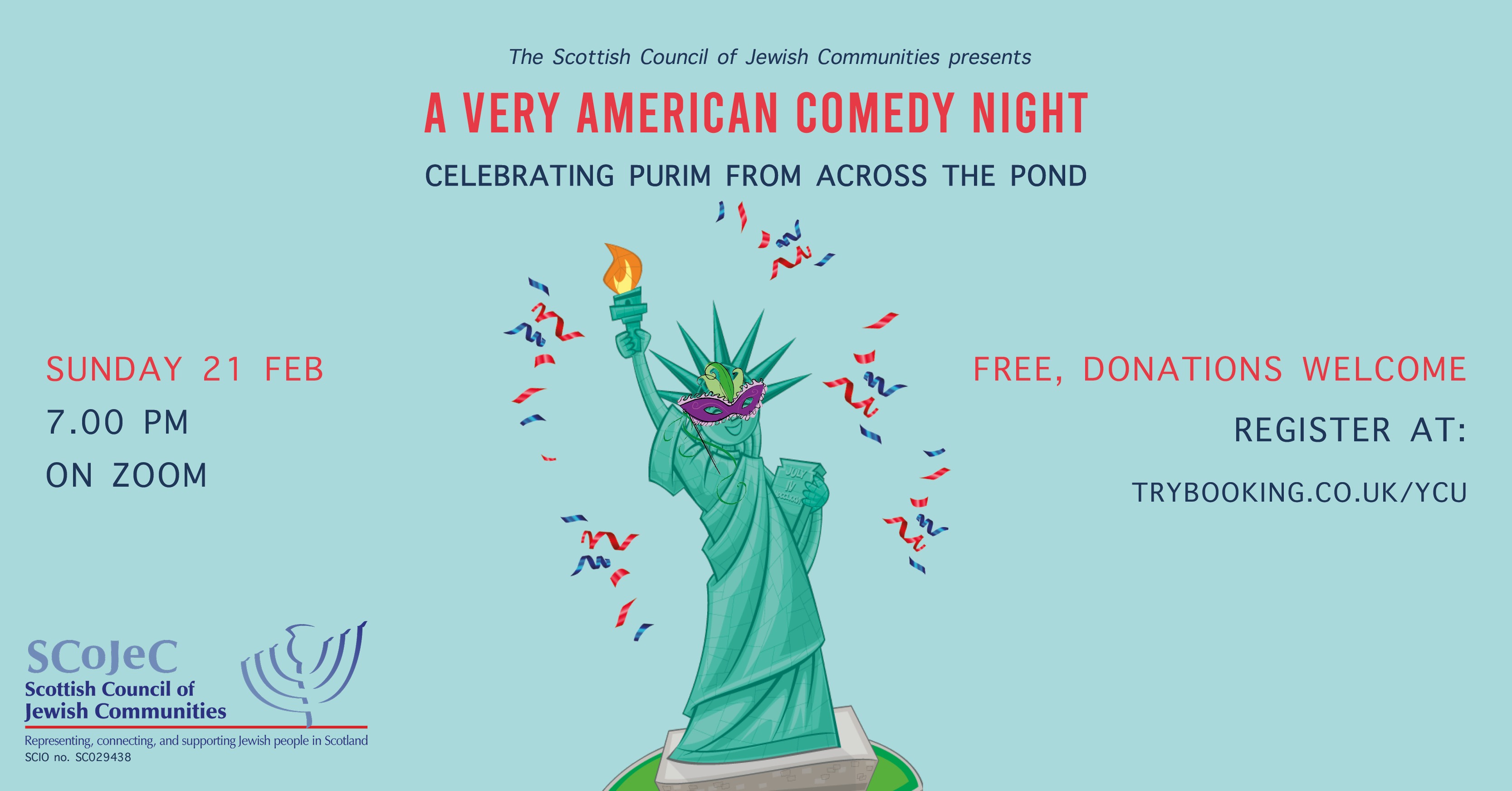 Celebrate Purim 2021 with a night full of laughs! Join Chicago's Jewish comedians Jeremy Drazner, Katharine Herskovic, Jessica Besser-Rosenberg, and Joe Medoff as they poke fun at Jewish life in contemporary America and their take on Scotland. Please note this event is suitable for adult audiences (15+).
Our Performers
Jessica Besser-Rosenberg is a Chicago-based writer and standup and has performed throughout the midwest. When not living through a pandemic, she can be seen co-producing the Backroom Comedy Showcase and performing throughout Chicago.
Kat Herskovic has performed in clubs, theaters and festivals across the United States. She has also received critical acclaim for writing, producing and performing her one woman show, Neurotica.
Jeremy Drazner is a Chicago based standup and sketch comedian. In addition to performing, Jeremy is also the Head Writer at FITZ Games.
Joe Medoff is a Chicago-based comedian from Boston. He performs at clubs and festivals all around America, has written for Funny or Die and has been heard on Sirius XM.
Donations
This event is free, but we'd welcome donations to help with our accumulated events costs.
The Scottish Council of Jewish Communities (SCoJeC) will use your donation to help to pay for the costs assocated with this event, and to support our future work. You will be asked on the next page if you are a UK taxpayer: if you are we can apply gift aid to this donation and increase its value by 25 per cent.
The Scottish Council of Jewish Communities (SCoJeC) is the representative body of all the Jewish communities in Scotland. We organise events throughout the year to bring Jewish people and others together to share Jewish culture. We are very pleased to have been putting on online events during the coronavirus crisis to be able to bring people together from our living rooms!
SCoJeC is Scottish Charitable Incorporated Organisation SC029438