​IMPORTANT - Please read ALL the below information before making your booking to ensure you complete your booking correctly.


TRUST2RIDE
ZOOM DRIVER TRAINING
This is the booking page for the Trust2Ride Safeguarding Training sessions being conducted over Zoom. Please read the below information carefully before making your booking.

PRICING
The price for this session is £36 and all bookings are non-refundable. If your licensing authority has given you a discount code, this can be entered in the 'Gift / Promotional Code' section of the booking process. This is shown in the image below. On the final page of the booking form, just enter the discount code into the 'GIFT / PROMOTIONAL CODE' box and click the 'APPLY' button as shown in the image below: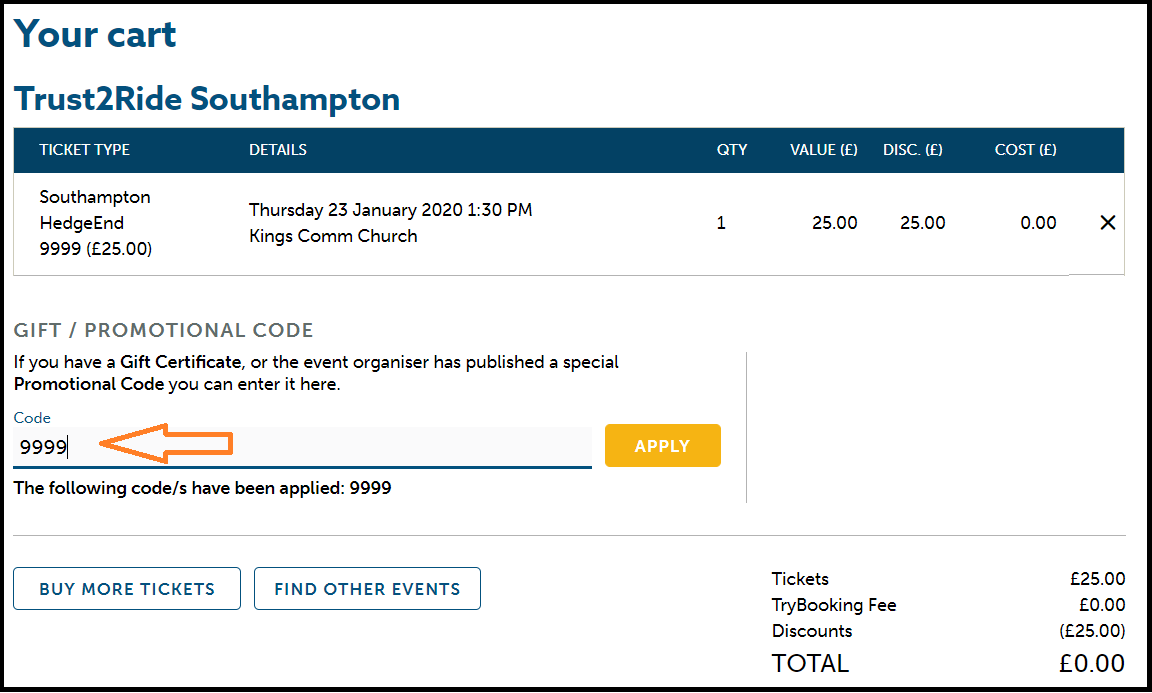 When you enter your discount code into the box as shown above, the price will change to £0.00 and you will be able to book on free.
PLEASE NOTE: discount codes should only be used if they have been provided by your licensing authority. Drivers are only able to book ONE free space on this training course. If you fail to attend your booked session, you will need to rebook and pay to attend an alternative session.
Once you have completed your booking, you will receive an email confirmation and a receipt of payment (if you are a new driver). You will then receive a Zoom Joining Link once you have completed your booking along with instructions on how to join the session (please note, these emails can sometimes go into your junkmail folder). IMPORTANT - please ensure that you make the booking yourself, and then name you enter matches your ID documents. If someone else makes the booking for you with their name, you will not be on the booking list and will not be allowed to join the meeting.
If you need any assistance please contact us on:
Email: hello@taxiplus.co.uk

Please do NOT contact Trybooking directly with any queries as they will not be able to assist you. Trybooking simply provide the booking system we use. Any queries must be made through the details above.
Please select your preferred date from the list to start your booking.



Sessions

SESSIONS DESCRIPTION STATUS
LOCATION


The session will be delivered over the Zoom video conferencing system. The joining link and full instructions of how to attend the session will be included in the confirmation email sent after booking.
ABOUT TRUST2RIDE


The training session will cover various topics including:
Child Sexual Exploitation (CSE)

Human Trafficking

Recognising Indicators of Concern & Types of Abuse

Driver & Passenger Safety

Best Safeguarding Practice
By the end of the Trust2Ride Training session, you will be able to:
Understand the need to protect vulnerable adults, young people and children

Identify possibly victims of abuse and exploitation by understanding indicators of risk

Identify sources of advice and pathways for reporting concerns

Understand their roles and responsibilities in relation to personal safety and security