David Bleiman: This Kilt of Many Colours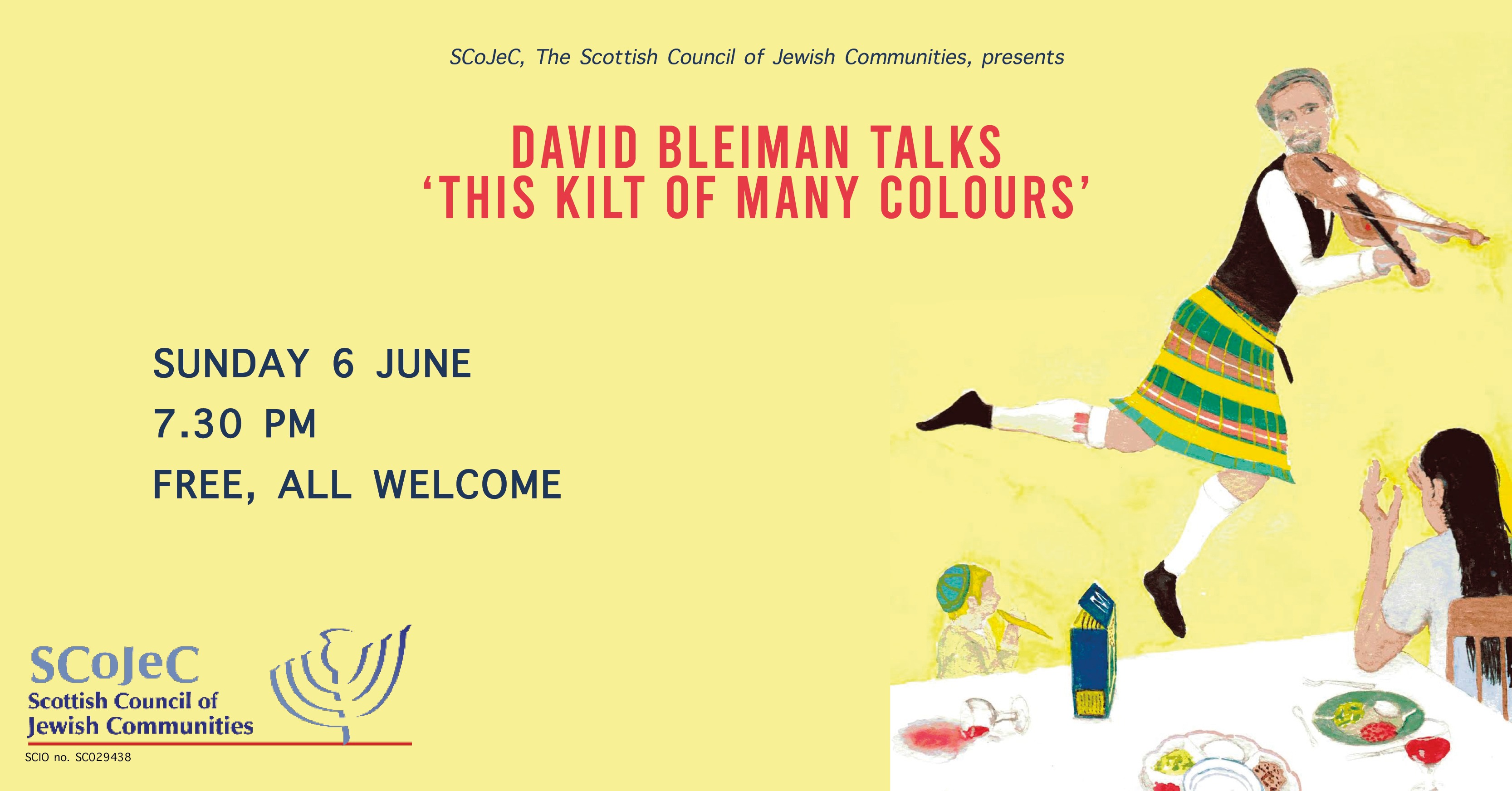 Register to receive a zoom link.
Location
Online event access details will be provided by the event organiser

Background info
David Bleiman, a member of Edinburgh Jewish Literary Society, took to writing poetry in his retirement from a career as a full-time trade union organiser (STUC President, 2002). In 2020 he won the Scots Language Society's Sangschaw prize for The Trebbler's Tale, written in the reimagined lost dialect of Scots-Yiddish. His first pamphlet, This Kilt of Many Colours, is a personal account and celebration of his own heritage and the diversity of modern Scotland in the context of the common human experience of migration and multilingualism. It comes with cover artwork by Tony Gilbert, well known as poster artist for the Jewish Lit.
David is accompanied by guest reader, Ellen Galford.
Endorsements
You won't find any kilts as fabulous as this one in the tweed-and-tartan tourist shops of Edinburgh's Royal Mile. The colours in David Bleiman's aptly titled collection are not only numerous but luminous. His love of language—and of languages—shines out, along with wit, compassion, and a gift for making fresh and unexpected connections between personal, local and global histories.
Ellen Galford, poet and author of The Dyke and the Dybbuk & The Fires of Bride
Since SCoJeC was founded to be a one-stop shop for and about Jewish people in post-Devolution Scotland, our refrain has been that Scottish Jews are "one of the threads in the tartan" that holds the country together. Here David Bleiman reminds us that we are a tartan too, with our own warp and weft, our own makaronishkeit, our own internalised diaspora. Read, think, and enjoy!
Ephraim Borowski, Director, SCoJeC
Link to author web page
https://www.dempseyandwindle.com/davidbleiman.html
Contact Details