Plymouth Gladiators Speedway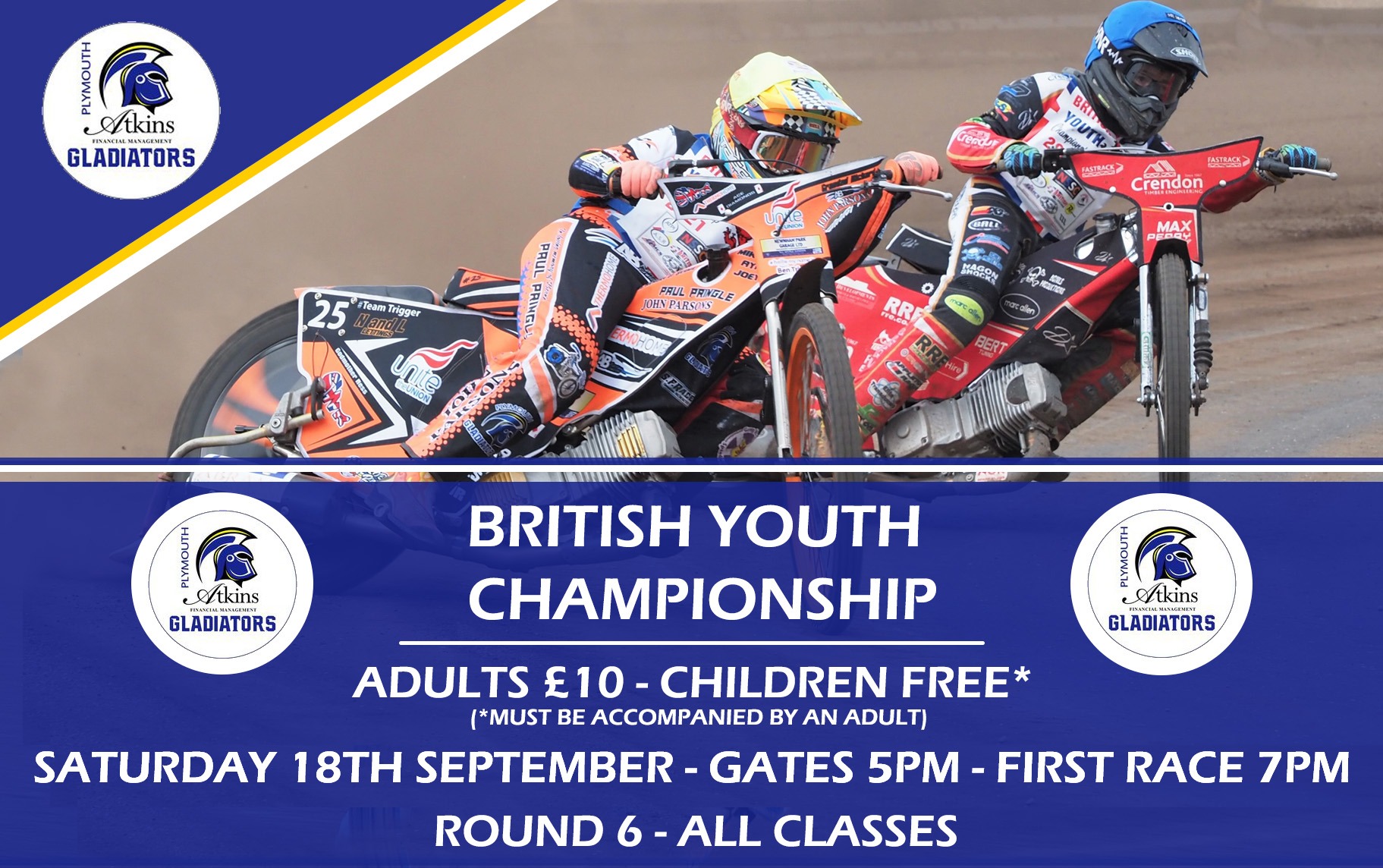 The Plymouth Gladiators Speedway Team, racing at The Plymouth Coliseum.
Welcome to The Plymouth Gladiators online ticket portal for Round 6 of the British Youth Championship (all classes) which takes place on Saturday the 18th September (Gates 5pm First Race 7pm).
Please note that all Plymouth Speedway Fixtures will be online ticket events only until further notice. There will be no card or cash admission on the night for this event.
To purchase a ticket click on the BOOK NOW button at the top of the page (For full terms & conditions, see information below).
Face masks are not mandatory, but should be worn in confined areas where applicable or directed.
(see full information below)
Location
Plymouth Coliseum,
Coypool Rd,
Plymouth, PL7 4NW
Terms & Conditions:
Please note that this event is strictly E-TICKET BOOKING ONLY. Failure to produce a valid ticket will cause you to be refused entrance to the stadium. There are no exceptions to this rule. Please note that we WILL require a valid e-mail address and contact number when ordering your ticket(s) for us to be able to send your electronic tickets to you. (We can accept no responsibility if invalid email addresses are provided)
Please be aware that the Stadium will be segmented into the following three areas: Entry will be via the Steps between the 1st Bend Stand and Bar from which you will be directed to the Area chosen on your Ticket. Area 1: Home Straight (defined as the new NHS branded Stand) 1st Bend (defined as the seated Stand and terracing on First Bend) Area 2 Back Straight (defined as either of the 2 Stands on the Back Straight) & Flyover Bend (defined as 3rd/4th Bend grass and temporary Seating Area) Area 3: (max allocation 8 wheelchairs / disable badge holder & 1 carers per disabled person) Disabled Stand (located exit to 2nd Bend - space / carer seat very strictly limited)
A maximum of 6 tickets can be purchased per order. AREA 1 – NHS Stand – £10.00. AREA 2 – All Other Areas – £10.00. DISABLED – £10.00 (with 1 free Carer) ALL CHILDREN UP TO 16* YEARS OLD FREE * (Proof of Age may be requested) *Age is deemed to be age on DATE OF PURCHASE of the Ticket. Children up to to the age of 16 are FREE but must be accompanied by a paying adult, and you must purchase a FREE Ticket for this age Group and signify how many children in this category are attending to enable us to manage numbers compliantly. When ordering your tickets you will go through the following process: >Select the number of tickets & area you wish to purchase. > Complete your details as specified within the process. >Complete your payment details and order> Order will now be complete. On completion you will receive an email to show what you have ordered. This is your e-ticket. You MUST bring this e-ticket with you printed off or CLEARLY visible on your phone for our team to check prior to allowing your admission into the stadium. It is preferable to avoid Entry congestion that you PRINT off your ticket and adhere to Social distancing signage on arrival. All spectators once checked and admitted into the stadium must remain in the stadium. If you wish to leave the venue at any time you may do so, but re-admittance will not be permitted. Due to a large number of refunds, we are unfortunately now passing the booking cost on to the customer.
In the Event of a Rain Off or late cancellation of a meeting due to any Covid related Regulation changes standard BSPL Refund policies will apply with the Ticket valid for the re-arranged Meeting or any subsequent Home Meeting in 2021. If the Event does not take place during the 2021 season due to any specific Covid 19 related issues, a Full Refund will be offered by 31 October 2021. The Online Ticket MUST be retained and will become an e-voucher credit to attend any subsequent Meeting in 2021.
We would like to thank everyone in advance for their continued support and we look forward to seeing you at the Coliseum .