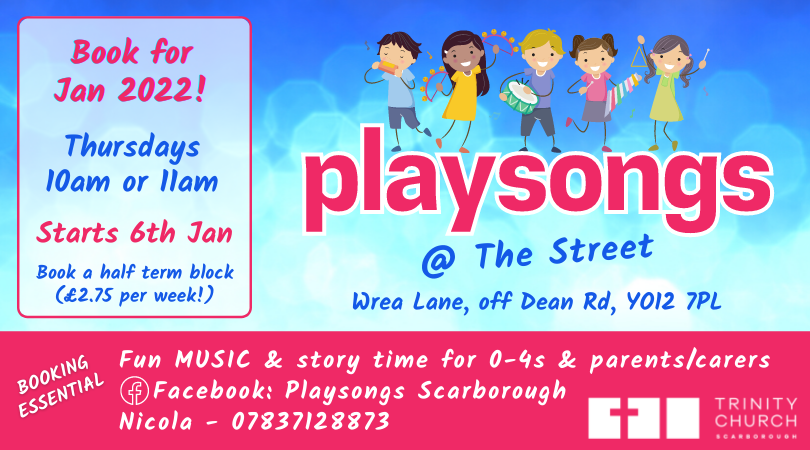 Super- fun MUSIC & story time for 0-4s and their parents/carers.
Enjoy songs, live instruments, puppets and a brilliant bible story!
Friendly and welcoming...we can't wait to see you!
Led by Nicola & her guitar (not forgetting Playsongs Pup!)
Hot drinks for adults and a light snack for all (please bring a drink for your child)
Booking for 06 Jan - 17 Feb:
1) Choose the session that best suits you:
10am:

A lovely lively session suitable for all 0-4s. Expect lots of joining in, dancing & fun!

11am:

A slightly more gentle session, particularly suited to babies and younger little ones.
2) Book one ticket per adult at £19.25 total (this includes your children age 0-4). A half-term of Playsongs sessions for just £2.75 per week!
'It's the absolute highlight of our week!' - parent to 9 month old.
Extra info: Childminders welcome - please contact Nicola if you have any questions about how many tickets/ratios.
Venue: Hall B at The Street.
Hosted by Nicola Carpenter & the Playsongs team from Trinity Church Scarborough
Looking for Babysongs? We also run a fantastic baby group on Weds mornings at 11am. More info - https://www.trybooking.co.uk/BGZB
Refund policy: If it is Nicola who has to cancel she will rearrange or refund the session.
Thursday 6 January 2022 - Thursday 20 January 2022 (UTC+00)
Location
Hall B
The Street, Wrea Lane (off Dean Road), Scarborough, North Yorkshire YO12 7PL
Sessions
SESSIONS
DESCRIPTION
STATUS