Lets do 30 for 30 Skydive Challenge (SOLD OUT)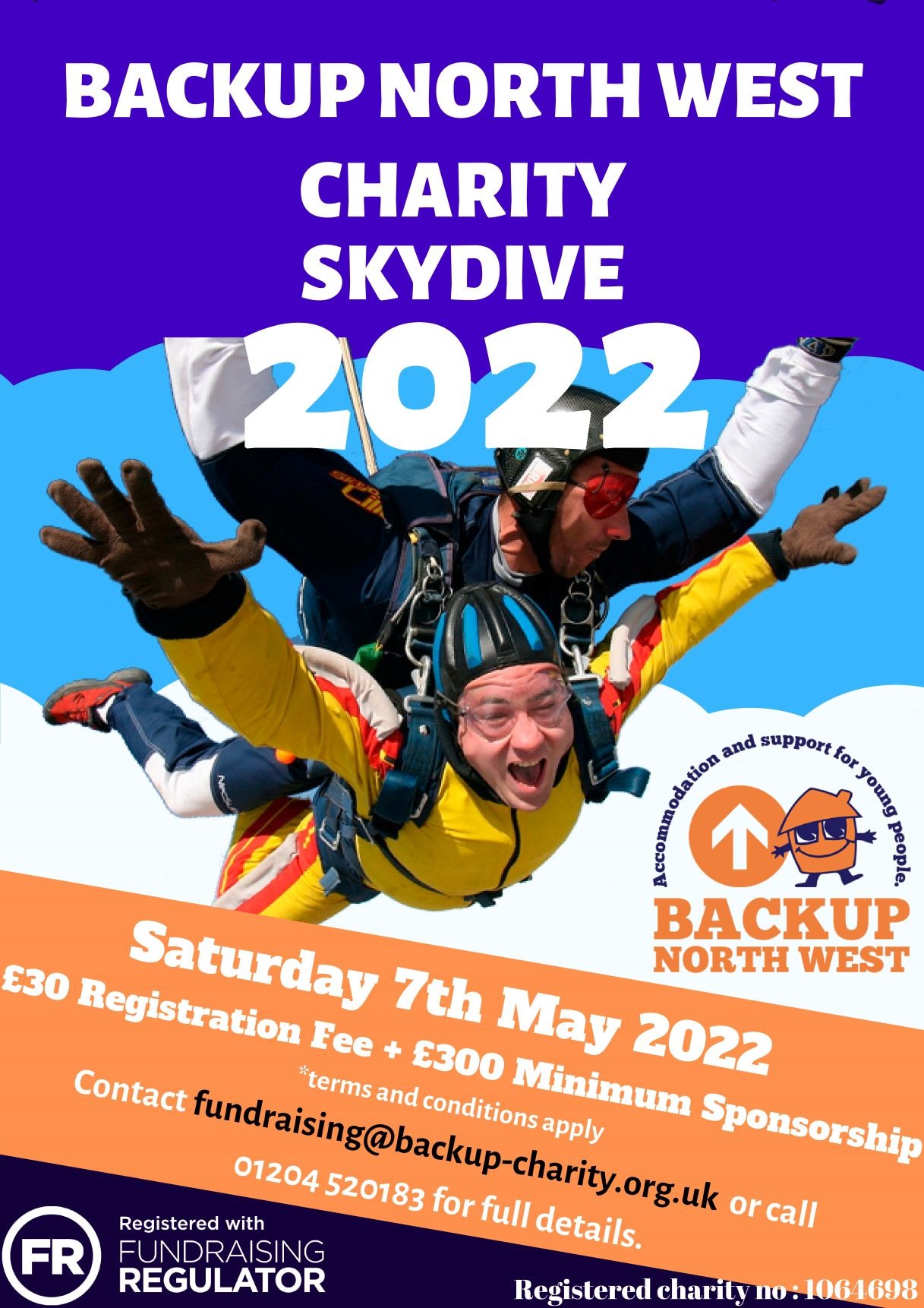 About
Congratulations on taking the plunge and booking your Skydive in aid of Backup North West. We really appreciate your support! Once you have booked your place you will receive a welcome pack with all the need to know information, forms and sponsorship details.
When: Saturday 7th May 2022
From 8:30am-2pm – Time slots will be allotted to participants.
This will be your arrival time, not the jump time.
Where: Skydive NorthWest, Cark Airfield, Moor Lane, Flookburgh, LA11 7LS
We are asking all participants to make their own way to Skydive Northwest centre.
The directions to the centre can be found at Map & Directions – Skydive Northwest.
What to wear: All specialist equipment such as helmet, goggles and jumpsuit will be provided. Goggles will fit over glasses and contact lenses are fine. Please wrap up warm, on a hot day t-shirt and trousers/shorts are fine, please wear good fitting trainers. High Heels are not suitable for skydiving!
Costs: Registration fee: £30
Sponsorship: £300 minimum
Sponsorship:
You will receive a sponsorship form in your welcome pack but if you can't wait to get started then you can set up a Just Giving page but please be aware we are NOT eligible for Gift Aid so please make sure to turn this setting off when setting up your account (instructions on how to do this can be found in the welcome pack). You can join our teams page at Backup North West Skydivers fundraising for BACKUP North West on JustGiving
Good luck wih your fundraising and even more luck for the jump itself!
Thank you for supporting Backup North West.
Location
Skydive Northwest
Cark Airfield, Moor Lane, Flookburgh, LA11 7LS