Ven. Sangye Khadro: Peaceful Living, Peaceful Dying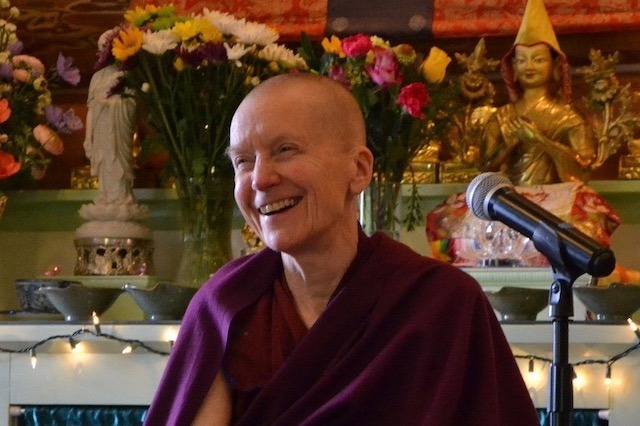 About
Buddhist teachings and practices on Peaceful Living, Peaceful Dying. Death is an inescapable part of life, and according to Buddhism it is important to prepare for it while we are alive. Doing so will enable us to live meaningfully and die peacefully, and also be better able to help friends and family when they are dying. This course, which will include talks, meditations, and Q-A, will explore ways of dealing with death positively and constructively, for the benefit of ourselves and others.
Sangye Khadro (Kathleen McDonald) was born in California, and began studying Buddhism in 1973 Dharamsala, India. She was ordained as a Buddhist nun in Kopan Monastery, Nepal, in 1974. She has studied Buddhism with various teachers such as Lama Zopa Rinpoche, Lama Thubten Yeshe, and His Holiness the Dalai Lama. At the request of her teachers she began teaching in 1979, and since then has taught in many countries around the world. She was a resident teacher at Amitabha Buddhist Centre, in Singapore, for 11 years. She is the author of two books published by Wisdom Publications, How to Meditate, and Awakening the Kind Heart. She completed the Masters Program in Istituto Lama Tsong Khapa, Italy, in 2013, and is currently residing at Sravasti Abbey in Washington, USA.
Dates + time: 15/16 October
UK: 4-5:30 pm, and 7.00-8:30pm BST,
Washington state: 8-9:30am, 11.00am-12:30pm.
Find the time in your timezone here.
Suggested donations: £65/£45/£25
There are 3 prices, in order to make this course available to all:
£65: Generosity price: to financially support those without the means to participate.
£45: Sustainable price: the regular price to sustain this course.
£25: Subsidised price, for those on low income and in need of financial assistance.
Please give generously within your means. No one will be turned away because of lack of funds.
Date
Saturday 15 October 2022 4:00 PM - Sunday 16 October 2022 8:30 PM (UTC+01)
Location
Online event access details will be provided by the event organiser