Leaders in Education - Northbridge House School, London

A networking and CPD opportunity for middle and senior leaders in education in London. The workshops focus on the research evidence of what constitutes great teaching and delivering a sustainable impact on pupil outcomes over time. The day is led by renowned educator, John Medlicott, with support from Lisa Ashes & Jonathan Taylor. Full lunch and refreshments also provided.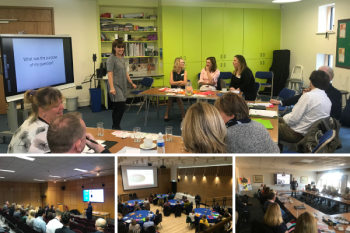 18th June 2019
10:30am - 5:05pm
The price of attending this meeting is £35 and includes refreshments, lunch and a signed copy of Lisa Ashes' latest book, 'Teacher in the cupboard'.
Agenda
10:30 - 10:35 - Refreshments and welcome from Jonathan Taylor, Collegiate Head, Northbridge House Schools
10:35 - 11:25 Session 1 - Led by John Medlicott
What is great teaching?
The research that every senior leader should know about
Putting research and evidence into outstanding practice
The greatest (and smallest) influences on pupil attainment and what this means for school leaders
Top teaching pedagogies to improve pupil progress
11:30am - 13:00 Session 2 - NeXworking Innovation Hub
13:00 - 13:45 Lunch
13:45 - 14:25 Session 3 - Led by Jonathan Taylor
Using cognitive science to improve memory and learning strategies
14:25 - 15:15pm Session 4 - Led by John Medlicott
How to have a sustainable impact on pupil outcomes over time
Leading the children to learn
Extending the cultural capital of your staff
Putting pedagogical conversations at the heart of your school
15:15 - 15:45 Session 5 - Reflections and discussion, chaired by John Medlicott
15:45 - 16:00 Refreshments
16:05 - 17:05am - Session 6 - Keynote by Lisa Ashes
Adventures in learning: A curriculum that inspires
17:05 - Meeting wrap up.
Location
North Bridge House Senior Canonbury
6-9 Canonbury Place, Islington, London, N1 2NQ