Glasgow: "Come as you are" + Ceilidh (CANCELLED)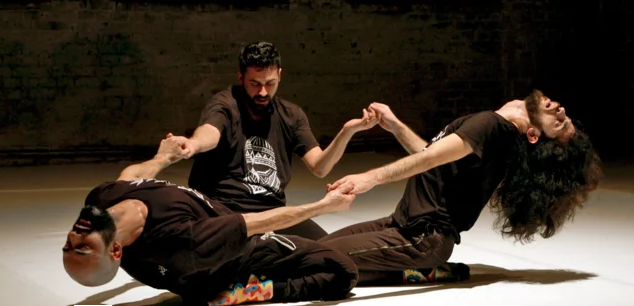 ***This event is cancelled due to circumstances beyond our control. Refunds will be issued to people who have purchased tickets**.
'Come as you are #Berlin': a contemporary dance performance.
Followed by a Klezmer & Scottish Ceilidh.

What happens when three refugees from Syria try to find their way into the Berlin art landscape: their hopes, dreams and nightmares. From Berlin based dance company TOTAL BRUTAL.
Sunday 30 June 7PM
Dance performance £15/£10
Plus Klezmer/Scottish ceilidh with band Celter Schmelter and callers £15/£10
Discounted price: combined ticket, dance performance + ceilidh £25/£15FREE and PAY WHAT YOU CAN tickets
As well as the full price tickets, there are some FREE tickets available to celebrate Refugee Festival Scotland. We don't want anyone to miss out due to lack of funds.
Nir de Volff / TOTAL BRUTAL
"Come as you are #Berlin"
The fruit of an astonishing collaboration in Berlin between an Israeli choreographer and three Syrian refugee dancers, this piece explores what happens when dancers who had trained back in Syria in ballet, musicals and folklore arrive in the contemporary dance world of Berlin, with its radical exploration of freedom, the body, sexuality, and identity.
followed by KLEZMER/SCOTTISH CEILIDH with CELTER SCHMELTER and callers Fiona Frank and Conrad Molleson
Led by fiddle player Gica Loening, Celter Schmelter is unique in playing for Scottish AND Klezmer dancing. Klezmer is the wedding and celebration music of Eastern European Jewish communities from the last century and beyond, brought bang up to date by our musicians today.
Conrad and Fiona will guide you round the dances so you don't need to know what you're doing.
ALSO IN EDINBURGH ON THURSDAY 27 JUNE 7 P.M. see www.trybooking.co.uk/6890
We acknowledge the generous support of Glasgow University Memorial Chapel, the Netherlee and Clarkston Charitable Trust and Scottish Dance Theatre in helping us to put on this event.
These events are part of Refugee Festival Scotland. More information about other Festival events can be found here.
Location
Glasgow University Memorial Chapel
The Square, Glasgow University, Glasgow, G12 8QQ