Edinburgh:"Come as you are #Berlin' + Klezmer Ceilidh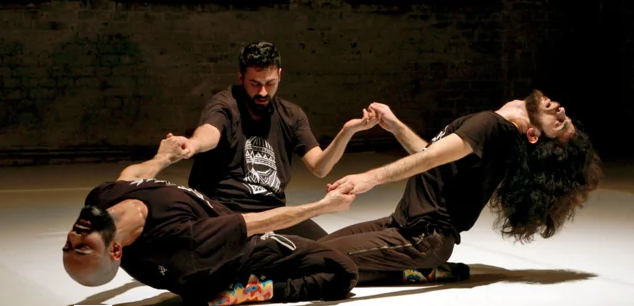 'Come as you are #Berlin'. Followed by a Klezmer Ceilidh.
CHANGE TO PROGRAMME - we are very sorry that the dance performance Come As You Are #Berlin has been CANCELLED due to circumstances beyond our control.
REVISED PROGRAMME. The dance performance has been replaced with a full length film screening of a recent 'Come As You Are #Berlin' performance, at 7 p.m. and by Q&A with TOTAL BRUTAL director Nir de Volff, before the Klezmer Ceilidh at 8.30 p.m.
What happens when three refugees from Syria try to find their way into the Berlin art landscape: their hopes, dreams and nightmares. From Berlin based dance company TOTAL BRUTAL.
Thursday 27 June 7PM
Film screening plus Q and A with TOTAL BRUTAL director Nir de Volff.
Klezmer Ceilidh with band Kleyne Klezmer and caller
FREE and PAY WHAT YOU CAN tickets.
As well as the full price tickets, there are FREE tickets available to celebrate Refugee Festival Scotland. We don't want anyone to miss out due to lack of funds.
Nir de Volff / TOTAL BRUTAL
"Come as you are #Berlin"
The fruit of an astonishing collaboration in Berlin between an Israeli choreographer and three Syrian refugee dancers, this piece explores what happens when dancers who had trained back in Syria in ballet, musicals and folklore arrive in the contemporary dance world of Berlin, with its radical exploration of freedom, the body, sexuality, and identity.
followed by KLEZMER CEILIDH with band Kleyne Klezmer and caller Fiona Frank
With Simon Carlyle (tuba), Andrew Gardiner (clarinet), and Jan Waterfield (accordion).
Klezmer is the wedding and celebration music of Eastern European Jewish communities from the last century and beyond; our musicians have a deep love and understanding of the music and its history and you'll find yourself transported to the Russian Shtetl for the night! We'll guide you round the dances so you don't need to know what you're doing.
This event is part of Refugee Festival Scotland. More information about other Festival events can be found here.
Location
Edinburgh Greyfriars Charteris Centre
138-140 Pleasance, Edinburgh, EH8 9RR