Teaching and Learning Conference 2021 (CANCELLED)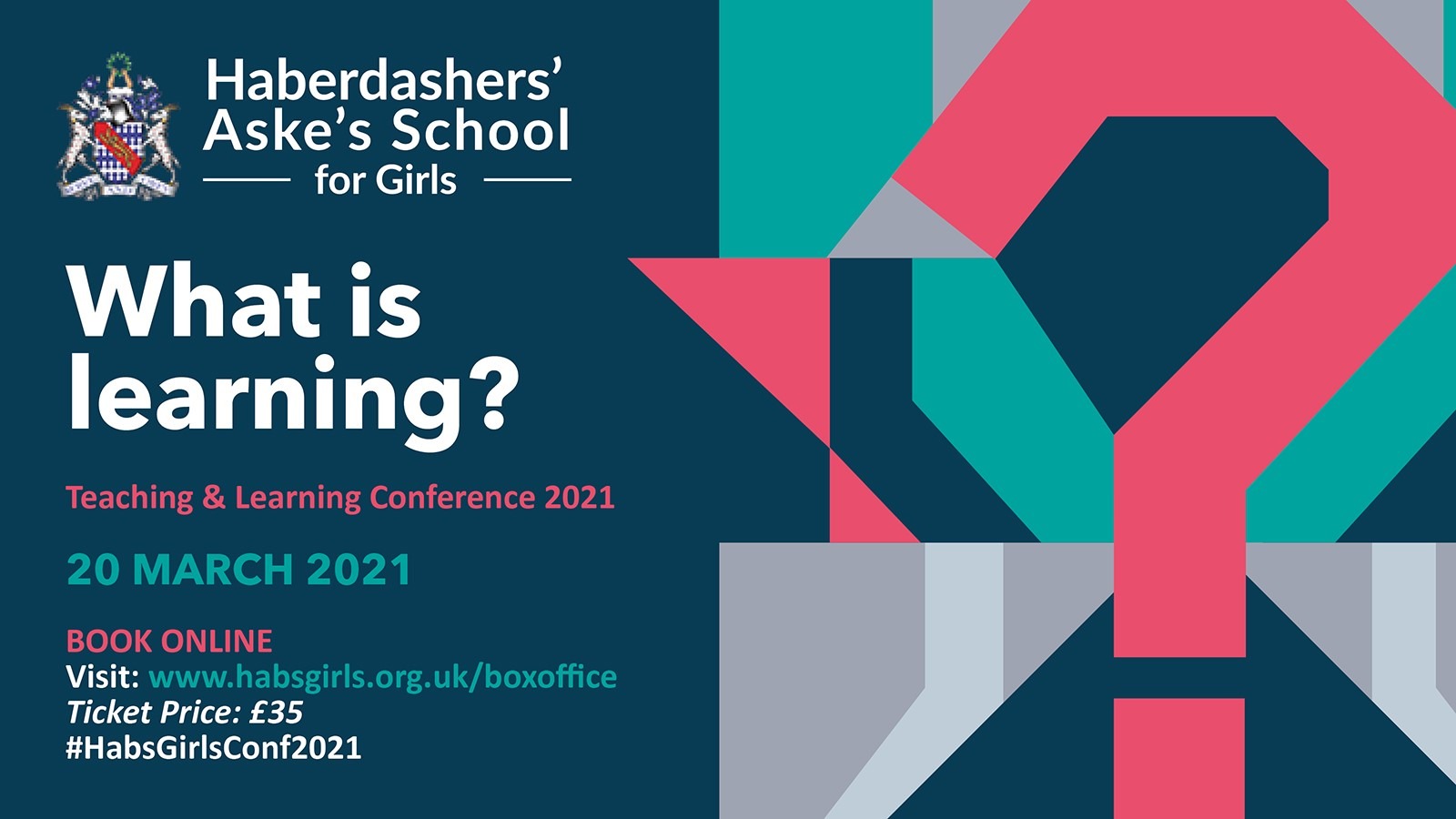 This conference has been postponed to 20 March 2021.
Following our very successful and sold out event last year, Haberdashers' Aske's School for Girls welcomes you to join us for our fourth Teaching and Learning Conference.
What is learning? What does the research tell us? In all honestly, it probably tells us too much; confuses us in fact. Should we be asking students to work in groups or alone? One results in possible social loafing and the other in a lack of mental stimulation. Should students be teaching each other? What if they misunderstand the topic and mis-teach it? What about direct instruction, does it allow neural pathways to develop as much as active learning does? Should we be teaching or facilitating, sticking to the specification or going off topic, supporting or challenging? Listening to a teacher, looking at images on a board, referring to an article and taking notes simultaneously, is that cognitive overload or best practice? What about what comes first; knowledge or skill, planning or marking, mistakes or resilience?
Our fourth annual T+L conference will give you the opportunity to hear from a variety of internationally renowned speakers, discuss some of these questions, and hopefully make your own mind up about what is best for your pupils. There isn't a one size fits all approach to education, and I am excited that on the 20 March 2021 you will get the opportunity to explore this further.
We look forward to seeing you there!
Keynote Speakers:
Laura McInerney and Matthew Burton
Speakers confirmed for this year's event include (more to be added soon):
Dr Sue Allingham
Dr Helen Burgess
Dr Kate Bridge
Dr Jared Cooney Horvath
Marie Carrick
Emily Farran
Paul Greendale
Victoria Hewitt
Dr James Mannion
Dr Lisa-Maria Muller
Matt Pinkett
Tom Rattle
Dr Clare Ruddick
Mark Squire
Brenda Taggart
Ian Tilbury
Catherine Turbett
Seb Ventura
Lou Wallace
Dr Kathy Weston
Tickets cost £35 and include a welcome breakfast, refreshments and a hot lunch
Delegates will receive an email towards the end of January asking for their session choices. Please ensure that the email address provided on booking is that of the conference delegate.
Venue: Haberdashers' Aske's School for Girls, Aldenham Road, Elstree, WD6 3BT
Arrival and breakfast: 8.30-9.20am
Welcome and Keynote: 9.30am
Finish: 3.30pm
For all enquiries please contact
Megan Hall, Assistant Head (Teaching & Learning): mhall@habsgirls.org.uk or 020 8266 2308
IMPORTANT BOOKING INSTRUCTIONS :
If your organisation is unable to pay directly by credit card then please enter the code '
invoice
' (no caps)
in the Gift/Promotion Code box and hit 'Apply' at checkout. This will send an invoice to your organisation which must be paid within 14 days of receipt, and prior to the event.
Failure to do this will result in the generation of a credit card order.