Benefits of Processing With Stripe
TryBooking's Stripe integration increases checkout payment completion and lets you directly use your existing Stripe account for a familiar and secure experience.

Offer Buyers Their Preferred Way To Pay

Accepts all major card brands including Visa, Mastercard and Amex

Fight Fraud With Stronger Protection

Automatically Track Ticket Payments and Donations
Compare Process Gateways
Processing With Our Gateway
Exceptional Customer Support
Free
Processing With Stripe Gateway
Payment Support Managed by Stripe
Directly access Stripe's 24/7 Phone, Chat and Email Support
Real time transactions to your balance
Manage refund with TryBooking
We manage your chargebacks on your behalf
Request payout at any time
Funds paid on an agreed schedule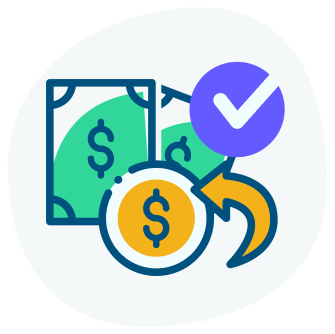 Stripe offers pay-as-you-go pricing, based on payments you process. There are no setup fees, monthly fees, or hidden fees. If your event has large payments volumes then Stripe can provide volume discounted pricing options.
Steps To Process With Stripe
Step 1 -

Connect TryBooking With Stripe

Get started by heading to your "Account Dashboard" then navigate to "Banking" then "Payment Gateway" within the TryBooking portal. Select "Use Your Own Stripe Payment Gateway" and click "Connect To Stripe".

 

When a popup appears "You will be unable to take payments through TryBooking until your Stripe account is connected", click "OK" then proceed to Stripe.
Step 2 -

Get Started With Stripe

Once in Stripe, you will be asked to input your email, once done click "Continue".

Choose which account you wish to connect to TryBooking or create a Stripe Account to connect.
Step 3 -

Save and Start Using Stripe Payments

After connecting through Stripe, the payment gateway is now live. You can now run several different payment methods and receive payments straight to your Stripe account.

 

Now offer flexible payment options to better serve your customers and reduce the risk of not getting paid. To learn more check out our learning centre article.
Connect Now
More About Stripe
Stripe is one of the world-leading online payment software built for small business.
• 90% of American adults made a payment through Stripe this year. Even if a card is new to your business, there's an 89% chance it's been seen before on the Stripe network. Allowing for quicker and safer verification whether a payment is safe or fraudulent.
• Accept & Support multiple different payment methods and wallets like Apple Pay, Google Pay, Microsoft Pay, Visa Checkout, and Masterpass by Mastercard.
• Smooth your cash flow or cover unexpected expenses with Instant Payouts. Available 24x7, including nights, weekends, and holidays. Get your earnings within minutes to your debt card
Frequently Asked Questions
What fees does Stripe or TryBooking charge?
Should you be taking payment through your TryBooking event, the transaction will be subjected to a processing fee and a ticket fee. These fees vary per region and connected payment gateway associated with your TryBooking account. Below are details of these fees by payment gateway of your choice.

TryBooking Gateway US:
$1 ticket fee (charged to the ticket buyer by default)
3.5% processing fee (charged to the event organiser by default)
Fees with TryBooking Gateway can be completely passed onto the ticket buyer.
Stripe Fees US - (Based on Pay-as-you-go Pricing):
$1 ticket fee (charged to ticket buyer as default)
2.9% + $0.30 cents processing fee (charged to the event organiser by default)
Further details on our pricing for American account holders can be found via our pricing page.
To find further details on Stripe's pricing or to negotiate your pricing independently with Stripe, please follow the link provided here https://stripe.com/pricing 
Is TryBooking a Stripe Partner for event ticketing?
Yes, TryBooking is one of official Stripe Partners for event ticketing. Allowing our account holders to integrate with the Stripe Payment Gateway easily with your Stripe account. Allowing you to receive and use your ticket sales through a all-in-one stripe account - no longer looking through different accounts to find your event payout.
What does Stripe do?
Stripe is a payment service provider that event organisers and business owners can use to accept multiple payment methods. TryBooking has integrated Stripe to your event payment gateway, to allow you to use Stripe for your ticket sales - linking your Stipe account to your TryBooking account.
Can I sell tickets on Stripe?
You can't sell tickets on Stripe, but you can sell tickets to your event through TryBooking and link it to your Stripe account. This integration allows you to use more payment methods and manage your event ticket sales payouts through Stripe.
Are there any hidden ticketing fees?
There are no sign-up or account maintenance fees, nor any lock-in contracts. Fees are only incurred when a paid transaction is processed through your event. We encourage you to create an account and see for yourself how easy the TryBooking site is to both create and manage your next event or to simply book an event.
Is TryBooking secure?
TryBooking is very respectful of the privacy of all users on its site and is PCI compliant.
Click here to view our certificate of compliance. All pages are HTTPS secure, ensuring an encrypted website connection when navigating across the site. Any personal information that may be used by the TryBooking Site in order to carry out its necessary functions is stored on a secured server protected by firewalls and is hosted in the United States. The data itself is also encrypted to further reduce any risk that your information will be obtained and used by unauthorised access. We do not store your full credit card number, only the last four digits are kept and this is to show you which card you have used to make the booking. Given the increasing sophistication of computer hackers, there are no absolute guarantees that our systems will never be accessed without our consent, or that our systems are impenetrable. However, you can rest assured that we take all reasonable measures to ensure the security of your personal information and the bookings you have made.
Can I use Trybooking to sell tickets to private events?
Absolutely! You can make your event private and turn off all social media sharing via the Event Publication. It is at your discretion to share your unique booking URL publicly or privately.
Can I charge an additional fee on top of my ticket price?
No, it is not possible to charge additional fees on top of the ticket price.