Why Challenge switched to online ticketing for their annual fundraising gala.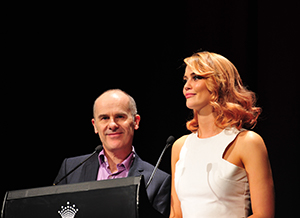 Background
Challenge has been supporting children and families living with cancer for the last 30 years. This not-­for-profit organisation hosts regular fundraising events to bring excitement and relief to children and families by offering them an outlet in the form of programs and services such as camps, hospital support, parent support and retreats, celebrity meet and greets, holiday accommodation, tickets to concerts and events, art therapy, music therapy, massage, information seminars and home help. Each year, Challenge aims to raise $2.5m to grow these programs and services.
One of the major fundraising events held annually is the Diamonds Are A Girl's Best Friend Gala Dinner, bringing together over 1,500 women who have an appetite for good food, a few drinks and dancing. Throughout the night, fundraising activities take place, with the major prize being a $10,000 diamond jewellery prize for the champagne raffle! Events of this nature involve dedication and commitment from staff and volunteers to produce such a memorable night for all attendees.
Janey Rainey, Events Manager at Challenge, implemented TryBooking's online ticketing and registration system for the Diamonds Are A Girl's Best Friend Gala Dinner to save time for staff and volunteers, "This was the first experience with online ticketing for Challenge. Previously, we sold tickets manually through the office."
The change
Says Janey, "the move to online was a vast improvement and really simplified both the ticketing and the receipting processes, which has been quite time-consuming in the past."
Challenge has never looked back, with Janey explaining, "When running events in the past we had a very time-consuming manual input system. By using TryBooking, customers put in their details at the time of booking, so it reduced the time spent on this by staff and volunteers. In the past, the receipting process was also manual and time-consuming, but by removing the onus from Challenge and putting it back on to the guests, they ensured they had the right details entered in."
Internal staff were quick to appreciate the benefits of TryBooking's system. As a large tabled event, Janey found the system "easy to use and manipulate". Janey pointed out that, "being able to issue receipts automatically saved our accountant a copious amount of time for an event of this size." Challenge was able to retain full control of seat allocations and utilised the Event Revenue Itemised report to track ticket sales on a daily basis, where they could see ticket sales soar from the moment it opened up to the public.
The results 
Online ticketing and registrations were a great success for the Diamonds Are A Girl's Best Friend Gala Dinner. Janey stated, "TryBooking worked really well, probably the most important event to have with TryBooking due to its size and popularity."
Challenge has added to their event by making the most out of TryBooking's Charitable Donations Program. "TryBooking were quick to donate the booking fee post-event," informed Janey, who was able to allocate the funds immediately to the event due to the quick release.
Overall, TryBooking proved an affordable solution for Challenge's major event. Janey adds, "As a not-­for-profit, this is a win­-win for us as it doesn't cost us and our guests are happy to pay a booking fee, comfortable in the knowledge that it gets donated back."
Janey Rainey
Events Manager
Challenge