Learn how you can cut your school formal workload down by 90%, like this leading school formal management service in Australia.
"I believe TryBooking is far more capable, far more customisable and far more support oriented than any other ticketing solution on the market."
Elliot Kleiner
Founder & Director
Meet Australia's leading experts on school formals
As the name might suggest, Prom Night Events are a talented team of event organisers who have 20+ years experience in planning and executing high school formals. 
Prom Night Events is the first event management company to:
Be dedicated only to school formals.
Win industry awards for business excellence in their market.
Have more guests, from more schools, into more School Formals, at more 5-Star venues than any other single company in Australia.
But most importantly... 
The team is committed to creating safe and fun environments. Their end-to-end formal management procedure is highly detailed with a great emphasis on legal compliance, liability exposure elimination, and risk mitigation. 
Managing school formals
The Prom Night specialists frequently save school committees from a huge amount of administrative and planning burden. 
TryBooking are Prom Night's ticketing platform of choice and is used to sell tickets/bookings/allocations to all of the formals they organise.
Prom Night Events also provide other services such as decorations, photography, security, MCs and DJs on the night. 
We chatted with Founder and Director, Elliot Kleiner, who is widely regarded as one of Australia's leading experts on teen culture, school formals and event management.
We asked Elliot about his experience with TryBooking and how they cut administration down by 90% using our ticketing platform.
Manual ticketing: slow, difficult and creates cash flow issues
In the past, Elliot and his team largely relied on the manual administration to organise formals.
"We had a haphazard data collection system where the primary workload was on the organiser, and the transfer of data into ticketing was manual and time-heavy. Then we used to print our own tickets that had to be made counterfeit-proof, distributed by hand and this was costly as well as slow, and less than foolproof."
Managing ticket funds the manual way also proved to be difficult logistically.
"The organiser had to be at a collection point for ticket funds, which we received in a lump sum just prior to the event. This meant we had no operational cash flow at all throughout the rest of the year."
Making the switch to TryBooking
Elliot was hesitant at first about entrusting Prom Night Event's ticket revenue to another online platform. Paperwork was laborious, but it was the familiar way, so he had to make the decision very carefully.
After meeting the TryBooking team, however, he was thoroughly impressed. 
"I was skeptical enough to fly over and see the TryBooking set up for myself. I conferred with the management and staff, observed their in-house systems and returned to the office completely convinced that this was our future."
The team at TryBooking recommend that if you're ever unsure about making the switch to online ticketing, give our local support team a call. They will answer any queries you may have and give you all the tools you need to sell tickets online with confidence.
How Prom Night Event's increased work capacity 3x and cut their workload down by 90%
According to Elliot, TryBooking's online ticketing system completely transformed Prom Night's administration systems. 
By opening up the ability for guests to book tickets, pay and provide their dietary information all in one single transaction online, guests no longer required middlemen or help from staff to make bookings. 
They could also book at any time of day/night from any desktop or mobile device. 
"We now have online, secure transaction, ticket purchasing. Cash flow is constant and positive. The data transfer is now done by each ticket purchaser who conveys their own preferences for seating, ticket names, food intolerances etc."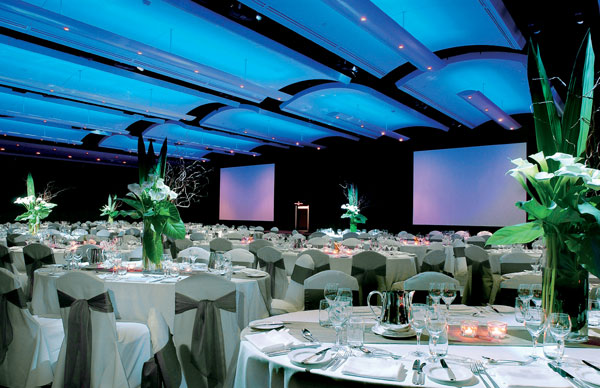 Letting guests book their own tables proved to be a huge time-saver for Prom Night Events. 
"The online templates and reporting systems integrate perfectly with our own software systems so procedurally, it was like it was made for us.
To be honest, it's like an operational miracle. Up to 80 man hours per event has now been saved, which equates to tens of thousands of dollars per year. We'd never go back."
In the long run, this means that Elliot and his team are able to take on more clients and provide their popular service more often.
"TryBooking has thrust us into a new dimension of capacity. Prior to this, we could manage maybe 30 events per year. Now, we can easily manage over 3 times that volume with the same staffing."
The most important features needed to run a school formal
School formals have table/group seating, and so it is important to give guests some choice over allocation so that they can arrange to sit with their closest friends or family. 
On TryBooking, it's simple to upload a floor plan and let them decide which table they want to book for.
TryBooking allows you to directly upload custom seating/table plans for guests to view and book. Their ticket will connect their name to a particular seat. 
Elliot says that another key consideration, which is more important now than ever before, is to clarify special dietary requirements from guests. 
"These days, unlike 3 decades ago, food intolerances and allergies can mean the difference between life and death. Then there are lifestyle and religious choices like vegans or halal / kosher considerations. 
TryBooking allows us to have the actual ticket purchaser nominate these restrictions on food at the time of buying their ticket and selecting their seating. This way the integrity of the data is maintained and we know precisely who needs what special meal at what seat. There are no mistakes."
Collecting this information can be quickly set up using the system's data collection features.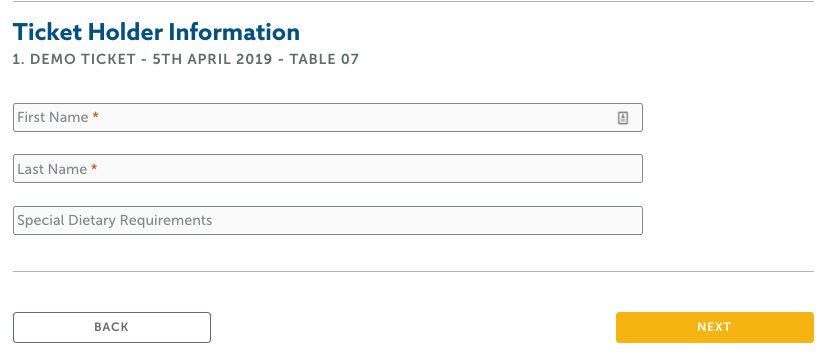 TryBooking lets you ask each attendant about their own specific dietary requirements - even if it is a group booking.
Communication with organisers is usually about ticket sales and seating issues. The TryBooking system allows us to select any of a multitude of reports and deliver a secure password login system to the organiser so that they can track these details online without the need to call us for daily updates.
It means that communication is reduced significantly because they can gather their own answers fast."
Last, but definitely not least, every school gets their own customised event page and tickets featuring their own artwork and logos.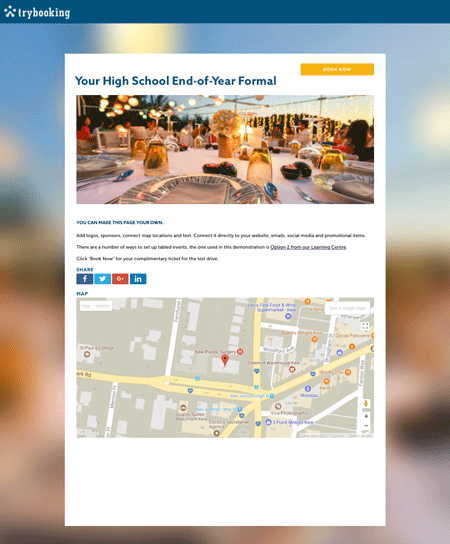 TryBooking makes it quick to set up your school formal event homepage and tickets with custom backgrounds, images and logos. Your event will have a unique URL that you can share, and you can set the event to be public or private.
Why quality support is crucial to a school event

Getting the proper customer support is more than just a "nice to have" when you're running a school event. 
Having a dedicated support team on your side will have a huge impact on the outcome of your event, keep mishaps to a minimum and give you greater confidence that things are going to plan.
As Elliot explains, "The best part was the ongoing support. If we needed something to work, the TryBooking team were all over it for us. If we came up with a new idea, they wanted to hear it and in many instances, we collaborated on certain add-ons and improvements that are now available to other TryBooking users. 
The system is constantly evolving and growing to suit a wider diversity of needs, but these are needs that are being suggested by the TryBooking customer base. 
TryBooking listen and they help."
Final recommendations
"As far as event management goes, I believe TryBooking is far more capable, far more customisable and far more support oriented than any other ticketing solution on the market."
Elliot Kleiner
Founder & Director 
Prom Night Events