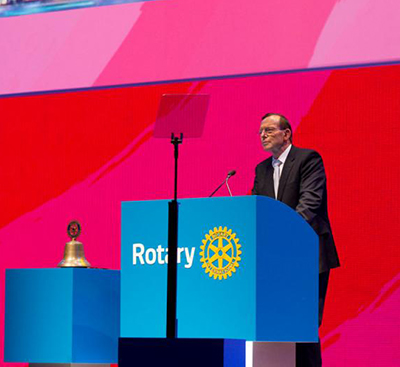 Background
Every year, Rotary International hosts a 4 day International Convention for approximately 20,000 Rotarians and their partners. This year's event took place in Sydney and Greg Muldoon was charged with the task of organising and coordinating the social events run by the Host Organising Committee.
In order to successfully run such large scale events, coordinated entirely by volunteers, Greg acknowledged his need for a robust online booking system.
"I needed a one-stop-shop that would allow people to book for multiple events at the one time, rather than having to book different events at various different websites. It had to be easy to use for registrants and administrators. I wanted to be able to monitor and manage the bookings myself, and it had to be cost-effective.
TryBooking has provided us with a professional booking service that gave us exactly what we were wanting, and it's easy to use, which saves us a lot of time."
The change
TryBooking's flexibility helped Greg to seamlessly ticket, register, and book a huge variety of events, ranging from a welcome Aussie BBQ at Sydney Olympic Park to a Host Hospitality night, a Restaurant Night, Home Stays, and a performance by the Sydney Symphony Orchestra at the Sydney Opera House.
"TryBooking enabled us to get a handle on how many people were interested in volunteering, stock levels required for food events, and special dietary requirements". Bookings for the Host Hospitality night were simplified enormously with TryBooking's data collection feature that "allowed us to marry people up with suitable groups based on language, location, and dietary needs".
Greg recalls the initial complexity of the Sydney Opera House event given "the need for allocated seating in many different sections, necessitating a specific floor plan with individual seats and specified door entry points". Moreover, he needed full control over the ticketing of the event to ensure patrons would have one shopping cart for all bookings.
"I am delighted with the TryBooking service and would certainly use you again and recommend you to others. "
He explains that "the Sydney Opera House does not usually allow anyone to do the bookings at the Opera House. They do this in-house. It was not easy to get them to allow us to do our own ticketing for this event and they had very specific requirements which had to be followed. We were able to satisfy them that TryBooking could manage the bookings to their high standards".
For Greg, governance of the system was also vital. "We had to make sure the system was secure, yet able to provide access to other people who needed information".
The friendly TryBooking team suggested making use of the Read-Only reporting access feature which suited Greg's needs perfectly. He tells us, "Now, I am the only person who has access to the full system and I create Read-Only Access for individuals who need access to specific information and reports. Perfect!".
The results
We asked Greg how bookings have been going thus far and he tells us excitedly that, "we have had over 4,000 registrations so far for just one of our events and over 2,600 for another. We have received comments telling us it's easy to book events and several other Rotary Clubs have even set up their own TryBooking accounts as a direct result of using TryBooking with us.
I am delighted with the TryBooking service and would certainly use you again and recommend you to others."

Greg Muldoon
Host of Organising Committee Events Chairman