Mountmellick Embroidery Workshop
Saturday 29th and Sunday 30th May, 2021.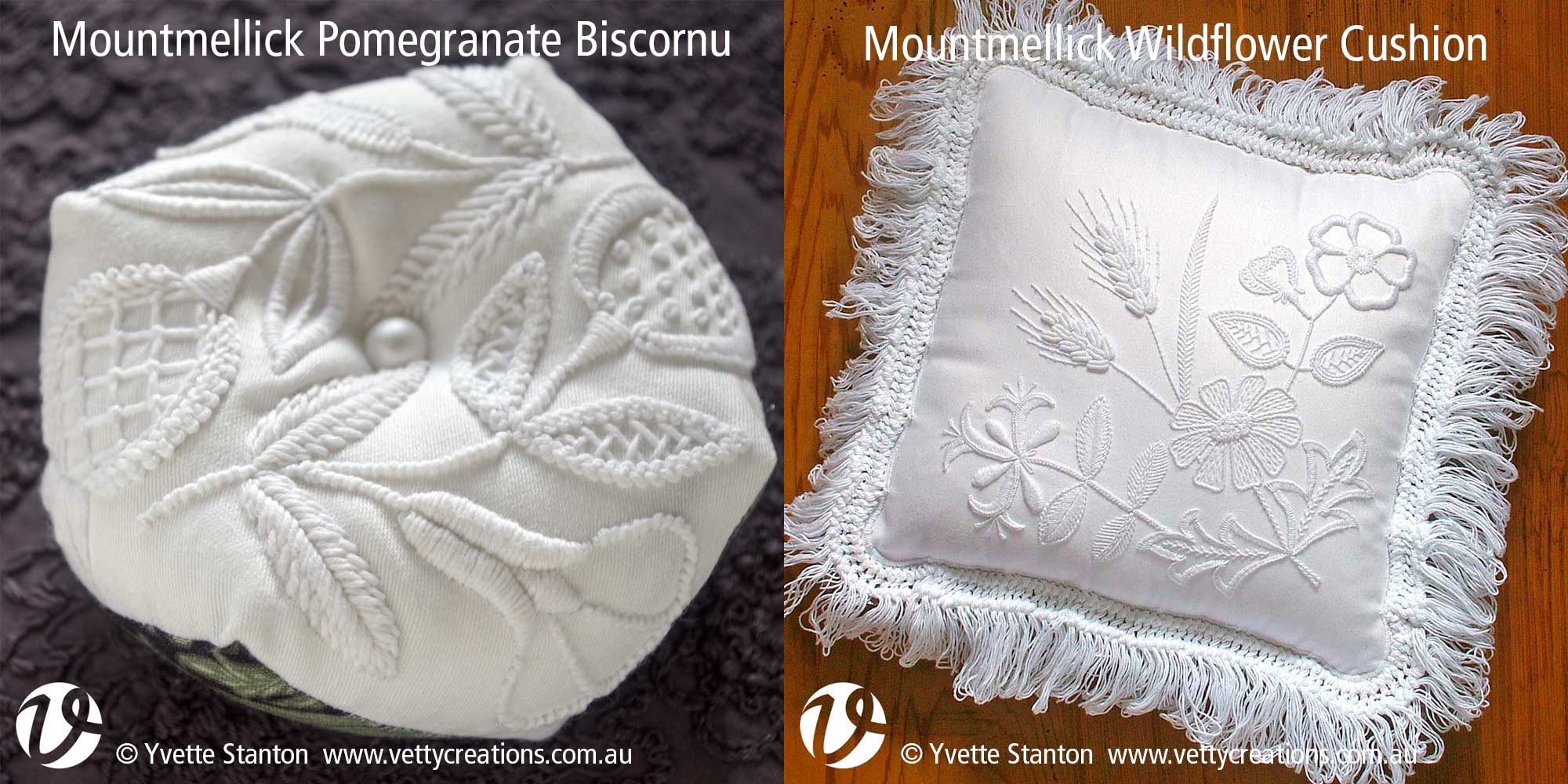 Mountmellick embroidery is a style of floral whitework embroidery from Ireland. It uses white thread on white fabric and a range of knotted and padded stitches to create rich and sumptuous embroidery.

Two projects will be offered: Pomegranate Biscornu and Wildflower Cushion. The stitches will be learned and the project started in class. There will also be a demonstration of the knitted fringe.

All skill levels are welcome - even beginners!

2 day class. 9-4pm daily. 1 hour lunch break.

NB: In these uncertain times, we recommend you have an appropriate travel insurance policy.
About Yvette Stanton
Yvette Stanton is the author of ten instructional embroidery books, with most focusing on historical needlework as well as two stitch dictionaries. Her book, co-authored with Prue Scott, "Mountmellick Embroidery: Inspired by Nature" is regarded by many, particularly those in Mountmellick, as the best book on the subject. In 2002, Yvette travelled to Ireland to research Mountmellick embroidery. She learnt from Sister Teresa Margaret McCarthy of Mountmellick, and viewed many historical pieces of Mountmellick embroidery in museum and private collections.
Workshop requirements
Your project kit (included in the cost of the workshop) will have the cotton satin jean fabric with pattern already traced, Mountmellick thread and needles required for the class. Stitch instructions and project instructions are also provided.
You will need to bring a 15 or 20cm / 6 or 8 inch hoop, scissors, a wash out fabric pencil (Yvette will have these on sale, if you don't have one), magnification and lighting. A pen or pencil for making notes may also be helpful.
If you're doing the Wildflower Cushion project, if you have metal knitting needles in size 10, 11 or 12, please bring them. If you don't, and you wish to try the knitted fringe, you can use Yvette's knitting needles in class.
For each project, additional materials will be required to complete the project, but these are not required in class.
Contact Details
Location
Walcha Handmade
6N Derby Street, Walcha NSW 2354
Walcha is a small, creative town, with wonderful attractions including the beautiful Apsley Falls, just 15 minutes drive from Walcha. https://walchansw.com.au/explore/
Accommodation in Walcha: There are a number of accommodation options including B&Bs, hotels, motels, guest house and caravan park. We recommend booking any accommodation as soon as possible, so that you don't miss out. Rural NSW has many visitors at the moment, and accommodation can be hard to book at times. https://walchansw.com.au/where-to-stay/
Getting to Walcha: https://walchansw.com.au/local-transport-services-in-walcha/ At the time of writing, the Oxley Highway between Walcha and Port Macquarie is closed due to landslips from flooding rains, and may remain so for several months. (Access is still available to Apsley and Tia Falls, though.)
Our venue, Walcha Handmade, is a small creative co-operative, with quality gifts and souvenirs available. We will be holding our class in the studio at the back of the shop. The room is heated with a combustion stove in colder weather. Walcha can be very cold at times, so we recommend dressing warmly with layers so that you can be comfortable whether in class or outside.