BoSP on demand: Managing fee variations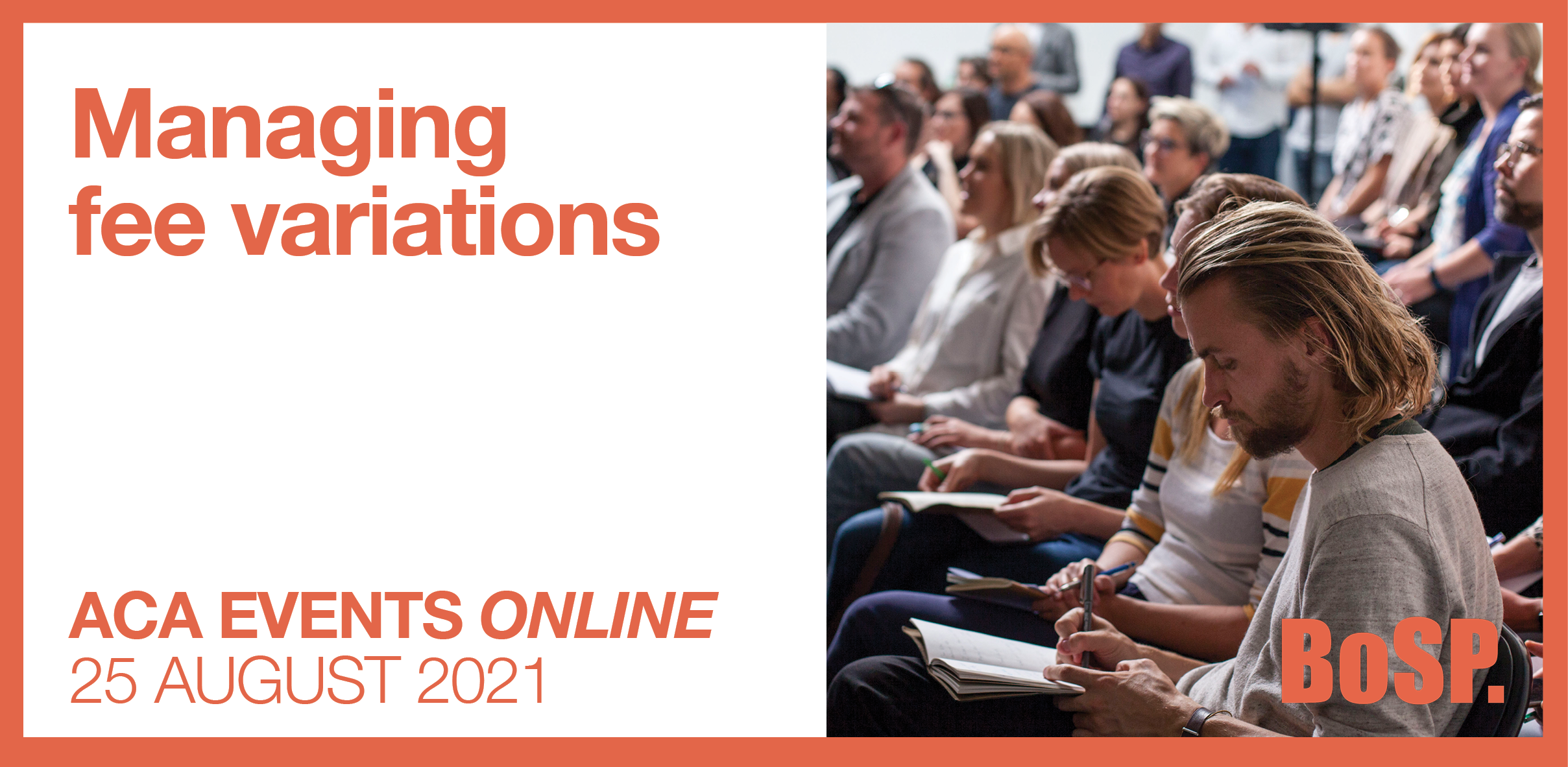 Join the ACA and the Business of Small Practice (BoSP) for a discussion about managing fee variations. Originally held 25 August 2021.
With the price of construction skyrocketing, we felt it was time to check in with small practice Directors to ask them how they are dealing with this unique moment in time.
In an hour-long conversation, Kate Fitzgerald, Warwick Mihaly and Mick Moloney (the three players behind the Indetail podcast*) will share how they navigate the tricky waters of percentage fees, and what systems and processes they use to communicate the value of 'flexible fees' to their clients.
Our Speakers
*Indetail is the passion project of Mick Moloney, Warwick Mihaly and Kate FitzGerald, three small practice Directors working in Perth, Melbourne and Ballarat, Vic. The Indetail podcast takes listeners behind the scenes of creative business and lifts the veil of silence on running a business to share all the things Mick, Kate & Warwick wished they'd known when they started out. The trio tackled the taboo issue of fees in a two-part episode in Season One, and received an overwhelming feedback from their listeners about the use of Client Guides, Quantity Surveyors and things they've added to their fee proposals which are relevant to the conversation happening in the BoSP community about fees, budgets and industry price increases.
Our Host, Kate Fitzgerald is the Co-Founder of Whispering Smith, a Fremantle-based practice delivering residential and commercial projects and Vice-President of the WA Branch of the ACA and Co-Founder of the BoSP. Warwick Mihaly is a Co-Founder at Melbourne-based practice, Mihaly Slocombe with his wife and partner Erica, Director at Architeam and the writer behind Panfilo, Australia's most widely read business blog for architects. Mick Moloney a Co-Founder of Ballarat and Melbourne based practice Moloney Architects which he runs with his wife and partner, Jules. He is a Registered Architect and is university educated in both Architecture and Construction Management and is a generous advocate for small practice, and for his regional home-town of Ballarat.
COST
Members $25
Non-members $40
*One ticket is required per attendee. **After booking you will receive the recording registration link and CPD questions for this BoSP event. Follow instructions to submit your own responses to CPD questions, view answers and for issue of a certificate of completion.
CPD
Participation in this 1 hour webinar will deliver 1 formal CPD point.
Learning outcomes - After participating in this event participants will have a better understanding of:
How to set percentage fees, some tips and pitfalls

What systems and processes can be used to demonstrate value to support negotiations of flexible fees

How to communicate with clients effectively and consistently in the setting and variation of fees through the stages of a project
AACA NSCA: 1. Design: Project briefing - 1.1; 2. Design: Pre-Design - 2.4, 2.5; 8. Project Delivery: Construction Stage - 8.5; 9. Practice management - 9.3, 9.8
APBSA Core Area: Practice Management
Please keep your receipt, completed questions and certificate for your records.
CONTACT
For more information, contact Katherine Ygosse webinars@aca.org.au 0413 520 548.
This event is brought to you by ACA WA and BoSP