Speakeasy HQ presents an action-packed cavalcade of performances that spans the widest cross-section of live performing arts in the country.
Each vaudeville program includes up to 25 artists, performing 3-5 minutes routines, including circus artists, burlesque dancers, sideshow presenters, tap dancers, stand-up comedians, cabaret performers, jugglers, knife throwers and hypnotists to name a few.
THIS TICKET INCLUDES THE BURLESQUE EXTRAVAGANZA & Post SHOW Entertainment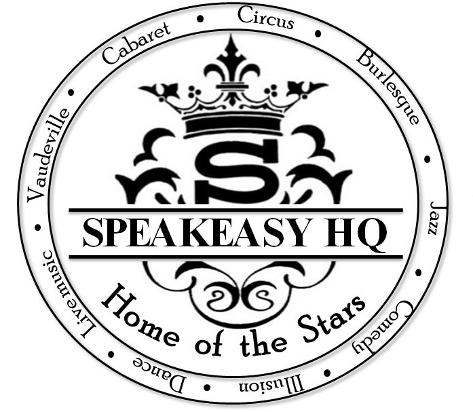 A little bit about your Speakeasy HQ Experience
Speakeasy HQ is proud to boast that it is the only vaudeville theatre to operate in Australia since the Tivoli closed in Bourke St in 1968.
Vaudeville means short performances with a variety program. An average show at Speakeasy HQ will present up to a dozen artists that range from a stand up comedian, to a ballerina and a jazz act to a tap dancer. Speakeasy HQ currently presents fours days a week, on Thursday through to Sunday.
Entree sized tapas dishes are available for purchase from our bar, and our Candy Dolls serve delicious treats all night long!
Like us on Facebook Speakeasy HQ  for up-to-date listings of performers, promotional offer and the latest news or for more information, bookings or the latest specials log onto the website.
Speakeasy HQ
(Apollo Theatre Room)
522 Flinders Street
Melbourne, VIC 3000
Grab any tram heading along Flinders Street!
For direct inquiries contact the beautiful Knuckles at Knuckles@Speakeasy-HQ.com or Phone - 0447 199 914
If contacting Speakeasy HQ Thurs - Sat, please ensure you leave a voicemail or send an SMS to assist in a quick reply. 

Sessions
| | | | |
| --- | --- | --- | --- |
| Sessions | Description | Status | |
| Saturday 29 April 2017 8:30 PM | | Open | |
| Saturday 6 May 2017 8:30 PM | | Open | |
| Saturday 13 May 2017 8:30 PM | | Open | |
| Saturday 20 May 2017 8:30 PM | | Open | |
| Saturday 27 May 2017 8:30 PM | | Open | |
| Saturday 3 June 2017 8:30 PM | | Open | |
| Saturday 10 June 2017 8:30 PM | | Open | |
| Saturday 17 June 2017 8:30 PM | | Open | |
| Saturday 24 June 2017 8:30 PM | | Open | |
Saturday 29 April 2017 8:30 PM
Saturday 6 May 2017 8:30 PM
Saturday 13 May 2017 8:30 PM
Saturday 20 May 2017 8:30 PM
Saturday 27 May 2017 8:30 PM
Saturday 3 June 2017 8:30 PM
Saturday 10 June 2017 8:30 PM
Saturday 17 June 2017 8:30 PM
Saturday 24 June 2017 8:30 PM