ILLUSIONAIRE Magic Show Melbourne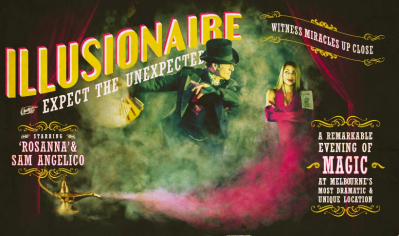 This is one magic show not to be missed! 
Witness Delightful & Breathtaking Miracles Up Close.
Untraditional and compelling in their creation of original effects and mind-blowing comedy magic, this show will leave you delightfully flabbergasted.
Witness a unique blend of the creative and flawless skills of Sam Angelico, combined with the inspired charm and amazing talents of 'Rosanna'.
This show makes the impossible, seem possible.
Experience an evening of remarkable and enchanting magic by international award winning "Champion of Comedy Magic" at FISM - the highest accolade achievable by any magician globally - Sam Angelico.
Rosanna Maccarrone, is one of the very few female magicians in the world who has performed exciting & mind blowing magic for celebrities and dignitaries globally for over 21yrs.
Together they are a powerful team that will delight and astound. Held at Melbourne's Most Dramatic & Unique Location.  
"A spellbinding show that is as funny as it is shocking and glamorous"
Venue
Mission to Seafarers Dome
717 Flinders St - (Corner of Siddeley & Flinders St)
Docklands
Melbourne, Victoria 3008
Next Show Dates
Saturday 26th August & Sunday 27th August, 2017
At 2:30pm & 7:30pm each day.
The show will be on each weekend until and including Sunday the 27th August 2017.  
Please Note: There will be no "Illusionaire Magic show throughout September & for the first three weeks of October. Illusionaire will be on tour, performing in Europe and China for 8weeks.
Performances in Melbourne at the Dome will resume on the 28th & 29th October, 2017 and then on each weekend all throughout 2017 till the 24th December. Show times are the same as above, unless otherwise indicated on the "Session time" page.
The matinee shows is very suitable for a family audience for children preferably 8yrs and up. The show is language appropriate and the content displays beautifully visual and sophisticated magic. 
The venue is wheelchair accessible. Please call ahead so we may provide you with assistance and/or guidance. 
Car parking is available with a flat rate of $8, located behind the venue, off Siddeley St, over the weekend. Also trams stop regularly just outside the venue on Flinders St, Docklands. 
Bar service for drinks and snacks are available before and after the show. 
Once you purchase your ticket/s, presenting tickets at the venue on a smart phone or similar device is accepted, if printing is not possible.
Limited seating, so book your tickets fast.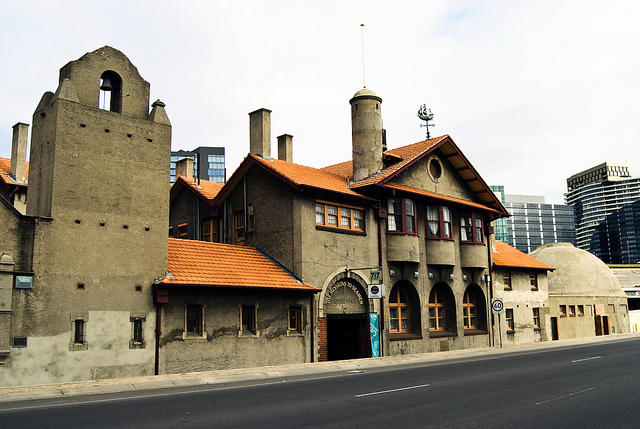 Contact Details:
Tina on M: 0401727776 or
email: illusionairemagicshow@gmail.com
Sessions
| | | | |
| --- | --- | --- | --- |
| Sessions | Description | Status | |
| Saturday 26 August 2017 2:30 PM | Saturday Matinee | Open | |
| Saturday 26 August 2017 7:30 PM | Saturday Evening | Open | |
| Sunday 27 August 2017 2:30 PM | Sunday Matinee | Open | |
| Sunday 27 August 2017 7:30 PM | Sunday Evening | Open | |
| Saturday 28 October 2017 2:30 PM | Saturday Matinee | Open | |
| Saturday 28 October 2017 7:30 PM | Saturday Evening | Open | |
| Sunday 29 October 2017 2:30 PM | Sunday Matinee | Open | |
| Saturday 4 November 2017 2:30 PM | Saturday Matinee | Open | |
| Saturday 4 November 2017 7:30 PM | Saturday Evening | Open | |
| Sunday 5 November 2017 2:30 PM | Sunday Matinee | Open | |
| Sunday 5 November 2017 7:30 PM | Sunday Evening | Open | |
| Saturday 11 November 2017 2:30 PM | Saturday Matinee | Open | |
| Saturday 11 November 2017 7:30 PM | Saturday Evening | Open | |
| Sunday 12 November 2017 2:30 PM | Sunday Matinee | Open | |
| Sunday 12 November 2017 7:30 PM | Sunday Evening | Open | |
| Saturday 18 November 2017 2:30 PM | Saturday Matinee | Open | |
| Saturday 18 November 2017 7:30 PM | Saturday Evening | Open | |
| Sunday 19 November 2017 2:30 PM | Sunday Matinee | Open | |
| Sunday 19 November 2017 7:30 PM | Sunday Evening | Open | |
| Saturday 25 November 2017 2:30 PM | Saturday Matinee | Open | |
| Saturday 25 November 2017 7:30 PM | Saturday Evening | Open | |
| Sunday 26 November 2017 2:30 PM | Sunday Matinee | Open | |
| Sunday 26 November 2017 7:30 PM | Sunday Evening | Open | |
| Saturday 2 December 2017 2:30 PM | Saturday Matinee | Open | |
| Saturday 2 December 2017 7:30 PM | Saturday Evening | Open | |
| Sunday 3 December 2017 2:30 PM | Sunday Matinee | Open | |
| Sunday 3 December 2017 7:30 PM | Sunday Evening | Open | |
| Saturday 9 December 2017 2:30 PM | Saturday Matinee | Open | |
| Saturday 9 December 2017 7:30 PM | Saturday Evening | Open | |
| Sunday 10 December 2017 2:30 PM | Sunday Matinee | Open | |
| Sunday 10 December 2017 7:30 PM | Sunday Evening | Open | |
| Saturday 16 December 2017 2:30 PM | Saturday Matinee | Open | |
| Saturday 16 December 2017 7:30 PM | Saturday Evening | Open | |
| Sunday 17 December 2017 2:30 PM | Sunday Matinee | Open | |
| Sunday 17 December 2017 7:30 PM | Sunday Evening | Open | |
| Sunday 24 December 2017 2:30 PM | Saturday Matinee | Open | |
Saturday 26 August 2017 2:30 PM
Saturday 26 August 2017 7:30 PM
Sunday 27 August 2017 2:30 PM
Sunday 27 August 2017 7:30 PM
Saturday 28 October 2017 2:30 PM
Saturday 28 October 2017 7:30 PM
Sunday 29 October 2017 2:30 PM
Saturday 4 November 2017 2:30 PM
Saturday 4 November 2017 7:30 PM
Sunday 5 November 2017 2:30 PM
Sunday 5 November 2017 7:30 PM
Saturday 11 November 2017 2:30 PM
Saturday 11 November 2017 7:30 PM
Sunday 12 November 2017 2:30 PM
Sunday 12 November 2017 7:30 PM
Saturday 18 November 2017 2:30 PM
Saturday 18 November 2017 7:30 PM
Sunday 19 November 2017 2:30 PM
Sunday 19 November 2017 7:30 PM
Saturday 25 November 2017 2:30 PM
Saturday 25 November 2017 7:30 PM
Sunday 26 November 2017 2:30 PM
Sunday 26 November 2017 7:30 PM
Saturday 2 December 2017 2:30 PM
Saturday 2 December 2017 7:30 PM
Sunday 3 December 2017 2:30 PM
Sunday 3 December 2017 7:30 PM
Saturday 9 December 2017 2:30 PM
Saturday 9 December 2017 7:30 PM
Sunday 10 December 2017 2:30 PM
Sunday 10 December 2017 7:30 PM
Saturday 16 December 2017 2:30 PM
Saturday 16 December 2017 7:30 PM
Sunday 17 December 2017 2:30 PM
Sunday 17 December 2017 7:30 PM
Sunday 24 December 2017 2:30 PM