CEE Conference 2017 - Enterprising Minds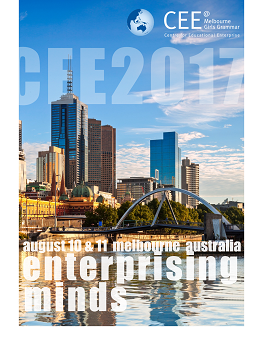 CEE Biennial Conference 2017 - Enterprising Minds
10 & 11 August 2017
Melbourne, Australia
The Centre for Educational Enterprise (CEE) is proud to present the biennial conference in Melbourne on 10 and 11 August 2017.
This one and half day's conference has been designed to promote discussion on enterprise education, a vision that places students at the heart of schooling initiatives that promote the non-cognitive attributes of learners to ensure they are ready to thrive in the 4th Revolution World.
CEE has developed an educational narrative that champions the development of enterprising mindset in youth, to ensure that children today are being equipped for a digital age in which their experiences of work and wellbeing will be vastly different to that of their parents. Through the establishment of the Centre for Educational Enterprise (CEE, 2015), CEE has taken this agenda international, launching in 2016 the Enterprising Schools Network to connect educators who are acting and leading for the same greater purpose.
Internationally recognised speakers will join us for a dynamic experience, expertly convened by Jan Owen AM. Those in attendance will question our current educational paradigm, and reimagine the use of time, new roles in schools, and new ways of young people can take greater control of and personalise their learning.
This conference will be of interest to a wide range of educators, academics, entrepreneurs, economists, and other social agencies.
To view the full program, visit cee.mggs.vic.edu.au/cee-events


This event is currently closed and no contact details are available