Food, Family & Faith - Fr. Leo Patalinghug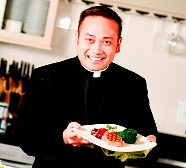 Come and be inspired with more creative ways to feed your family's soul as well as their stomach!
Fr. Leo Patalinghug is the founder, host, and director of Grace Before Meals, an international foundation to help strengthen families and relationships through God's gift of a family meal. Also an author, EWTN TV host, award-winning break dancing choreographer and martial arts teacher, Fr Leo will be touring Australia next month.

Along with a cooking demonstration and presentation by Fr Leo, the afternoon will provide an opportunity to sample his food and that of some of Melbourne's Catholic migrant communities.
Join Fr. Leo on Saturday 29th April, for a cooking demo and a presentation to families on food and faith.
Date & Time
 
Saturday 29 April 2017
3.00pm - 5.45pm
Followed by 6pm Holy Mass at St. Brigid's Church which will be concelebrated by Fr. Leo.
St. Brigid's Parish Hall
378 Nicholson Street
Fitzroy North, VIC 3068
Adults $10
Children under 18 are free
For further information please contact the Life, Marriage & Family Office on (03) 9287 5587, or via email at lmf@cam.org.au
This event is currently closed and no contact details are available