Orange Day Train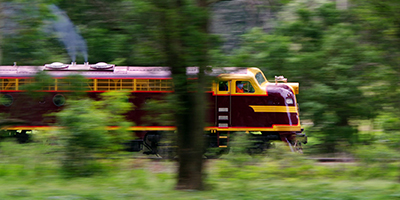 Experience travel at its finest behind our classic 1950s streamliner diesel locomotive, Clyde-GM 4204, on a special long-distance day tour to the Central West city of Orange.
Departing Sydney at the comfortable time of 7.30am, the train will climb the spectacular Blue Mountains in style to the lusty chant of the 16-cylinder General Motors diesel, before a spirited run through the scenic Central West. 
We will pause for two hours in Orange— a 'foodie' city, where there is a large variety of restaurants, bars and cafés available for lunch before a hasty return to Sydney, arriving around 8.30pm. 
This is a rare long-distance day trip with all proceeds going towards our American-built Baldwin steam locomotive 5917's major overhaul.
Book your tickets now and help 'Make Our American Great Again'! 
Due to high demand, we have added extra capacity in the form of two air-conditioned lounge/bar cars. 
Outbound Trip:
Sydney — dep 7.25am
Strathfield — 7.40am
Parramatta — 7.55am
Penrith — 8.20am
Springwood — 8.50am
Lithgow — 10.15am
Orange — arr 1.10pm
Return Trip:
Orange — dep 4.20pm
Lithgow — 7.15pm
Springwood — 8.35pm
Penrith — 9.00pm
Parramatta — 9.30pm
Strathfield — 9.45pm
Sydney — 9.55pm
Location
Country Platforms
Central Station, Sydney, NSW 2000
Contact Details
Jim: 0410721493
heritagerailtours@gmail.com