Nefesh Membership 2017/18 (5778)
Your membership and support is vital in helping Nefesh open its doors to the community with our services, classes and events every day of the year.
To become a Nefesh member or renew your membership, please complete this online form. 
Membership runs until August 2018. 
Important Directions before you proceed:
1. On the next page you will be asked to select (1) Nefesh Membership (these includes Shul seats) or (2) Children's Program
2. Select Nefesh Membership first and go through the entire booking process, choosing your Shul seats until the checkout page. Complete your booking here if you do not need to add any Children's Program tickets. If you need to add Children's Program tickets read step 3.
3. To add Children's Program tickets to your booking just click 'Buy More Tickets' (see image below) at the checkout, this will bring you back to the page where you can add Children's Program tickets to your booking.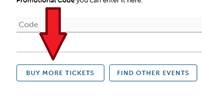 Questions or queries? Email Office@nefesh.com.au or Rabbimoss@nefesh.com.au