Event Waitlist
Your name has been added to the wait list for this event. The event organiser will contact you through your email address once there are available seats / slots.
Dissent! Treason! Flying Eggs!
A public history event commemorating the centenary of the Warwick Egg Incident
On 29 November 1917, whilst campaigning for conscription, Prime Minister Billy Hughes was egged at Warwick railway station by an Irish-Australian, Bart Brosnan - or was it his brother Pat?
Hughes then threw himself into the melee and ordered Senior Sergeant Henry Kenny of the Queensland police force, another Irish-Australian, to arrest the culprit.
After Kenny refused and Queensland Premier T.J. Ryan declined to discipline the policeman, Hughes established a Commonwealth police force.
In a telegram to the Governor-General, Hughes explained: 'This will apply to Queensland where present position is one of latent rebellion. Police is honeycombed with Sinn Feiners and I.W.W. … [T]here are towns in North Queensland where the Law … is openly ignored and I.W.W. and Sinn Féin run the show.'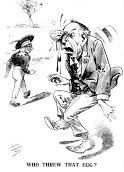 This public history event commemorates the centenary of the Warwick Egg Incident (aka the WEGGI). Whilst the WEGGI is best known for its role in the hatching of the Commonwealth Police, with Paddy and Bart Brosnan's expression of opposition to conscription, it also evokes the history of Irish Australia and its place in the conscription debates in World War I.
To shine a light on the WEGGI story in this way, we will be guided by historians:
§ Rod and Robin Sullivan (The University of Queensland) who will help explain: What led up to the WEGGI locally from the perspective of Irish Australians in Warwick, and

§ Jeff Kildea (University of new South Wales) who will help explain: How the WEGGI fits into the broader story of conscription and Irish Australia in World War 1
After their two 30 minute presentations, there will opportunity to mingle and enjoy a 1917 inspired morning tea.
We will resume with a Q& A panel discussion with the presenters and two other quests, Greg Hallam, historian, Queensland Rail and Pat Ryan, oral historian, Killarney.
The event will conclude with a musical contribution from the Combined Unions Choir in recognition of the labour movement's leadership in the anti-conscription debates in 1916 and 1917.
DATE
10.00AM-12.30PM Saturday 18 November 2017
Location
St Mary's Hall, 47 Wood St, Warwick, QLD 4178 (park in Church grounds)
Contact Details
Julie Conway 0418 989 590
[
This event is currently closed and no contact details are available