Perioperative Patient Blood Management Symposium 2018

Description:
RBWH Perioperative Patient Blood Management Symposium  
The Centre for Excellence and Innovation in Anaesthesia (CEIA) would like to invite you to attend the 2nd Royal Brisbane & Women's Hospital Perioperative Patient Blood Management Symposium.
Patient Blood Management is complex and its implementation often presents many challenges. We will focus on the importance and evidence in Perioperative Patient Blood Management and provide an update on policies and guidelines and advice on implementation strategies.
Local, national and international experts in the field of Patient Blood Management will present state of the art knowledge and latest research. Our workshops will provide hands on experience with plenty of take home material.
Clinicians have the opportunity to exhibit their scientific poster.

Being held on Saturday 24 February, 2018 8am - 5pm at the RBWH Education Centre, Royal Brisbane and Women's Hospital

Participants in the ANZCA CPD program, may claim this major haemorrhage course as an emergency response activity in their CPD portfolio otherwise participants in the ANZCA CPD program may claim this event under the Knowledge and Skills Activity Learning sessions at 1 credit per hour

Registration fee is $250 for medical specialists, $150 for medical trainees or $100 Nurses/Anaesthetic Healthcare Practitioners and Scientists

Four different workshops will be held from 7:30 – 08:30am. The workshops can be booked separately at a cost of $30. (Select the workshop you wish to attend on the upcoming booking page)
Privacy:
The Privacy Act 2001 provides that before your name and address details can be published in the list of delegates for distribution to fellow delegates or any other party, you must consent. Please nominate your preference for being included in the list of delegates by selecting yes or no on the upcoming page of the registration which asks your consent to add your details to the list.  
Contact Details:
RBWH Foundation
E: accounts@rbwhfoundation.com.au
MNHHS event page:  https://www.health.qld.gov.au/metronorth/events/ppbms/default.asp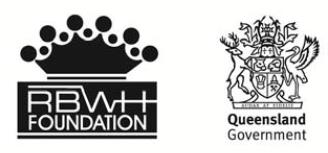 This event is currently closed and no contact details are available