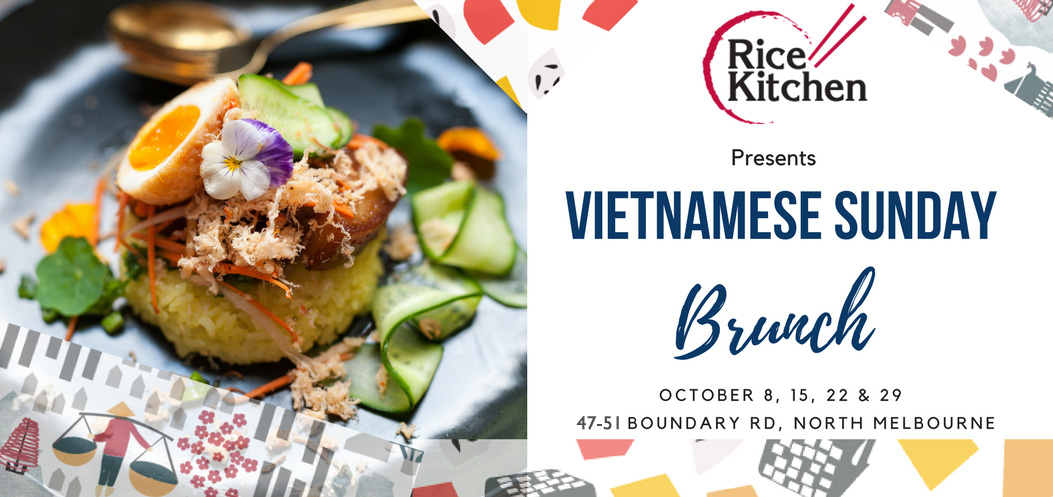 This October, Rice Kitchen in collaboration with Vietnam expat chef Tracey Lister (Vietnamese Street Food) and KOTO social enterprise (Know One Teach One) is serving up a North Vietnamese culinary delight that Melbourne has yet to experience, a Vietnamese Sunday Brunch.

Rice Kitchen are going back to their roots taking inspiration from the way Hanoians love to eat and diners can experience a taste of Hanoi Street Food or Hanoi Home Cooking menu.
Hanoi Street Food menu
Street food of Hanoi can be found on the main streets, down many of the side streets and laneways. You will find places to eat sandwiched in between one another, residences and all kinds of businesses. And the selection of street food really does have something for everyone.
Hanoi style lettuce with prawn, pork terrine wrap
Wagyu Pho - rare David Blackmore wagyu sliced and slow cooked brisket
Savoury sticky rice - coconut braised pork belly and soft-boiled eggs, prawn floss, pickle and cucumber
Vegetarian menu
Typical Vietnamese cooking is already characterised by the use of a vast array of fresh herbs and vegetables. We actually draw inspiration from the peasant food to create this menu. Enjoy the vibrant and tasty Asian flavours with many of Vietnamese dishes now with a vegetarian twist.
Vegetarian Pho with grilled tofu and mushroom
Tracey's Sweet Potato, taro and turmeric croquettes
Saute mushroom sticky rice with mung bean and fried shallots
Hanoi Home Cooking menu
At first, you may think Hanoi food is bland. However, there is an art to combining and finding the balance the dishes in the meal in Hanoi cuisine to create the contrast and harmony in flavours.  
Prawn and sweet potato fritters served with fresh herbs and dipping sauce
Grilled Wagyu beef betel leaves
Pandan congee, lemongrass and turmeric chicken clay pot and soft boiled egg
Location
Cooking Space
47-51 Boundary Rd, North Melbourne , Melbourne, VIC 3051
This event is currently closed and no contact details are available