SELL OUT: Design I Auction I Party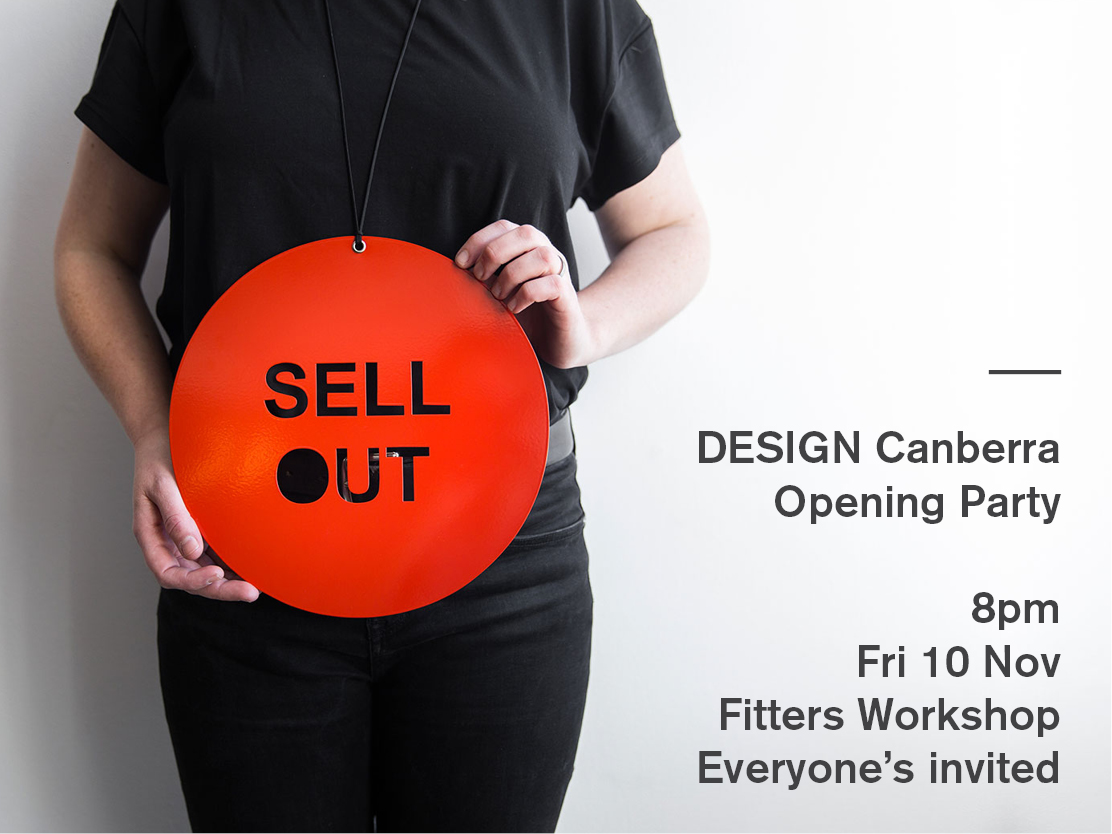 The DESIGN Canberra Festival (6-26 November 2017) is giving design-lovers the chance to have their own piece of contemporary Canberra design with the festival's very first design auction.
Sell Out: design auction party will celebrate the best of Canberra design and will launch the festival with an opening-weekend party. Music, food, and local wines, local brews and spirits, hosted at the historic Canberra Fitters Workshop, will create an exciting and vibrant atmosphere for the main event.
Limited edition and one-off pieces from Canberra's leading designers will be displayed on the night, highlighted by an experimental lighting design installation by Matt Adey of House of Vnholy (Dark Mofo).
Almost all the works by established and emerging Canberra designers, artists and makers will be auctioned via online bidding, creating a unique opportunity for collectors from all over the world to own a piece designed and created by one of Canberra's most exciting designers. One item, Zoe Brand's Sell Out disc pendant, made especially for the event, will be live auctioned on the night at the Fitters Workshop.
In a world where mass-produced consumer objects are marketed as good design, the DESIGN Canberra auction party invites us to celebrate the value of independent and small-scale work by local designers and makers. Where mass-produced replicas focus on the most recent trend, handcrafted and one-off pieces are creatively pushing the boundaries of design practice, creating thoughtful, well-made work whose value transcends simply being 'in fashion'.
The online auction opens the week before the Sell Out Design Auction Party, with bids closing between 9pm and 10pm on Friday 10 November, giving successful bidders the chance to take home a unique piece of handcrafted creative work on the night.
Participating designers and works include:
Tom Skeehan, Skeehan Studio, limited edition original HOSHI range (armchair, bench and ottoman)

Silversmith Alison Jackson limited series of hand formed earrings.

Furniture designer Christina Bricknell ottomans and bench seats

Dan Lorrimer special edition two-tone Griffin Blueprint Dish

Geoff Farquhar-Still sculpture and prints

Simon Cottrell contemporary jewellery

Anna Gianakis minimalist porcelain vessels

Marilou Chagnaud sculptural paper works

Glass artist Kate Nixon's cloche and dino vases

Zoe Brand 'Sell Out' large disc pendant.
Bringing together designers and design lovers with great food and drinks, music, and art to celebrate the best of independently-produced design in a beautiful and stimulating environment Sell Out: design auction party promises to be a night to remember. Launching the DESIGN Canberra festival's first weekend, the event will provide inspiration and celebration for the 2017 festival program.
$10 online—$15 at door (first wine, beer or softdrink free)
Location
The Fitters Workshop
Printers Way, Kingston, ACT 2604
This event is currently closed and no contact details are available