*** THIS SHOW IS NOW SOLD OUT ***
THE MUSIC GROUP PRESENTS
BJORN AGAIN
"THANK ABBA FOR THE MUSIC TOUR" 2018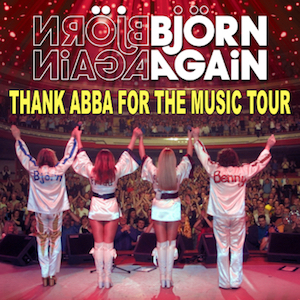 ABBA fans, it's time to get excited!
Bjorn Again, the world's leading ABBA show, who have performed over 7000 shows in 100 countries world-wide and have the endorsement of ABBA, are thrilled to be touring Australia in 2018 on their national "THANK ABBA FOR THE MUSIC TOUR".
Bjorn Again are renowned for their musical excellence, authentic voices, authentic costumes, energetic on-stage performances and of course their 'Swenglish' accents.
Bjorn Again will perform all the biggest ABBA hits including Waterloo, Fernando, SOS, Money Money Money, Does Your Mother, Take a Chance on Me and of course Dancing Queen.  Their internationally-acclaimed, world-class production has been delighting audience for over 29 years and as the world's most successful tribute act are a house-hold name world-wide.  Bjorn Again's highly entertaining show generates an electric audience atmosphere that has to be seen, and according to Time Out New York is "One of the most entertaining live shows in the world today"!
Australia were one of the first countries to embrace ABBA after their win at Eurovision 1974.  By the mid 70s ABBA were one of the biggest acts in the world.  In Australia Fernando stayed at No 1 for 16 weeks, and more Australians watched the ABBA TV special on CH9 than saw Neil Armstrong walk on the moon!  And we all remember Molly playing ABBA's unforgettable video clips on Countdown.
"From the Note-perfect vocals to the faux-Swedish accents and sequinned duds, Bjorn Again are fabulously flawless'" - Rolling Stone Magazine, USA
"When the band leave the stage the disappointment is almost heart-breaking!" - The European Newspaper
"I like Bjorn Again because they are the ABBA for this generation.  Why should we miss out?" - David Lawrence UK (Bjorn Again Fan)
Bjorn Again fans include Sir Thomas Jones, Paul Kelly, Dave Grohl, Robert Plant, JK Rowling and Rowan Atkinson just to name a few, and is only ABBA show endorsed by ABBA:
"Fans had better make the most out of Bjorn Again because that's the closest they are going to get to seeing ABBA.  ABBA will never reform!" - Benny Andersson of ABBA
So TAKE A CHANCE ON BJORN AGAIN - Send out an SOS to all your friends, grab your best 70s outfits and get ready to party - you will have 'the time of your life'!
www.facebook.com/BjornAgainAustralia

 Venue:
 

Forge Theatre - Auditorium

 Performance  Times:
 Friday 25 May, 7:30 pm
 Duration:
 2 hours (includes 20 minute interval)
 Ticket Prices:
 Full: $60.00
 Concession: $55.00 (Seniors/Pensioners)
 Group 8+: $55.00
 Children/Students: $55.00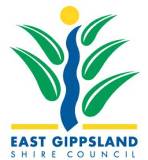 Contact: Forge Theatre and Arts Hub
Email: boxoffice@egipps.vic.gov.au
Telephone: 5152 1482
This event is currently closed and no contact details are available