An Artist, a Farmer and a Scientist - Walk into a Bar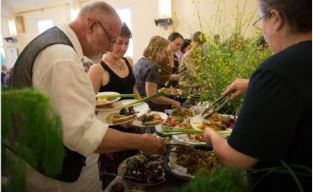 "Within every true artist, or farmer, or scientist there is a spark, as precious as that first tiny spark with which life itself began, ... (Louis Bromfield, 1951)

WHAT: A one act 'serious comedy' by  
WHO: The North West Theatre Company.
WHEN: Saturday May 5th 2018, 7.00 pm
HOW MUCH: $50.00pp for play and meal. BYO Drinks. Table seats ONLY - Not Theatre Seats
WHAT ELSE: A feast of locavore delights for both carnivores and herbivores! Brought to you by Glenn Morris (the farmer), Diego Bonetto (the artist), and the Friends of Touriandi (the scientists will see you at
the bar!).
WHY: to launch 15 months of land-based arts in the region - more information to be provided on the night!
VENUE: The Roxy Theatre - TABLES ONLY (no Theatre Seats)
                74 Maitland Street
                                BINGARA, NSW 2404
This event is currently closed and no contact details are available