AUSTRALIAN TOUR with
COLBY REBEL &
RHYS WYNN DAVIES
As LA sensation, Colby Rebel and Australia's very own Rhys Wynn Davies embark on an incredible tour of the Eastern Coast of Australia, join them in Brisbane, Sydney or Melbourne as they present demonstrations, workshops and give readings.  
Beginning with a wonderful evening of Mediumship, Colby and Rhys will connect with your loved ones, bringing you an evening to remember.  Join Colby and Rhys at the end of the demonstration for a meet and greet, a drink and a light supper for an extra investment of $15.
GALLERY NIGHT - with America's renowned medium, Colby Rebel and Australia's own Rhys Wynn Davies
Join these two brilliant mediums as they connect to your loved ones in Spirit. 
VENUE:  Upper Coomera Centre, 90 Reserve Road, Upper Coomera    QLD   4209
DATE:     Friday 1st February 2019 
TIME:      7PM to 9.30PM 
MEET AND GREET:     945PM - 10.30PM - Light supper included 
INVESTMENT:  $45.00 per person for Gallery night 
                          $15.00 meet and greet 
** Please note that not everyone is guaranteed a reading at this event 
WORKSHOP 
On the 2nd and 3rd of February, Rhys and Colby will present their Mediumship workshop at the beautiful Soulspace Centre in Newmarket.  This workshop will enhance your own mental mediumship style, enhance your referencing skills and teach you to provide accurate evidence . You will learn the do's and dont's of presentation and demonstration work.  Colby and Rhys will assist you to tailor your own individual platform style and give you exercises to enhance your demonstration abilities. You will then present in front of an audience and receive constructive feedback to assist you in becoming a more professional and polished psychic medium.  This workshop will suit all levels of skill.
COURSE OUTLINE:
-to teach you to enhance your own mental mediumship style working both directly and indirectly. 
-learn to reference more detail and provide more accurate evidence
-learn the do's and dont's of presentation and demonstration work 
-learn tailored individual platform exercises to enhance your own demonstration abilities 
-present your own style on stage in front of a live audience and receive feedback to be a better presenting and professional psychic medium 
All levels of skill are welcome 
Please bring a plate of lunch to share with the group 
Tea and Coffee and water will be provided 
TIME: 10am to 5pm both Saturday and Sunday 
VENUE: SOULSPACE, 23 Parker St, Newmarket
INVESTMENT: $250.00 per adult 
PRIVATE ONE ON ONE READINGS: 
Then on the 4th and 5th of February, Rhys and Colby will be available for one on one private, one hour readings. These readings are to be booked directly with Sue Williams on 0416145476 or by email at goabitza@gmail.com
VENUE: The Light Centre for Transformation, 15 Mandalay Street, Fig Tree Pocket 
INVESTMENT: $150 per reading
TIMES: 9am and hourly through to 5pm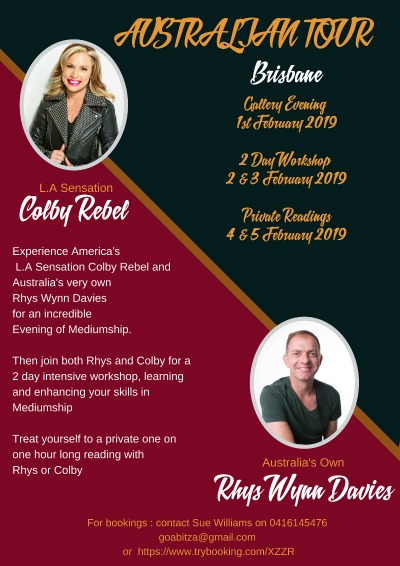 Location
Demonstration/Gallery Evening - Upper Coomera Centre, 90 Reserve Road, Upper Coomera QLD 
2 Day Workshop - Soulspace, 23 Parker Street, Newmarket  QLD  
Readings - Light Centre for Transformation, 15 Mandalay Street, Fig Tree Pocket   
 (to book readings please contact Sue Williams directly on 0416145746 or by email at goabitza.com.au)
Contact Details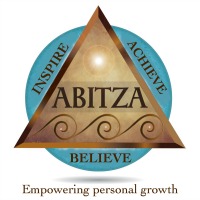 Sue Williams , Abitza Wellbeing 
ph: 0416145476 
email: goabitza@gmail.com
This event is currently closed and no contact details are available