The Snow Train - 27th July, 4th or 10th August 2019
For the Snow Train No 3 on Saturday 10th August 2019, we have a limited number of seats available for Mt Baw Baw.
Fares:$119.00 Adult, 114.00 Senior & $99.00 Child (3-16 years)
Bookings via TryBooking (this page) or call the office on 03 93971953 (Business Hours).
If you are interested, please book now!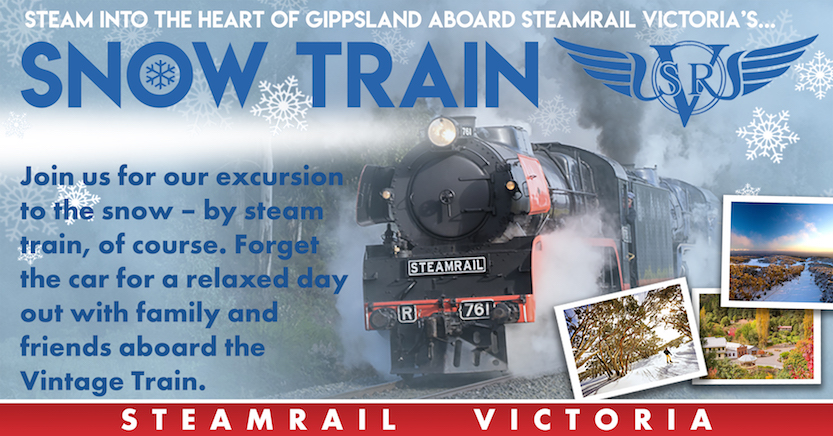 Join us for our excursion to the snow – by steam train, of course. Forget the car for a relaxed day out with family and friends aboard the Vintage Train.
Settle back in your compartment and before long, Melbourne will be lost in a trail of steam and smoke as we journey
into the fertile farming district of the Latrobe Valley.
The locomotives will work hard as we climb through the green Gippsland hills around Bunyip, Longwarry and Warragul before we make our first stop at Moe. Here passengers can choose from the following options…
MOUNT BAW BAW
Enjoy the journey through to Moe, where you will disembark for travel by comfortable coach through scenic mountain forest to the snow. Explore the alpine forests with their unique fauna and crisp mountain air as you wander through the snow. As this is a full resort, you are able to hire, toboggans, skis and clothing, to use in the snow. Departure from the mountain is at 4:00pm, to return to the station for a 5.30pm departure from Moe.
EXPLORE WALHALLA
For those preferring warmer surroundings, travel by comfortable coach through scenic mountain forests to the historic Goldfields town of Walhalla, where you may wish to partake of a Lunch at either the Walhalla Lodge Hotel or the Walhalla Goldfields Railway goods shed for an optional two-course hot lunch (please book your preference).
After lunch, there is time to explore the historic treasures of Walhalla. The famous 'Long Tunnel Extended' gold mine offers underground tours at 1 pm and 2 pm, so you may book this underground tour yourself,
but only if you are not doing the optional Lunch and the WGR option; as there isn't enough time to do all three. Visit the many historic buildings and climb to the cricket ground carved high in the surrounding hills. The cemetery, full of history, has graves carved into the side of a mountain, all within walking distance of this unique mountain township.
The Walhalla Goldfields Railway will be running a return journey at 3:00pm. We have chartered this trip for our passengers from Walhalla station to Thomson and return, so please book your ticket for this option.
RAIL ONLY
Travel through the mysterious Haunted Hills, Hearnes Oak and Morwell before arriving in Traralgon, where you will spend a leisurely afternoon. Enjoy a meal in a local hotel or café. Then relax back on the train as our locomotives begin their sprint westward on a course for home.
AIR CONDITIONING
If you wish for a little more travelling comfort, choose the option of cloth seating in an air-conditioned (and heated) carriage. This option is at a small extra cost.  
ON TRAIN SERVICE
Our on-train facilities include kiosks, which stock a wide range of light refreshments, souvenirs and hot and cold drinks. A licensed bar will also be open serving a range of wine, beers and spirits. Our courteous train officers will be on hand throughout the journey to provide any assistance to ensure an enjoyable and safe day.
•
PROPOSED TIMETABLE
| | | |
| --- | --- | --- |
| 7:02am | NEWPORT | 8:34pm |
| 7:22am | SOUTHERN CROSS | 8:11pm |
| 7:42am | FLINDERS STREET | 8:00pm |
| 8:00am | CAULFIELD | 7:43pm |
| 8:21am | DANDENONG | 7:14pm |
| 8:46am | PAKENHAM | 6:48pm |
| 9:45am | WARRAGUL | 6:00pm |
| 10:20am | MOE | 5:33pm |
| 11:05am | TRARALGON | 4:52pm |
Please Note that the Ticket(s) that you will be sent will say 'Melbourne' as the originating location, but you may choose to join the Snow Train at either: Newport, Southern Cross, Flinders Street, Caulfield, Dandenong or Pakenham.
FREQUENTLY ASKED QUESTIONS (
FAQ's
)
Q.  Are the Fares for a Return Journey?     
A.   Yes
Q.  Are the Fares for a One Way Journey?     
A.   No
Q.  Are Companion Card Fares available for this tour
?
A.  
This tour is a Day Excursion, if a passenger is the holder of a Companion Card the companion will travel at a fare equal to the fare charged to the holder of the Companion Card regardless of their eligibility for that particular fare.  The companion must be fit to complete all the duties of a travel carer including being able to assist with all aspects of personal care.  As per Companion Card Holders under 
https://steamrail.com.au/tours
Q. 
What stations may we join this tour from?
A.  A brief stop will be made to pick up passengers at the following stations:  
Newport, Southern Cross, Flinders Street, Caulfield, Dandenong or Pakenham
Q.  
Is the Seating Reserved?
A.  Yes, the seats aboard this train are reserved.  You will receive your Seating Allocation approximately one week prior to the Tour Date.
Q.  Will all persons covered by my booking be seated together
?
A.  Yes, the seats are in compartments. so seating numbers need not be sequential.
Q.  Are meals provided as part of the Rail Fare
?
A.  No
Q.  Will all persons covered by my booking be seated together
?
A.  Yes, the seats are in compartments. so please note that seating numbers need not be sequential.
Q.  Is your on-train Kiosk able to cater for special dietary requirements
?
A.  The space that serves as our kiosk is limited in size, so our overall range is somewhat limited, making it difficult to cater for everyone.  In view of this people with special dietary requirements are therefore most welcome to bring along their own snacks to enjoy during the journey.
This event is currently closed and no contact details are available