SHORTIS & SIMPSON - Happy Little Copyrights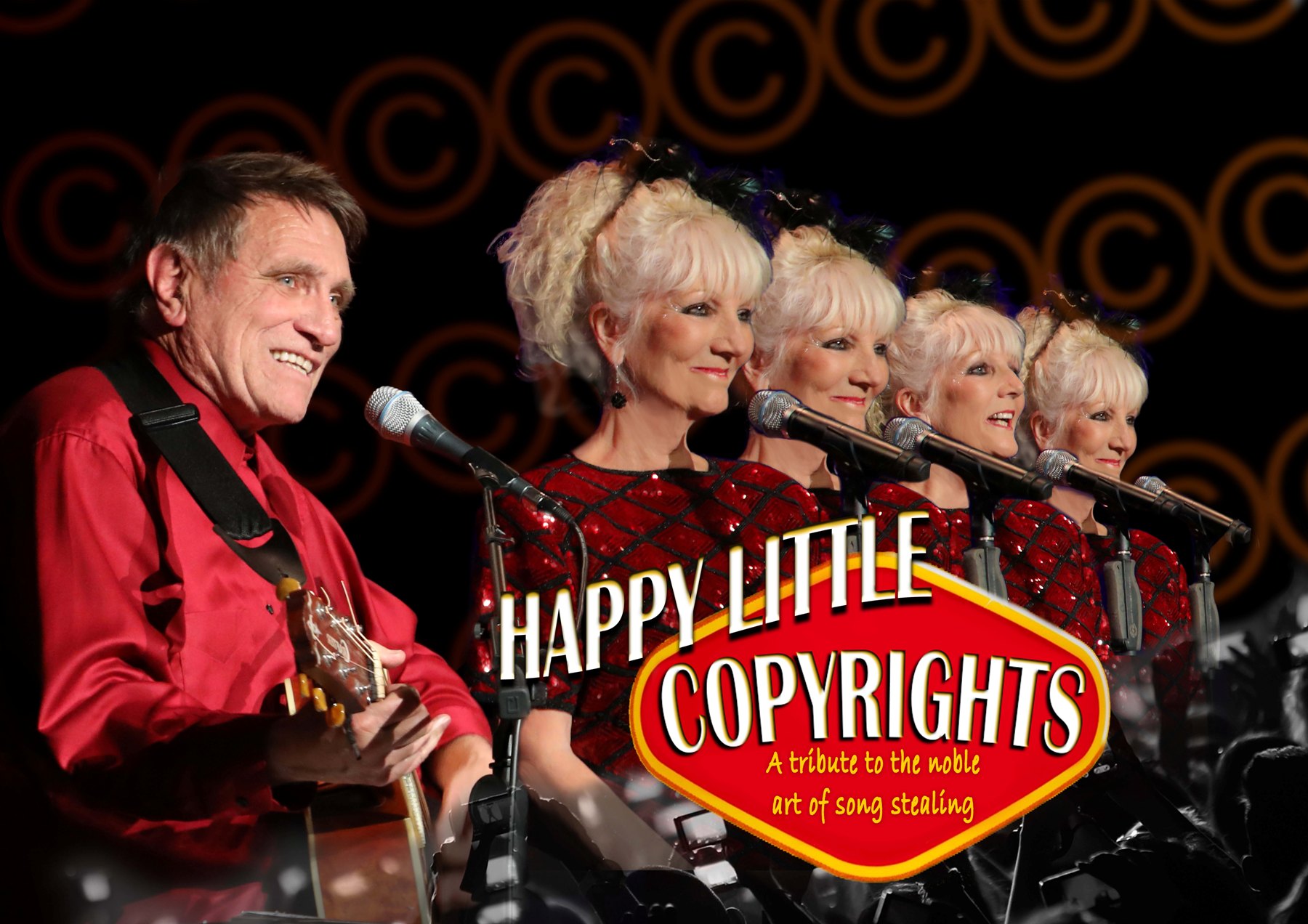 date |
Friday 17 May 2019 at 6pm*  and  Saturday 18 May 2019 at 6pm*
PRESENTED by |  Carrington Inn & Cafe Woodworks - Bungendore
Location  |  

Carrington Inn - Event Centre
53 Ellendon Street, Bungendore, NSW 2621
Pricing |  Regular $93. | Seniors $87
INCLUSIONS |  Performance, 3-Course Meal, Drink on Arrival, On-site Parking.   
DESCRIPTION |  A tribute to the 'noble art' of song stealing 
Pablo Picasso once said, 'Good artists borrow. Great artists steal.'   Nowhere is this more resonant than in the world of song writing.  As John, Moya and their band play through the lineage of familiar hits, it soon becomes clear that nothing is new under the sun. 
Not so a long time ago, when pinching a part of a song here and there just happened. It was called the folk process. Songs were created, sung and passed on freely. Bits would be restyled, tempos changed, lyrics localised, and new instrumentations applied. Songs were available to all. Then along came a thing called the Copyright Act and suddenly songs became property to be owned, exploited and profited from!
Happy Little Copyrights is the story of innocents and villains, commerce and tradition, and minstrels and moguls told in Shortis and Simpson's inimitable style, riveting narration, surprising information, buckets of humour, and above all virtuosic musicianship.
Hear tales of how rhythms, chants, and games morphed into a whole host of well-known songs. Follow the sagas of who made the money when a Zulu chant turned to gold and how Spicks and Specks unearthed a snippet of a tune in the intro of an Aussie classic.
The Carrington's cabaret set-up is an intimate show space with no table further than 10 metres from the stage! 
Don't miss a great cabaret evening of music, food, and laughs with the brilliant Shortis and Simpson and  Happy Little Copyrights.
Bookings Essential.  Book early to avoid disappointment. 
 
* Times indicate commencement of the dinner service.  The performance commences 8:00pm. 
NB:  Tables will be per booking or booking group.  For example a booking of 6 will have a table for 6. 
        Single bookings will be seated at a table of 2 or 4 with other single bookings. 
---

THE DINNER SHOW MENU
Alternative Serves
Fresh Roll and Lurpak Butter
Entree
Moroccan Spiced Sweet Potato and Parsnip Soup
Braised Leek and Goats Cheese Tartlet with onion jam
Main
Roast Chicken Breast - with chive mash and pesto cream
Grilled Beef Fillet - with crispy chats and port wine reduction
All mains come with Seasonal Steamed Greens
Dessert
Apple, Pear, and Blueberry Crumble - with vanilla ice cream
Baked Strawberry Cheesecake - with fruit compote
Vegetarian meals available on request
Coffee, Tea, and Water
---

A selection of sparkling, red and white wines, local beer, cider, and soft drinks before and during the show. 
First drink is complimentary.
 
---
About Shortis and Simpson
John Shortis and Moya Simpson teamed up to create their comedy cabaret act in the early '90s after performing together in 'Bishop and the Actresses' and at the School of Arts Café in Queanbeyan.
Their complimentary writing, performance, and theatrical talents make up the Shortis and Simpson productions that are always surprising, original, innovative.  Projects that present a wide scope of styles and genres.
John Shortis writes songs and scripts, plays keyboard, and spends hours reading newspapers and delving into libraries and archives. Moya Simpson sings, mimics accents, plays characters, and has a passion for Eastern European music.
Based in Bungendore, they specialise in shows that reflect Australian history and politics in a way that is funny, satirical and informative, with the odd gut-wrenching moment. They perform regularly at Canberra's national cultural institutions, and regularly do seasons of political satire.
About the Artists
Moya Simpson
Moya Simpson, singer, actor, and comedian has carved out a career built upon her extraordinary vocal versatility, comic timing and energetic delivery.
She's sung songs of the Balkans in 'Mesana Salata' and 'Martenitsa', toured for Musica Viva in, acappella group, 'Girls In Your Town', and trained with British singer and voice specialist Frankie Armstrong to develop her own voice workshop skills.
Her comedy cabaret persona emerged when she was a member of 'Bishop and the Actresses' with Margret RoadKnight, Kerry-Ella MaCaullay and John Shortis in the early '90s. This led to performances at the School of Arts Café in Queanbeyan, and eventually the emergence of Shortis and Simpson as a comedy cabaret act.
She has written and performed in her own one-woman show, 'Close Your Eyes and Think of England', and had lead roles in 'Yodel Lady, the story of the yodel', and 'Stop Laughing, This Is Serious', a political satirical musical play by Graham Pitts.
Excerpts from reviews: 
Innately glamorous, blessed with superb diction and a wicked sense of humour…
Simpson is the mistress of innuendo…
She has the capacity to say as much with a raised eyebrow as a lyric…
Simpson is remarkable…
Thrilling the audience with the sheer octave-powered energy of the sliding sounds of the mesmerising yodel…
You've heard nothing till you've heard the phenomenal Simpson sing …
Moya Simpson's stunning vocal versatility from the blues to the bossa nova or country and western to samba…
It is Simpson the actor who shines… bringing the house to the verge of tears…
John Shortis
John Shortis is an immensely creative and musical individual. As half of Shortis and Simpson, he writes and performs their shows that feature political satire and reflect his interest in Australian history.
He has composed music for countless theatre productions including for Nimrod Theatre, Tasmanian Puppet Theatre, Dance Company of NSW, Patch Theatre, written music for opera and an orchestral suite for the Adelaide symphony Orchestra, and hundreds of songs for children. John's creative versatility has also shined in scriptwriting for television and directing several music-theatre projects.
His songs have been recorded by Margret RoadKnight, Jeannie Lewis, Franciscus Henri, the cast of Playschool, and Rolf Harris.
As a music historian, John received a Harold White Fellowship to research the sheet music collection at the National Library. This resulted in a series of Shortis and Simpson 'Sheet Dip' shows, performed in Canberra and regional Australia. In 2001 he curated, 'Between the Sheets', an exhibition at the National Library that is currently touring the country.
Excerpts from reviews: 
Shortis has a seemingly bottomless well of ideas and a rare ability to range across styles…
A true rarity…  Sophisticated…   Whimsical and witty…
Accomplished and tasteful writing…
Brilliant Australian writer… 
His funny lyrics brim with outrageously skewed rhymes…
Laser-honed approach balancing irony, sarcasm and the sardonic with an air of innocence...
The stinging wit of John Shortis' dart-sharp lyrics, piercing the bulls-eye of political chicanery…
Shortis is a songwriter of consummate skill, as adept at a swift jibe at Little Johnny as he is at a moving tribute to the courage of the ordinary Aussie battler…
This event is currently closed and no contact details are available