Twilight Musical Dialogues 2019 - Musical Kin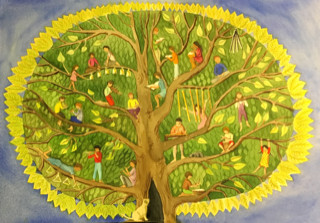 Description
Following our 2017 "Five Continents" season which traversed the globe and our 2018 "Musical Luminati" season which embraced passionate musical-thinkers, 2019's "Musical Kin" explores artistic lives of composers with extensive family trees performed by members of musical families.
Stemming from musical families, Husband/Wife Ami Williamson (Singer-Songwriter) and Clemens Leske (Pianist) and Father/Daughter Chris Allan (Piano) and Miriam Allan (Soprano) join Artistic Director, Flautist Sally Walker share part of their artistic lives with us and perform works from the Bach, Mozart, Schumann and Williamson families.
Friday 21.06.2019, 7 pm Musical Kin Husband and Wife - Ami Williamson - Singer-Songwriter, Sally Walker - Flute, Clemens Leske - PIano.
PROGRAM
Wolfgang Amadeus Mozart  - Sonata in C Major, K. 14,  Allegro
Leopold Mozart - Notenbuch für Nannerl,  Allegro
Ami Williamson -  The Soldier's Wife
Fanny Mendelssohn -  Sehnsucht Op. 9/7
Felix Mendelsohn – Songs without Words Op. 62/6
Ami Williamson - The Mother-in-law song
Clara Schumann - Warum willst du and're fragen     
Robert Schumann - Fantasiestuck Op. 73/1
Carla Bley (arr. Terence Koo) - Egyptian
Ami Williamson - Don't Grow Up So Fast
Wilhelm Friedemann Bach - Flute Sonata in E minor BR WFB B 17, Allegro ma non tanto
Johann Sebastian Bach - Flute Sonata in Eb Major BWV1031, Siciliano
Carl Philipp Emanuel Bach - Concerto in D Minor Wq. 22, Allegri di molto
Friday 09.08.2019, 7 pm Musical Kin Father and Daughter - Miriam Allan - Soprano, Sally Walker - Flute, Christopher Allan - Piano.
Wolfgang Amadeus Mozart - Il re pastore K. 208, L'Amero saro costante
Leopold Mozart - From Nannerl's Notebook    
Fanny Cäcilia Hensel - Fünf Lieder Op. 10: Bergeslust, Nach Südan, Vorwurf         
Felix Mendelssohn - Songs Without Words Op.53 no.19 in A Flat Major
Clara Schumann - Nocturne in F major op 6. No 2. (featured Young Artist Elliot Kozary)
Robert Schumann - Romanze Op. 94/2      
Johann Sebastian Bach - Cantata BWV82 "Ich habe genug": Schlummert Ein
Johann Christoph Bach - Sonata No. 1 for Flute and Obligato Continuo in D minor    
Henry Bishop - Comedy of Errors, Lo the gentle Lark
Adamstown Uniting Church
228 Brunker Road
Adamstown
Newcastle, NSW 2289
Contact Details:
admin@twilightmusicaldialogue.com
Philippa Van Helden, Operations Manager Tel: 0488 218823
This event is currently closed and no contact details are available