Classical Sundays @ Newtown #3 - Phoenix Trio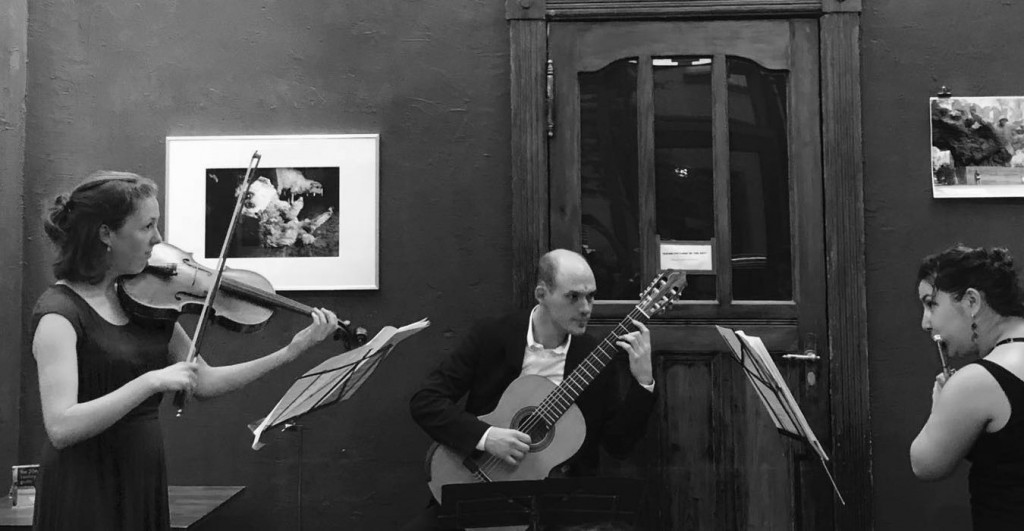 Inner West Cultural Services presents Phoenix Trio
Andonovska/Hawkins/Gretton (Phoenix Trio) come together to reimagine chamber music masterpieces alongside recently penned compositions for this unique combination. Collectively, the performers have performed with some of the most acclaimed ensembles on the globe including the Australian Chamber Orchestra, Kammerakademie Potsdam and the Deutsches Kammerorchester and individually have growing reputations as international soloists and chamber musicians. The trio formed in 2008 when they were all students at the Australian National University. After parting ways for a decade, the trio have come together to perform a series of concerts around the globe during the 2018/2019 season. They are fondly named after their favourite haunt and hang out during their student days.
Program to include music by JS Bach, Claude Debussy, Francesco Molino and Dusan Bogdanovic.*
This is the third of a new four part concert series proudly presented by the Inner West Cultural Services. For details of the series please visit www.dicksonstspace.com/sunday-concerts-newtown/.
*Program is subject to change
Location
Dickson Street Space
35 Dickson Street, Newtown, NSW 2042
THE MUSICIANS
Lina Andonovska leads a diverse career as soloist, chamber musician, orchestral player, collaborator and educator. Quickly gaining recognition internationally as a fearless and versatile artist, she has collaborated and performed with Crash Ensemble, Australian Chamber Orchestra, Shara Worden (My Brightest Diamond), s t a r g a z e, Southern Cross Soloists (Aus) and eighth blackbird (USA). She is critically acclaimed for her interpretation of new music, having closely collaborated with Louis Andriessen, Brett Dean, Ann Cleare, Donnacha Dennehy, Michael Gordon, David Lang, Thomas
Ades, Anthony Pateras and Nick Roth. Rolling Stone Magazine hailed her performance of Bun-Ching Lam's piccolo concertino at the Bang On A Can Summer Festival as "superbly played, (ranging) from sustained 'somebody-please-get-that-tea-kettle' squeaks to the flit and flutter of its beautifully lilting trills…"
In 2018/2019, Lina will be appearing with the Australian Chamber Orchestra, Southern Cross Soloists and ULYSSES Ensemble; performing the latest opera by Dennehy/Walsh with Crash Ensemble throughout Europe, performing recitals at 
MusicaOcúpa Festival (Ecuador) and Unerhörte Musik (Berlin) and joining s t a r g a z e at the Edinburgh International Festival.

Alexina Hawkins is an Australian violist currently living in Berlin. She has performed in various ensembles, including Deutsches Kammerorchester Berlin, Kammerakademie Potsdam, ensemble interface, Streicherakademie Bozen, Geneva Camerata, amongst others.

Alexina studied viola with William Coleman, Tor Fromyhr, Caroline Henbest and Chris Moore, at the ANU School of Music (Canberra), Australian National Academy of Music (Melbourne) and privately in Berlin. In 2015, Alexina was awarded a Fellowship at the Australian National Academy of Music (ANAM) where she was mentored by Genevieve Lacey, and directed 3 concerts, premiering new music featuring the viola in collaboration with fantastic young composers, in addition to existing works from a range of eras (for more information, see 2015 ANAM Fellowship). In solo/chamber/chamber orchestra mediums, she has performed at festivals including Bang On A Can Summer Festival (USA), Huntington Estate Music Festival, Canberra International Music Festival, Bangalow Festival (Festival Quartet, 2017), Bendigo International Festival of Exploratory Music (Australia), Musikfest Goslar, Rheingau Musik Festival, Festspiele Mecklenburg-Vorpommern (Germany), Festival Opera Barga (Italy) and NOMUS Festival (Serbia). Performance highlights of 2018 include a solo recital in the legendary new music series Unerhörte Musik at BKA-Theater, a piano quartet collaboration in the Sonntagskonzerte im Spiegelsaal series at Clärchens Ballhaus, and flute, viola and guitar trios in Berlin and Potsdam with Harold Gretton and Lina Andonovska. 
Harold Gretton seeks to bring a diverse mix of masterpieces to life with an interpretive approach founded as much on raw passion as on thorough research. Not only interested in discovering new repertoire, he is equally at home rediscovering older classics. His unique vision is enriched by historical information in all of the virtuoso works he performs.
Harold began playing guitar at the age of 7. He completed his Bachelor of Music at the Australian National University (ANU) School of Music under the guidance of Timothy Kain with first-class honours in 2006. He completed a Ph.D at the ANU School of Music in 2010, and in that year began a "Cours de spécialisation" in duo with his wife Véronique van Durling at the Strasbourg conservatory, studying with the Duo Melis. They completed this in 2012 with "Mention très bien".
Harold has won numerous international competitions, in Bratislava (2010), Vienna (2007), Cordoba (2007), Coria (2008), Transylvania (2008), Sernancelhe (2008), and Lagonegro (2006). He was awarded second prize in competitions in Tokyo (2008) and Gisborne (2005). He has won numerous first prizes in the open guitar sections of Australian national eisteddfods and competitions. He has also won numerous chamber music prizes, including in Cieux (2014), Olsztyn (2010), and Transylvania (2009), as the Duo Amythis with Véronique van Duurling. He has been invited to perform concerts all over Europe, from Portugal and Spain to Greece and Romania. He has performed concerts in the USA, Mexico and Vietnam, and all over Australia. Harold has been invited to perform as soloist with different orchestras, including the Orquestra Filarmonia das Beiras, the Canberra Symphony Orchestra, and the ANU school of music orchestra. He has performed concertos by Rodrigo, Ponce, Brouwer, Giuliani, Vivaldi, and Dodgson, and was honoured to play the first performance of a concerto by eminent Australian composer Nigel Westlake, under the composer's baton.
Contact Details
For further information please click the link below and direct enquiries to Mr Mathisha Panagoda.
This event is currently closed and no contact details are available