The Big Sing Festival
TICKETS STILL AVAILABLE AT THE DOOR FOR $150.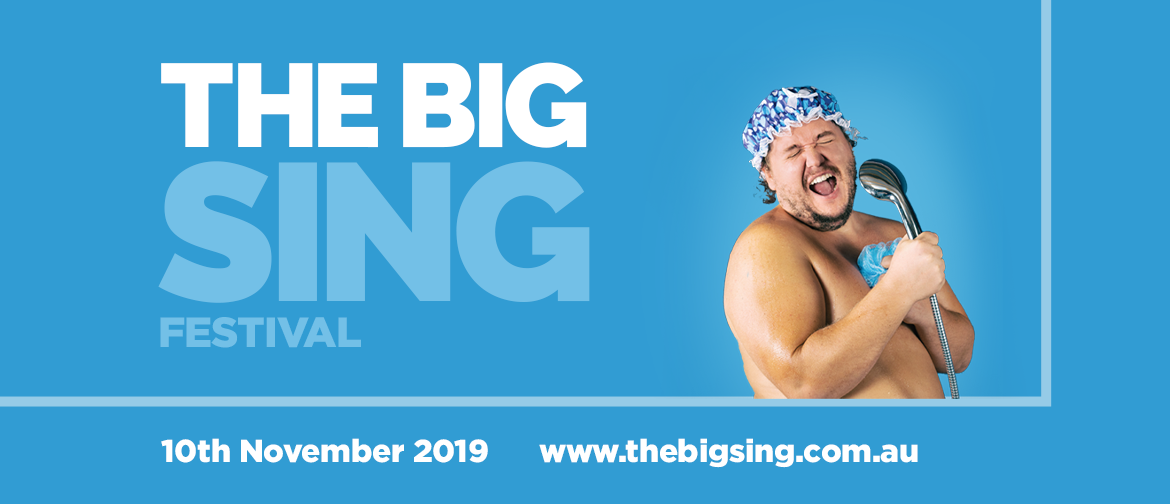 👯‍♂️ 'BRING A FRIEND' SPECIAL OFFER See details below. 👯‍♂️
Find your Singing Mojo at The Big Sing Festival!
Are you a shower singer who loves to let loose and feel the thrill of belting out your favourite tunes, shampoo bottle microphone in hand, when no one is watching?  Well IT'S TIME to get out of the shower and get your sing on with Australia's best vocal coaches and artists at The Big Sing Festival. Whether you are starting out or want to take your singing up a notch, we have put together a carefully curated program of interactive and fun workshops that will help you discover (or re-discover) your singing mojo.  
This is no ordinary singing event. It is a unique 1 day Program facilitated by awesome vocal coaches and Directors:
Vicky Jacobs - Vicky is the founder of Glee Club Melbourne and currently Associate Musical Director of Come From Away. She has numerous directing credits to her name.  Vicky will be taking you on a fun and informative show tunes journey.
Tim Smith - Tim has done it all. He is a musician, musical director and  and one of the most sought-after vocal coaches worldwide. Tim will be running two workshops: Contemporary Vs Classical and Contemporary Singing 101
Angela Librandi - Angela is a seasoned performer of soul RnB and neo-soul and runs the For the Love of It Gospel Choir.  Angela is an amazing vocalist and choir leader and she will be taking you higher in her gospel workshop.
Fem Belling - Fem is one of Australia's formidable jazz performers who never fails to wow listeners with her vocals. Fem's workshop 'Let's Get Jazzy' will be the most fun you ever had singing and writing a blues.
Chris Blain - Chris is a well regarded composer, arranger, producer, musical director and a Capella workshop facilitator. Chris runs a few choirs, does corporate workshops, is the founder of Vocal Australia and head judge for the A Capella Awards. Chris is of course, running our A Capella workshop.
Peter Vox - Peter is a unique celebrity singing teacher and full-time professional singing teacher & vocal coach since 1993. He is the Founder of Vox Singing Academy and is particularly passionate about providing high-quality singing lessons for students that really wanted to perform live. Peter will be taking the Sing Like a Star Workshop. Expect alot of awesome new singing tips!
David Rogers-Smith - David has been a highly regarded musical theatre performer and vocal coach for over 20 years. He has a unique perspective on singing and performing.  There is almost no better person in Australia to take the Musical Storytelling workshop.
Danielle Soccio - Danielle has been singing and performing and coaching for over 20 years. Danielle will be running the Find your Singing Mojo Workshop which is all about aligning your voice and your body to your message for truthful, authentic singing and performance. Danielle will remove your singing blocks and improve your confidence!
Darren Percival - Darren is most well known for coming runner up on The Voice in 2012 however, his career as a vocalist, voial coach and master trainer is enviable. Darren is taking the Change Tour Tune Workshop and will help you become aware of the power of your voice and the positive health benefits from singing with time, tone and truth. 
This will be a truly exciting and unique program and we want you to feel comfortable, relaxed and inspired to try as many workshops as you like. This is the perfect day to find your singing mojo!
You get:
A Full Day Festival Pass with access to all the workshops you choose
Singing tips and techniques from the best vocal coaches in Australia right now.  
The opportunity to try 6 music genres in one day
Amazing opportunity to do a 'private fasterclass' - a mock audition with top professionals (optional extra)
New found confidence to sing loud and proud!
A fun day doing something you love with new friends!
The Program
SINGING SHOWTUNES / A Fun Musical Theatre workshop 
CONTEMPORARY 101 / Learn ways to get your voice soaring
THE MAGIC OF ACAPELLA / Harmonise like the best of em
LET'S GET JAZZY  / Don't let the blues get you down!
THE TWO YOUS / Contemporary Vs Classical singing
SING A STORY / A musical storytelling workshop
TAKE IT HIGHER WITH GOSPEL / A group sing that you will love
SING LIKE A STAR / Learn key techniques FAST! 
FIND YOUR SINGING MOJO / How to find more singing confidence
CHANGE YOUR TUNE/ You regularly service your car, why not your voice. 
'FASTERCLASS' ADD ON / Mock audition with the experts. SOLD OUT!
NB: ADD ON 'Fasterclass'. This is a unique opportunity for you to have a 10 minute solo 'mock' audition with experts and get instant feedback on your voice. Only 9 spots available at a crazy cheap price so get in quick!
TICKET PRICES:
The price for a full day festival pass (9:00am - 6:30pm) is:
Standard - $145.00  
Concession  - $120.00  
Fasterclass Add on: $30 (Can only be purchased in conjunction with a festival ticket) SOLD OUT!
Early bird is sold out.
One standard singing lesson will normally cost you $90+ per hour.  At The Big Sing Festival you get a whole day of singing workshops from top vocal coaches and loads of fun. Amazing value!
👯‍♂️ Bring a friend' special offer - save 10%
Standard Tickets - Save 10% and pay only $130 when you book and pay with a friend 
Concession Tickets - Save 10% and pay only $108 when you book and pay with a friend 
Please use the discount code DOUBLEUP at the checkout .
This offer is not available in conjunction with any other offer. Concession rate applicable to students over 15 and pension concession card holders​
Please note: There will be light refreshments offered for morning tea and afternoon tea and the cafe downstairs will be offering a discounted coffee and lunch deal. Although we don't encourage drinking too much coffee!  There are also plenty of cafes around the venue on Chapel St. Better yet, bring your lunch and enjoy some lunchtime music, karaoke and mingling. 
Location
The Space Dance and Arts Centre
318 Chapel St (entry via Carlton St), Prahran, VIC 3181
Contact Details
This event is currently closed and no contact details are available