CONFETTI & CHAOS - the most hilarious Wedding Reception ever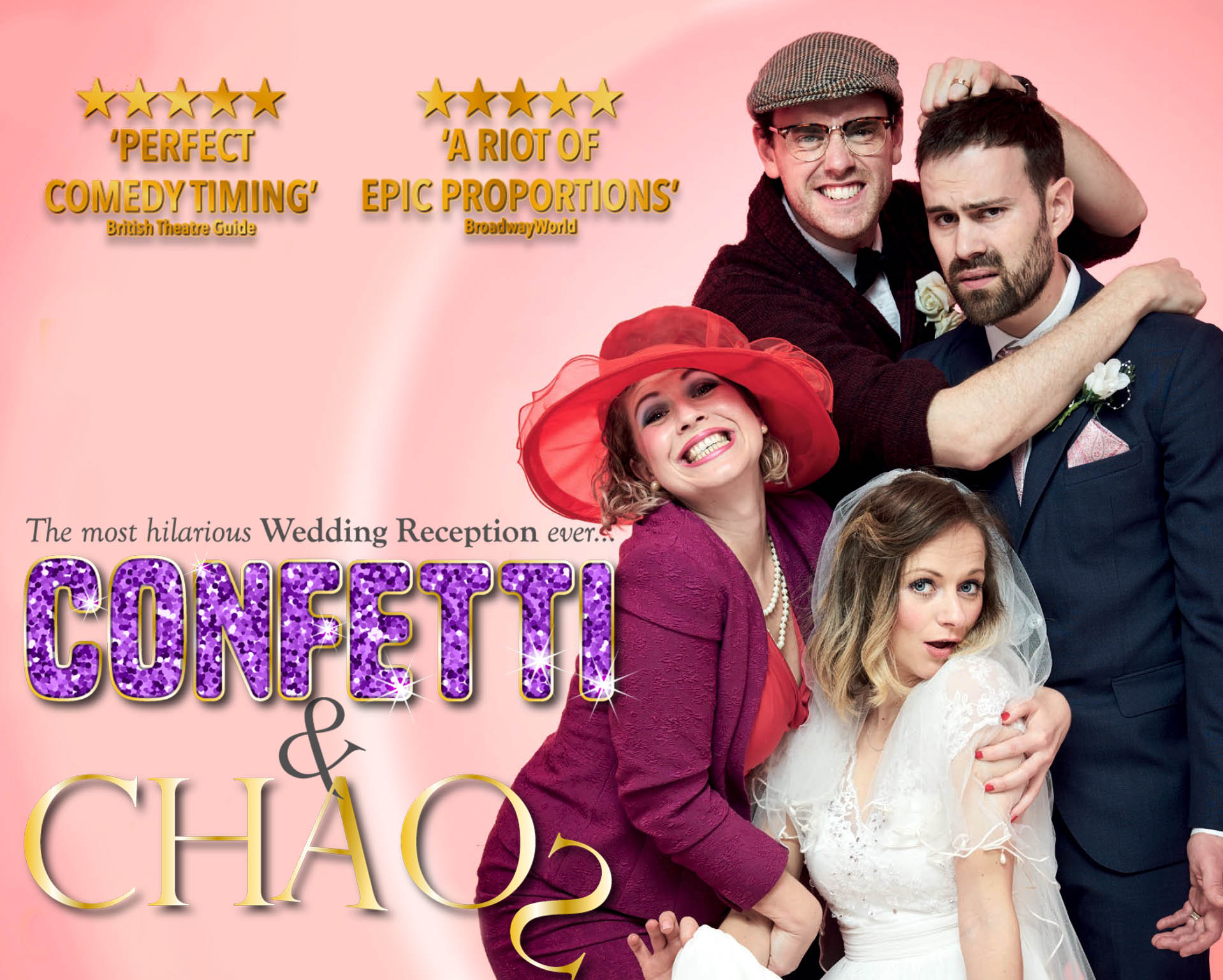 date | 
14 & 15 February 2020  
Valentine's Weekend
PRODUCED by | 
Interactive Theatre International 
the creators of Faulty Towers the Dining Experience
LOCATION |  Carrington Inn Event Centre 53 Ellendon Street, Bungendore, NSW 2621
PRICING | Earlybird:  $158  |  Regular $175 | SeniorCard Concession 10%
INCLUSIONS |  Performance, 3-Course Meal, Welcome Drink on Arrival and wine or beer during dinner, Photobooth, and On-site Parking
DESCRIPTION |  In this fully immersive theatrical experience, the audience become guests at a Wedding Reception where things quickly begin to not go as planned.   Chaos and laughter greet audiences soon after they walk through the door!
---
Confetti & Chaos is a classic take on an English wedding reception gone a bit mad, as the guests get caught in the crossfire of the bridal party. It was meant to be a surprise party but it's turned into pandemonium – secrets spill out as family members bust in, bust up, and bust a move.
This fabulous 5-star experience has fun and mayhem bursting from the seams of a wedding dress!  It's an immersive comedy that pulls out all the stops – including quick-fire character changes and quick-fire laughs. 
Four actors impressively perform nine wildly different roles from Bride and Groom to Mother of the Bride and Best Man.  Nine endearing characters who deliver a whirlwind of laughter, love and tears.
This confetti-fuelled extravaganza might just be the maddest wedding reception you'll ever be invited to!  Whether you've been married, planning to get married or committed to batchelorhood, Don't Miss This Invitation! 
"The whole idea is a winner, because we've all been there: the excruciating speeches, the wild cannon relatives, secrets tumbling out of the closet, lips getting looser as the alcohol flows freely, drunken dancing and worse, much, much worse.
Just when you think it couldn't get any crazier, it does.
Did I mention that while all the madness unfolds we, the wedding guests, are all enjoying a three course meal?" 
★★★★★ The Reviews Hub, Edinburgh Fringe
Confetti & Chaos is presented by the Australian producers of the global smash hit, Faulty Towers The Dining Experience - Interactive Theatre International.
Debuting in 2015 at the Brighton and Edinburgh Fringe Festivals, Confetti & Chaos has since toured on three continents. 
PG15 (occasional adult references)
"Perfect Comedy Timing"
BritishTheatre Guide
"The whole shambolic affair has the guests in stitches. It's comedy gold."
Nottingham Post
"If you ever get an invite, don't turn it down!"
Bournemouth Echo
BE PART OF THE EXPERIENCE!
Bookings Essential.  Book Online, By Phone, or In-person

* Pre-show drinks include: selected sparkling, red and white wines, local beer, cider, and softies.  Responsible Service of Alcohol Applies
---
Great Gift for Christmas!
Early Bird Pricing Available until 15th December 2019
Friday 14 Feburary 2020. - Dinner Show
Saturday 15Feburary 2020. - Dinner Show
Doors open at 7:00pm.
Show starts at 7:30pm.
Earlybird $158   General $175
+10% Senior Card Concession - For Cardholders Only
For more information Ring: 02-6238-1044
Email: Info@TheCarringtonInn.com.au

Show and Accommodation Packages Available
NB:  Seating will be at traditional wedding reception banquet tables of 8 to 10 guests, so your party may be seated with other guests at a table.  If you would like to be seated with particular guests, please advise us and we will do our best to accommodate that happening. 
This event is currently closed and no contact details are available