Kimbriki Composting
With Kids
Some fun outdoor activities to introduce your kids to composting and worm farming.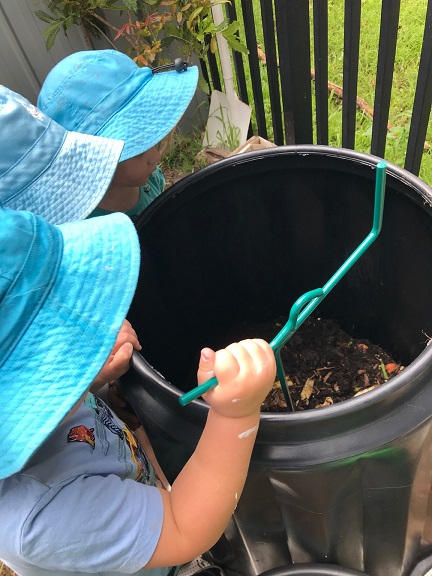 Kids love composting and worm farming, so bring the family up to Kimbriki's Eco House and Garden. Parents will stay and enjoy a cup of Kimbriki herbal tea and chill in the garden setting while the kids learn how to take their food scraps and make soil.
Through fun, engaging activities and craft, kids will learn all about the benefits of composting with worms and keeping our food waste out of the red bin.
Our Composting for Kids workshop covers the following topics:
Why it's fun to have a worm farm.

How to take care and maintain your compost habitat.

Meet the famous compost worms that make soil out of our leftover food scraps.

Be a macro invertebrate detective and discover our good garden bugs and compost critters.

Make a clay habitat and garden creature to take home.

Design your own Compost Recipe sign for your home kitchen.
Wear closed in shoes, hat and sunscreen.
Parents need to stay at the Eco House & Garden for the duration of the workshop.
Optional: bring your vegetable and fruit food scraps eg banana skins and apple cores to feed the Eco Garden worms.
Date & Time
​​​Saturday 20th May 2023. 10am to 12pm
Workshop Location
Kimbriki Eco House & Garden Education Centre, 1 Kimbriki Road, (off Mona Vale Road), Ingleside NSW 2101
Access by vehicle only – as there is no pedestrian access to Kimbriki please arrange to arrive by vehicle. All vehicles must enter and exit Kimbriki via the Weighbridges. On entry, stop to advise the Operator before proceeding to the Eco House car park.