Melbourne International Comedy Festival Roadshow 2023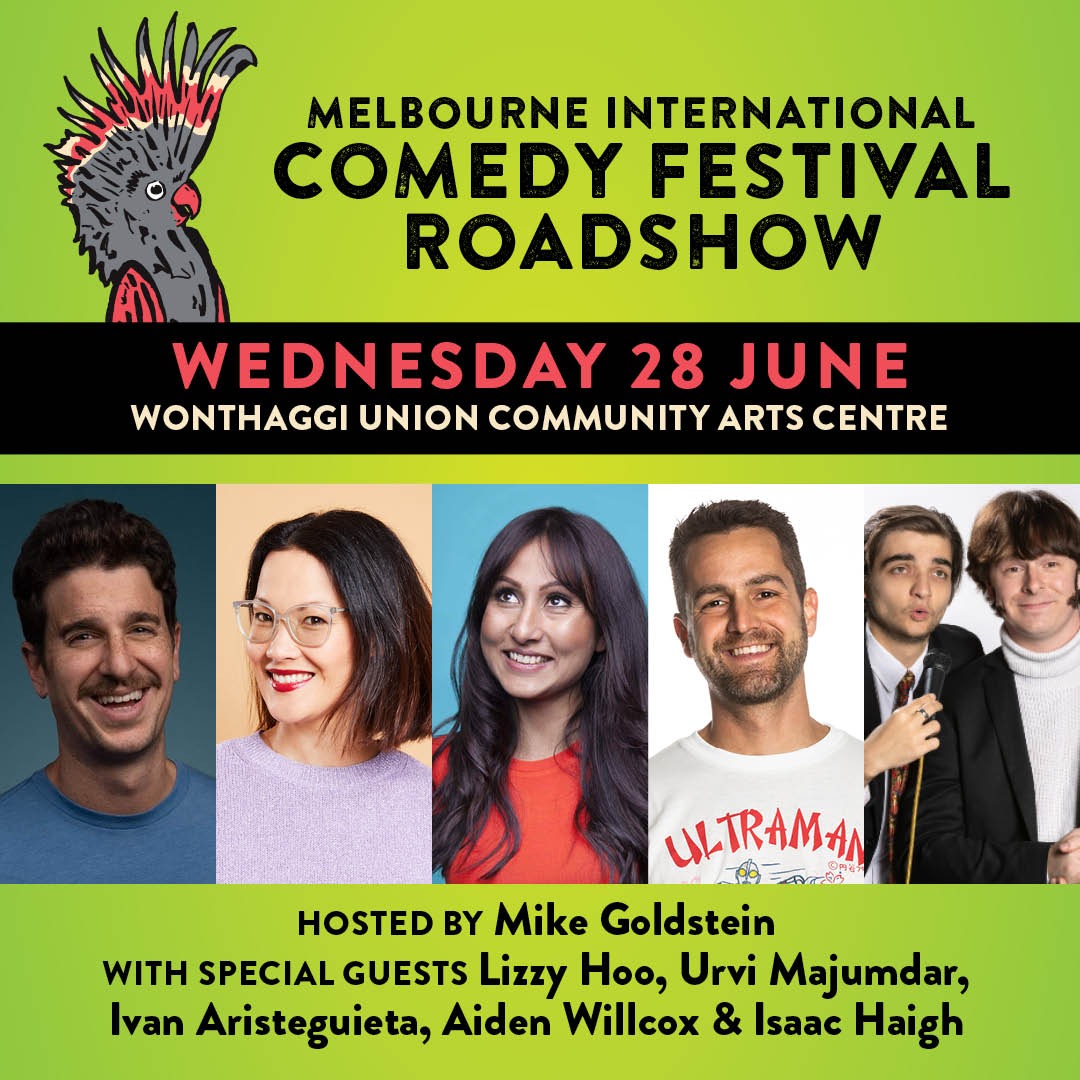 ABOUT
Australia's biggest and best comedy festival is hitting the road for a huge 25th year! Featuring the best and brightest of the 2023 Melbourne International Comedy Festival, we're bringing the funny to you!
Get ready for a stellar line-up with Roadshow favourites alongside the most talked-about breakthrough stars of the moment, together in one jam-packed show that's sure to leave the whole nation laughing.
Mike Goldstein – MC
American born, Mike Goldstein isn't in Kansas anymore. Sydney first, then Perth, and now Melbourne, the part Christian, part Jewish, with a dash of Sri Lankan (Yep! You read right!), has been doing stand-up comedy for the past decade and Aussie audiences are loving him. With regular appearances on Nine Network's comedy series The Hundred with Andy Lee, ABC's Tonightly with Tom Ballard, Nine Network's The Pulse and Network Ten's Hughesy We Have A Problem Mike is also the host of one of Australia's most successful comedy podcasts, The Phone Hacks.

Ivan Aristeguieta
Say 'Hola' to Australia's newest Aussie – Ivan Aristeguieta. This happy immigrant has just become one of us – crikey amigo! Now that he's added another passport to his citizenship collection, he doesn't know who the hell is he! Venezuelan is for dancing, Spanish is for cooking and Australian is for... giving it a red-hot go. Direct from his latest Paramount+ TV special, Ivan is one of the rising stars of Aussie comedy.
Lizzy Hoo
Lizzy's at life's half-time mark statistically, and it's time to bring out the oranges for a mid-game pep talk. Everybody take a knee… Should she live life like each day is her last? Or like she has 16,000 days more to go? Big questions! Lizzy only started doing stand-up in 2017, originally as a way to gain more self-confidence. Safe to say it worked out pretty well. She quickly found herself an NSW State Finalist in the national RAW Comedy competition. The very next year she was invited to perform at the prestigious Just For Laughs Festival at the Sydney Opera House, with her spot broadcast on Network Ten and Foxtel's Comedy Channel.

Janty Blair
Janty Blair won the Melbourne International Comedy Festival's Deadly Funny National Grand Final in 2022 – Australia's only dedicated Aboriginal and Torres Strait Islander comedy competition which has crossed the continent to unearth the freshest and fiercest, comedians and yarn spinners from the oldest culture on earth. Janty presented as apart of part of the Aboriginal Allstars in this years Melbourne International Comedy Festival.

Aiden Willcox & Isaac Haigh
Winner Best Comedy 2022 Melbourne Fringe and nominated Best Newcomer Melbourne International Comedy Festival 2023. Aiden Willcox & Isaac Haigh join forces once more to croon and warble the night away in this unforgettable musical-comedy spectacular that is filled to the brim (of a hat!) with songs, gags and two handsome gentlemen.
So, get some mates together, book your tickets and head out for a much-needed comedy fix when the Roadshow hits a stage near you!
Performances often contain coarse language, adult themes, sexual references and material that may offend. The show is recommended for people aged 15 years or older.
Smoke Machine/Hazer may be used during this performance.
SESSION TIMES
LOCATION
Wonthaggi Union Community Arts Centre - Theatre
96 Graham Street, Wonthaggi VIC 3995
CONTACT DETAILS
Wonthaggi Union Community Arts Centre
03 5671 2470
wonthaggi.artscentre@basscoast.vic.gov.au