Super Exchange Conference 2023

Get up-to-date on how emerging technologies (such as AI and blockchain) are transforming global trade, and how new investment vehicles may enhance your environmental credentials. Connect with technology experts, entrepreneurs, venture capitalists and government representatives.
Who
For business, government and academia. Small, medium and large enterprises engaged in international trade. All industries, including agriculture, defence, entertainment, fast moving consumer products, finance, information technology, manufacturing and professional services.
When
24 & 25 August 2023
Attend one or both days of the conference. Discussion topics are listed below.
24 August – optional evening networking event
Limited spaces available for this networking opportunity at Bar Lulu. Connect with fellow attendees from 6:30pm to 9:00pm over canapes and drinks with stunning views of Circular Quay, including the Sydney Opera House.
Where
Fishburners
Level 2, Sydney Startup Hub (above Wynyard train station)
11 – 17 York St, Sydney NSW 2000
Schedule
The conference will follow the below schedule: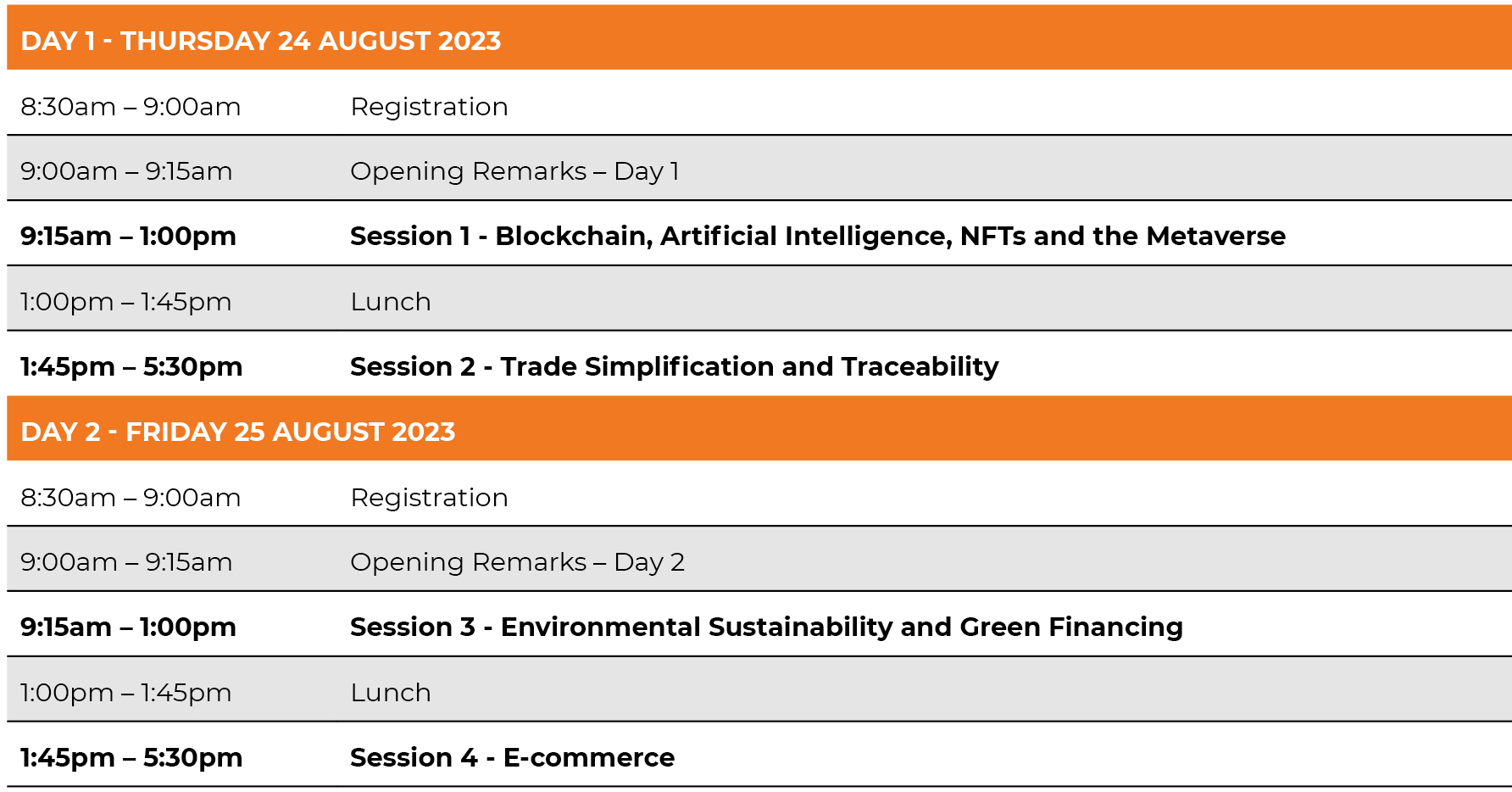 Topics
Day 1 (Thursday, 24 August)
Session 1 - Blockchain, Artificial Intelligence, NFTs and Metaverse
Is there more to blockchain than crypto-currencies?
What are the implications of Artificial Intelligence for businesses?
Can NFTs empower artists and who else?
What regulatory gaps need to be filled?
Session 2 - Trade Simplification and Traceability
What are the risks for global trade in 2023?
Has there been progress in simplifying trade processes?
Can blockchain and other technologies assist with traceability?
Why trade partners, such as the EU and US, will demand higher traceability standards?
Day 2 (Friday, 25 August)
Session 3 - Environmental Sustainability and Green Financing
Are SME exporters taking ESG seriously enough?
What are investors looking for?
Who is leading the innovation in green financing?
Are there other ways to monetise green credentials?
Session 4 - E-commerce
Has e-commerce reached its peak?
How can you get more from e-commerce?
What trends are we seeing in terms of products and services?
Where are the new opportunities?
You can also download the conference program with further information on the sessions - click here.
For sponsorship opportunities, please contact us at info@export.org.au. Find out more about the event here.