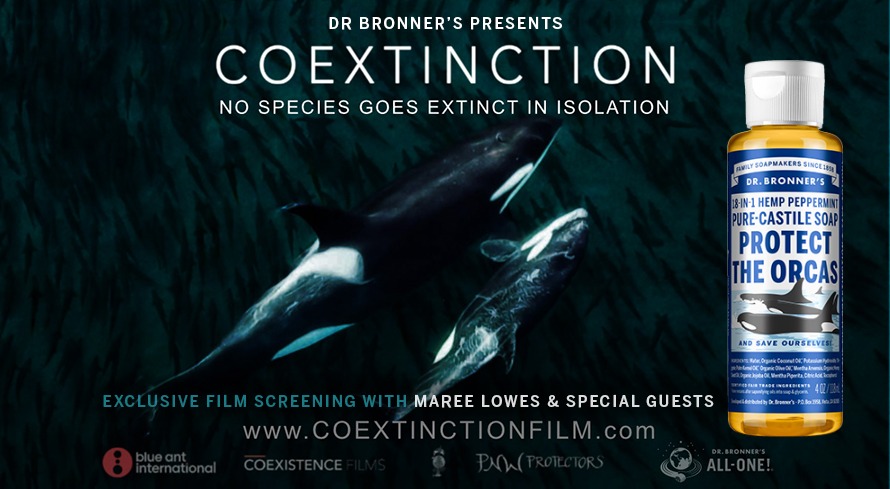 Cinema NOVA
Level 1, 380 Lygon Street , Carlton VIC 3053
Tickets: $28
As part of the National Sustainable Living Festival, join Dr Bronner's Ambassador Maree Lowes, best known as dirtgirl from the hit TV show 'Dirtgirlworld', for an exclusive screening of award-winning documentary 'Coextinction', followed by a panel discussion with special guests.
After a mother orca carries her dead calf for 17 days, two filmmakers spring into action, joining Indigenous leaders and scientists making a final attempt to save the last 73 Southern Resident orcas from extinction. Moving beyond a traditional wildlife documentary, Coextinction takes audiences deep into the oceans and forests of the Pacific Northwest to witness the complex systems of interconnectedness linking together ecosystem collapse, centuries of injustice against Indigenous peoples, and the frontlines of the world's most pressing environmental threats. No species goes extinct in isolation. See preview here.
Following the documentary, Maree will delve into the film's themes - how they relate to where we live and ways in which we can take action to restore Indigenous power, regenerate the environment and support local communities - with guests including:
Yaraan Bundle, Whale Dreaming Custodian and Creative Director/Coordinator of SOPEC (Southern Ocean Protection Embassy Collective);
Damien Cole, National Campaign Director of Surfrider and Environmental Activist; and
Peter Markowiec, Education Coordinator of Sea Shepherd Australia's Melbourne Chapter.
All audience members will receive a free Dr. Bronner's Adventure Soap Gift Pack valued at $29.95.

*This is a not-for-profit event. Ticket sales cover event costs with proceeds being donated to charity.
This event will take place on the stolen lands of the Wurundjeri people of the Kulin Nation. We pay our respects to their Elders, past, present and emerging, and recognise that sovereignty was never ceded.