CREATE - Workshops (SOLD OUT)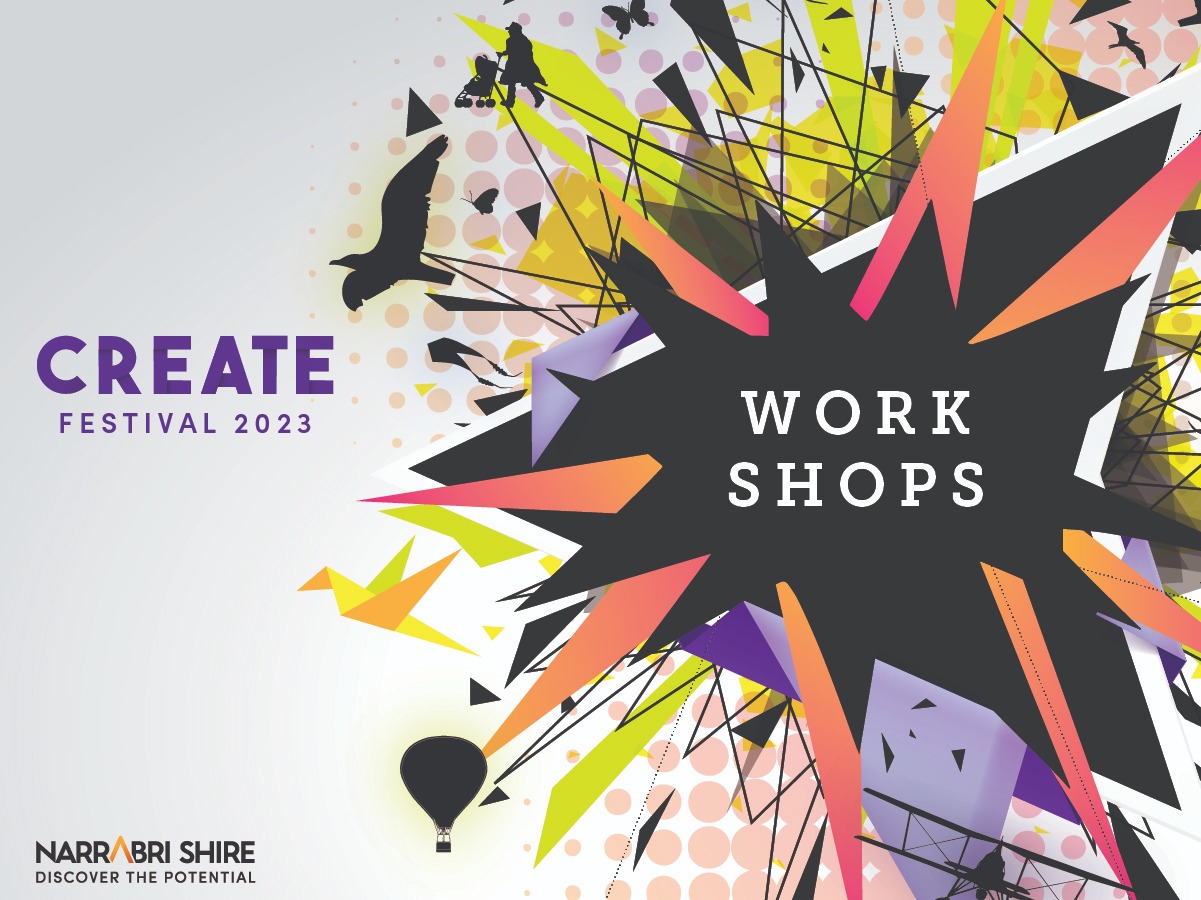 PLEASE NOTE: TO BOOK, PLEASE SELECT THE DATE OF THE WORKSHOP ON THE CALENDAR TO THE RIGHT
DisAbilities with Robin Stieger - 23/3/21 - 10am to 12pm:
Location: Narrabri Art and Craft Society - 35 Dangar St, Narrabri 2390 - Price - Free - For people with Disability - Carer does not need to book a ticket as well (just the particpant)
Creative Collage Workshop - 18/3/23 - 9am to 12pm
Location: Narrabri Art and Craft Society - 35 Dangar St, Narrabri 2390 - Price $10 per person
Mosaic Workshop - 19/3/23 - 10am to 1.30pm
Location: Namoi Women's Shed, 72 Barwon St, Narrabri 2390 - Price $110.00 per person (2 days)
STUDENTS
Please wear old clothing, a full apron and wear enclosed shoes
Bring a enclosed water bottle
A old tea towel
Bring your lunch
Note pad and pencil
Camera ( phone camera is okay )
Painting Workshop - Julianne Ross Allcorn - 25 & 26 March 2023 - 9am to 4om daily:
Location: Narrabri Art & Craft Society - 35 Dangar St, Narrabri - Price $200 per person
Materials: Please let me stress that you do not have to go out and buy expensive art materials.
If you have a number of these items in your art material box then bring them and maybe add the ones you don't have.
Those who have never attended an artist retreat please don't spend $$$$
Go to Kmart/ Hot Dollar shop/Target or what you have near you and buy a few things.
Don't forget your glasses [if you wear them] and a hat and the special art materials you are used to using
Looking forward to creating with you all

Set of brushes, different sizes
Watercolour or Gauche (paint) set
3-4 fine liners different sizes, thickness in the tip
A4 or A3 watercolour pad
A5 or just a bit larger little sketch book
A couple of rags
Roll of paper towel
Plastic water cup
A table easel (I will bring a few)
Set of graphite pencils different grades
Eraser and a kneadable eraser
Sharpener and or knife
Container to sharpen into
Masking tape for watercolour paper
Scissors
If you can get a Mars Lumagraph 8B plus your range of graphites
Colour pencils, can be water based or not
General cartridge paper pad

Please don't bring oil paints
We will be using water based paints easily cleaned and no odour.
If you have any questions about this list, please call Scott Pollock on 0466 618 333
Contact Details