Ensemble Trivium - Hayd'n Seek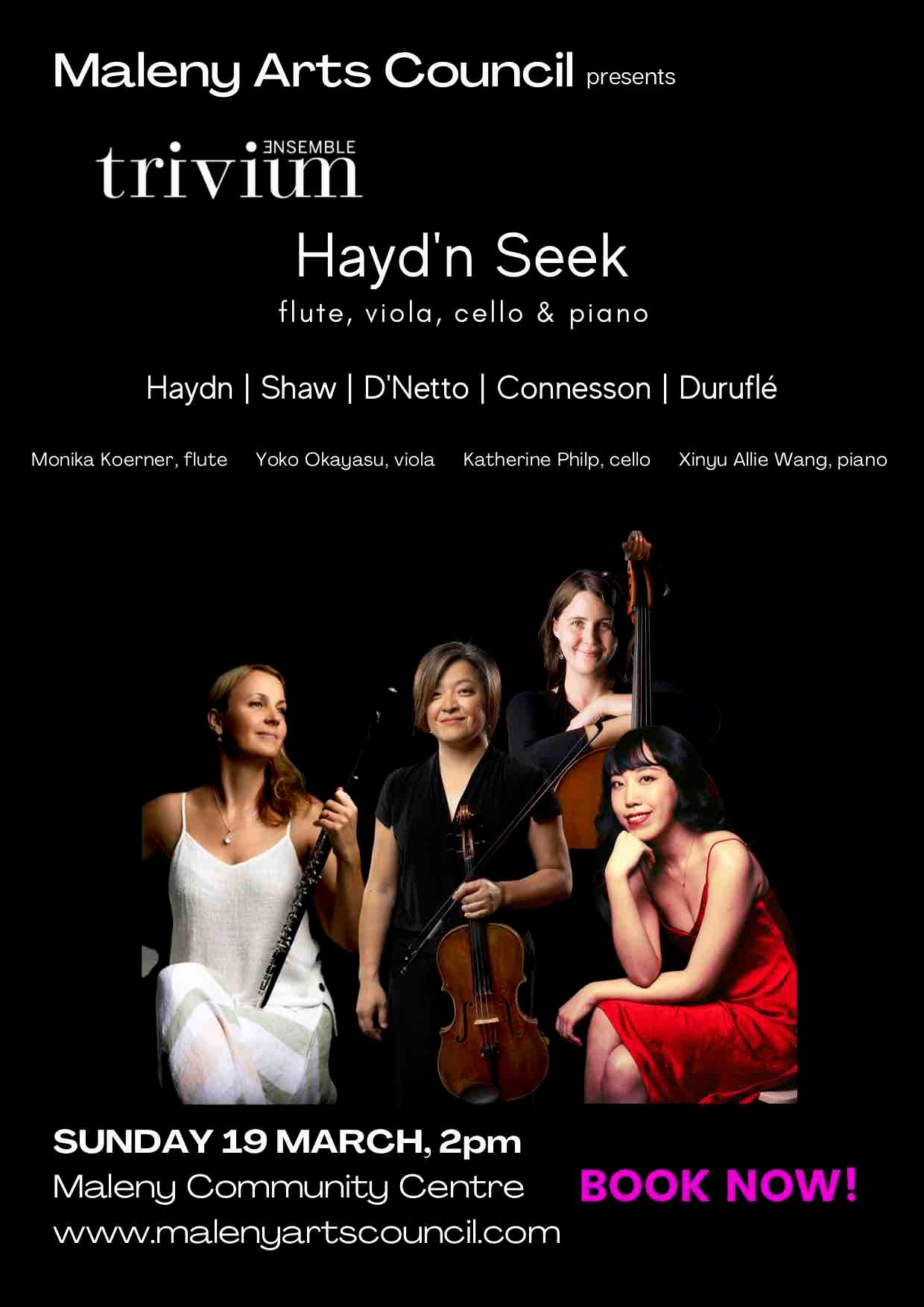 About
Renowned for their imaginative, vibrant programming and inspired combinations of
instruments, Ensemble Trivium presents an up close and personal experience of music that will enrich you, thrill you and make your
heart sing!
The program traverses the sublime simplicity of sparkling Haydn to the ravishingly lush sounds
of rarely heard French master Maurice Duruflé, bridged by three exhilarating duos showcasing
some of the best of current compositions, including young, Queensland composer
Connor D'Netto.
PROGRAM
Josef HAYDN Trio in D-major Hob XV:16 flute, cello & piano
Caroline SHAW Limestone & Felt viola & cello
Connor D'NETTO Parallel flute & viola
Guillaume CONNESSON Toccata-Nocturne flute & cello
Maurice DURUFLÉ Prélude, Récitatif et Variations op. 3 flute, viola & piano
1790 marked the start of an expansive and more lucrative time for Joseph Haydn. Finally free
of the shackles of the Esterhazys, after Prince Nikolaus' death and the disbanding of the court
orchestra, Haydn was invited to London where he was hugely popular, already having
dominated the concert scene for quite some time. 1790 was also the year when he wrote
three piano trios with the flute replacing the violin, catering to the taste of the English
aristocracy and bourgeoisie who favoured the flute in this setting.
Caroline Shaw has emerged as one of America's finest contemporary composers and is the
youngest ever music Pulitzer prize winner. Her music is exhilarating, always engaging, and
often profoundly moving. 'Limestone & Felt' is a whimsical, mystical pizzicatoing cascade of
texture.
Guillaume Connesson is a giant of the French contemporary musical scene and a favourite
around the world. Toccata-Nocturne is a short, heart-racing, virtuosic, fun and wild ride which
will have you at the edge of your seat!
In stark juxtaposition, Brisbane based young composer Connor D'Netto offers a reprieve with
his flute and viola duo 'Parallel.' "It's all about energy. Two seperate bodies, moving, shifting. It's
gradual. A process. Not simply growing or fading. Changing. Continuously."
To conclude the concert, be immersed in the rich and warm, choral inspired embrace of the
'Prelude, Recitatif et Variations' by French organist and composer, Maurice Duruflé.
Composed in 1928, this underrated and rarely performed masterpiece will leave you feeling
uplifted and recharged.
Enjoy a glass of wine (or two) post performance on the beautiful deck and meet the artists!
Location
Maleny Community Centre
23 Maple Street, Maleny Queensland 4552