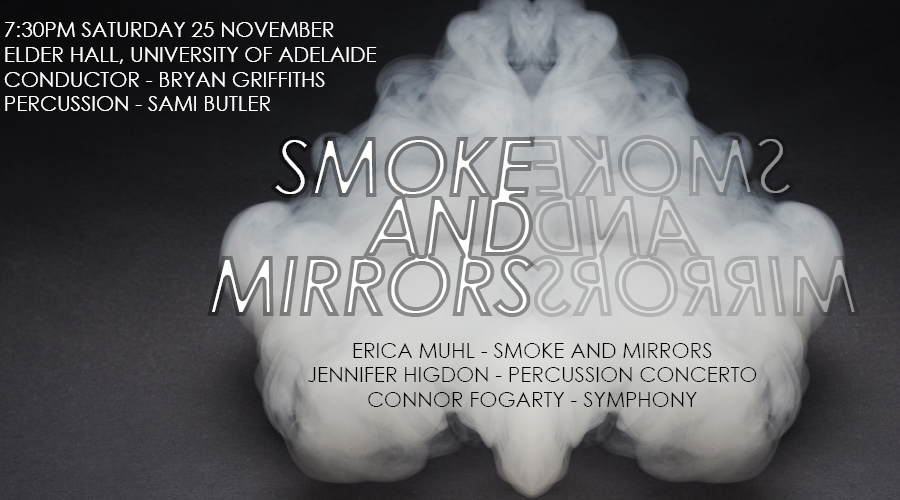 Adelaide Wind Orchestra presents Smoke and Mirrors
WHAT: 7:30PM Saturday 25 November, Elder Hall, University of Adelaide
Conductor - Bryan Griffiths
Percussion - Sami Butler

Erica Muhl - Smoke and Mirrors
Jennifer Higdon - Percussion Concerto
Connor Fogarty - Symphony

Please join us for an evening of dramatic symphonic music as AWO presents "Smoke and Mirrors" at Elder Hall, 7:30pm Saturday 25 November.

An action-packed opener by Erica Muhl, guest conducted by Kate Mawson, sets the scene of first half percussive theatrics, but it's more than just smoke and mirrors.

Sami Butler, ASO Associate Principal Percussion/Timpani, returns to AWO after playing on many of the world's great stage to perform Jennifer Higdon's Percussion Concerto, "an incredibly diverse, musically rich and exciting work... with luscious melodies and a menagerie of movements" (Alex Burns, 2020).

The second half features a world premiere by emerging composer Connor Fogarty, thanks to support from the Helpmann Academy's Creative Investment Fellowship.
Elder Hall, University of Adelaide
University of Adelaide
North Terrace
SA